(Click on image for larger)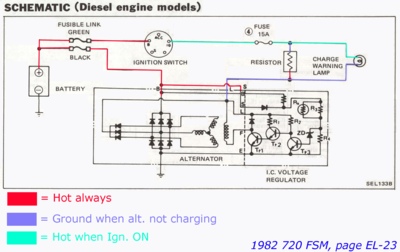 The page in the Factory Service Manual that that's from is
here
.
The thread where we talk about the
LR150
alternator in the 720 pickup that has the SD2x engine is
here
To summarize: on the L
R
150 as used with the SD2x in 720 pickups, the B and S wires are both unswitched 12v+, and the L terminal is the idiot light circuit,
which is absolutely necessary to kick-start the alternator
.
None of those three wires is earthed. I know nothing of your L
T
140, but Hitachi tends to use the same design over and over across many of their alternators.
The 5mm stud on the back of the alternator is the one that charges the battery, not those three wires.
The primary cause of failure of this series of Hitachi alternators is physically failed diodes. It's extremely common. The oil leakage from the vacuum pump into the alternator is often due to a groove worn in the rotor's shaft. The fix is a dual-lip seal that seals on the shaft in two places. The part number for that seal is in the thread referenced above.
HTH
_________________
Regards,
Al S.
1982 Maxima diesel wagon, 2nd & 4th owner, 165k miles, rusty & burgundy/grey.
Purchased 1996,
SOLD 16Feb10
1983 Maxima diesel wagon, 199k miles, rusty, light yellow/light brown.
SOLD 14Jul07
1981 720 SD22
(scrapped 04Sep07)
1983 Sentra CD17
, 255k, bought 06Jul08, gave it away 22Jun10.