charmalu wrote:
Except what was in it when factory new, it has run Amsoil Synthetic for the major portion of it`s life. Don`t know if it made any difference in longevity, but Makes me feel good. :>)
I am a big booster of synthetic lubricants, and I run AMSOil in all my stuff here.
The FS5W71 isn't a real heavy-duty trans, and the diesel's torque does seem to make the pre-'85 front bearings die (from my '82 when I bought it):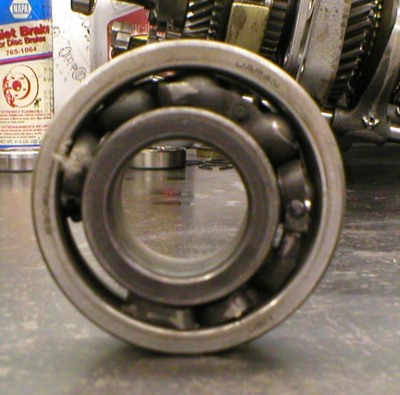 And reverse gears break if abused in this trans.
I've had the lockup problem on ONE of my 720s, and it was that way when I bought it. It's an internal shift linkage problem and that truck was abused (I bought it from college kids).
However, if you change the gear oil regularly, and don't drop the clutch in reverse, I think they hold up rather well. Most people never change the trans or diff oil.
AMSOil is worlds better than the OEM 1981-era gear lube.
_________________
Regards,
Al S.
1982 Maxima diesel wagon, 2nd & 4th owner, 165k miles, rusty & burgundy/grey.
Purchased 1996,
SOLD 16Feb10
1983 Maxima diesel wagon, 199k miles, rusty, light yellow/light brown.
SOLD 14Jul07
1981 720 SD22
(scrapped 04Sep07)
1983 Sentra CD17
, 255k, bought 06Jul08, gave it away 22Jun10.