plenzen wrote:
It is not one of those thermostats that has the rubber gasket around the perimiter of it is it? Or is it supposed to have one of those rubber gaskets around it.
No rubber gasket. Assembly order (click on image for larger):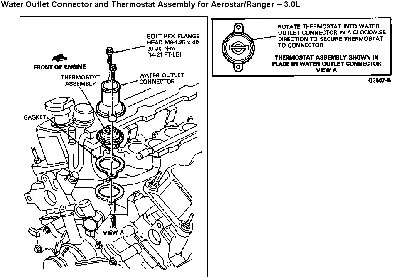 Note that the gasket does go on the opposite side of where most t-stat gaskets reside -- there is a recess in the outlet housing, not the manifold. I've been assembling it correctly.
Quote:
Almost seems like it is lifting in the housing when it gets hot enough and has to open, and then perhaps moves or tilts upwards to allow bypass.
Thermostat No. 3 I RTV'd into the outlet housing, let it set up, then assembled: there is
no possibility
that any coolant made its way around that thermostat, definitely not, and I had to pry it out when I put t-stat No. 4 in place a few days ago: it was not moving around.
Quote:
Is the coolant actually cold or is it just the guage that is telling you that it's' cold?
That
is
the Q, isn't it? And, if it's not cold, why is the gauge moving up and down as if temp variations are happening?
Quote:
If it were me, ( and I know it is not) I would somhow, some way install a mechanical guage and see for sure if in fact is is cooling off and its just not the dashboard guage screwing with your inner peace.
I do not trust mechanical gauges any more than electrical ones, I've had too many weird readings from mechanical gauges to believe they are "better".
However, when I buy a JY cluster, I will have another shot at it.
Meanwhile, rigging a temporary ohmmeter to the (new at Christmas) temp sender gives me a second gauge, since the output of the sender is supposed to directly relate to the temp it senses.
I'm also thinking of cutting the upper hose and putting in a clear section of Lexan. If I don't learn anything, at least it's bling

.