plenzen wrote:
. . . a little pressure on it and you just seem to crawl away ( too slow for me ) but a very slight increase and it then takes off too quickly.
Damned electric throttles. Seems all new cars are drive-by-wire.
My '97 Aero is still mechanical, but Marc's 2006 Infiniti M35 crapped a accelerator pedal assy. last summer. Pretty much left him stranded, could barely limp home four miles. It's basically two potentiometers connected to the foot pedal. Only available as an assembly, $250.
Fortunately (?) the local (one hour away in Denver) had it in stock. Replacing it was not quite as straightforward as replacing a broken throttle cable

The tale is
here
.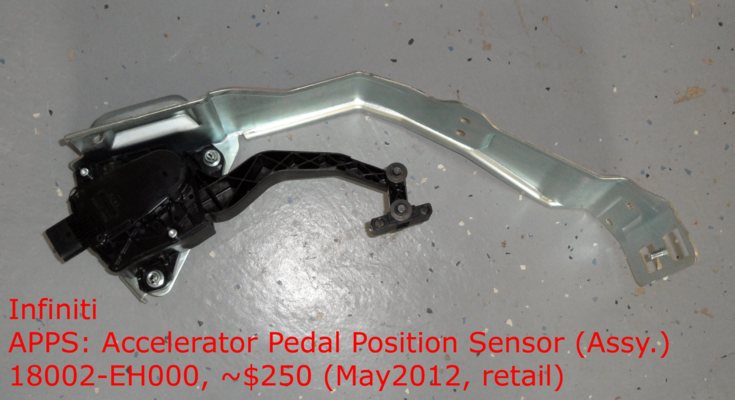 The actual part that breaks and leaves you stranded:
They have two DVD players in this car in 2006; they couldn't afford a real optical encoder setup instead of sliding contacts that didn't work in our 1973 Volvo 145's TPS either? Just shows what $45k (2006 dollars) won't buy you!
I will say that my laptop OBDII scanner setup did give me a reasonably accurate MIL code: it pretty much had to be this part, or the little motor on the throttle body that actually moves the butterfly.
It's weirdly calibrated too, like the Cruze. Mash the pedal and there's a massive delay while the ECM tries to decide if you really meant it, and then has to decide what gear to shift to. Not a lot of fun if you're in a hurry that way. Works a lot better if you put the AT in manual mode.
_________________
Regards,
Al S.
1982 Maxima diesel wagon, 2nd & 4th owner, 165k miles, rusty & burgundy/grey.
Purchased 1996,
SOLD 16Feb10
1983 Maxima diesel wagon, 199k miles, rusty, light yellow/light brown.
SOLD 14Jul07
1981 720 SD22
(scrapped 04Sep07)
1983 Sentra CD17
, 255k, bought 06Jul08, gave it away 22Jun10.