Carimbo wrote:
Doesn't the LD25 have a revolution sensor ('82 FSM p. EC-25) that sends signal to the EGR control unit? Could one tap off this signal to drive a simple display?
Hmmm. I dusted off my trusty TDS210 (for which I paid a cool $995 in 1998, and which has been seriously collecting dust for the past few years. It was a seriously cool piece of equipment back in the day, and I barely know how to turn it on, much less access the menus. I do wish that I'd bought the RS232 interface, but Tektronix wanted something like $300 for it alone -- and the damned 60Mhz leads were $250
each
! I really love this 'scope, though. It's got 60Mhz bandwidth, plenty for the stuff I deal with. Please do note the 10 gal. propane tank "equipment stand" I'm using today!):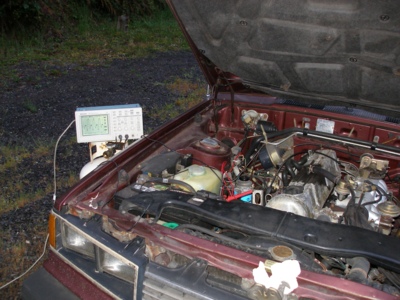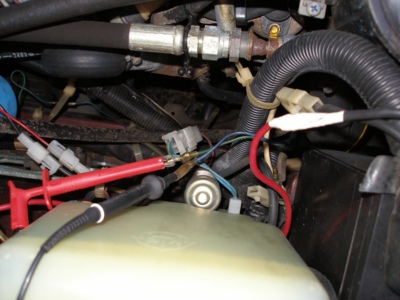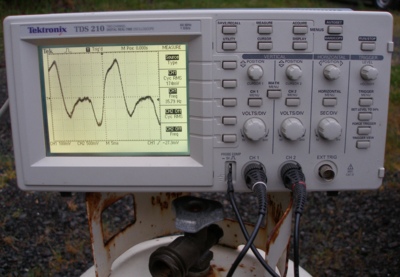 [Later edit: this sensor later went open (bad), so this waveform may be incorrect.]
This is what I see at idle (assumed to be ~800 for this exercise: my Strattec vibra tach is eight miles away, my digital Kent-Moore Tach-N-Time is 17 miles away, and my Cole-Parmer optical tachs I have here can't "see" well enough with all the clutter of belts and accessories and such: "~800 RPM" will have to do for now.):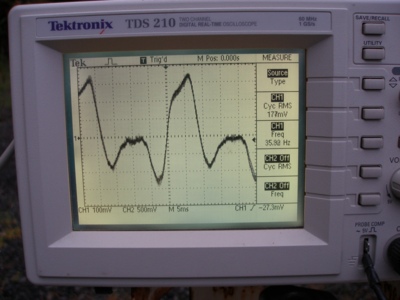 36Hz/800 RPM seems to be 270Hz/6000 RPM; I assume the signal frequency is adqequate. However, the signal amplitude looks pretty low: 300mV at idle, perhaps 1100mV at double that.
Is 0.3v too low a signal for a tach? I haven't tried it, I am only in the "wondering" stage at this point. I have posted a Q to
a tach expert
on a forum for support of a tach I recently bought.
I'm looking at this OEM rev sensor because there is no external tap on the OEM alternator that will yield enough amplitude either:
(click on image for larger)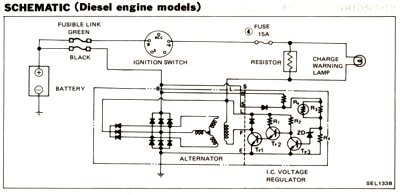 Sure, I can open up the alternator and run a wire from upstream of the diode trio to the outside, but that's a lot more work than I'd really like to do. Although VW offered an alternator with a signal tap (the "W" terminal), Nissan did not. So, I'm looking at the LD28 OEM rev sensor.