Posting pictures using the forum in 2014:
A picture is -- first -- a file that you attach to a post. A file attachment.
First, scroll below your Compose window and find
Upload Attachment
Attachment:
Upload_Attachment_01b.png [ 6.73 KiB | Viewed 1307 times ]
Select "Browse", choose a picture file, then select "Add the File":
Attachment:
AddTheFile_01b.png [ 8.42 KiB | Viewed 1307 times ]
A progress bar dialogue will pop up while it's uploading, and it might take a while to upload to the server:
Attachment: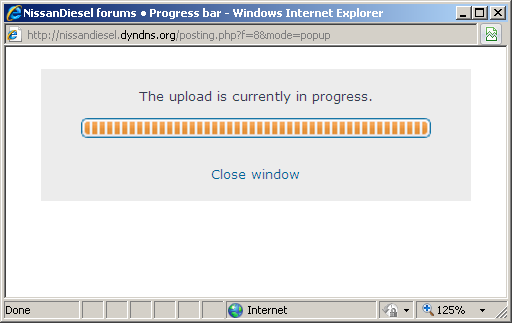 UploadInProgress_01b.png [ 12.07 KiB | Viewed 1307 times ]
Now the file is uploaded (attached to your username).
To insert it in your post, use the "Place inline" button that's now directly under the Compose window:
Attachment:

PlaceInline_01b.png [ 2.38 KiB | Viewed 1307 times ]
That seems to be the method to insert pics in a post. I admit, I haven't explored this much.
_________________
Regards,
Al S.
1982 Maxima diesel wagon, 2nd & 4th owner, 165k miles, rusty & burgundy/grey.
Purchased 1996,
SOLD 16Feb10
1983 Maxima diesel wagon, 199k miles, rusty, light yellow/light brown.
SOLD 14Jul07
1981 720 SD22
(scrapped 04Sep07)
1983 Sentra CD17
, 255k, bought 06Jul08, gave it away 22Jun10.