The SD engine has a different transmission bolt pattern than the Z2x engines (in particular, the starter is on the opposite side), so you will not be able to bolt the SD engine to a gasser transmission, end of story. There's a work-around; see
the FS5W71x thread
.
SD25s sold in the US have the Inline IP. This is not a particularly difficult IP to have serviced, but all IP shops are "specialty" shops (no general garage should be fiddling with the internals of IPs). The Inline IP is very durable, with the major weak area being
the cowhide pneumatic diaphragm
, which needs periodic oiling and replacement; it's not difficult to replace, requires no special tools or adjustment procedures.
Yes, the valvetrain and IP drive on the SD is gear-driven and requires no periodic
drive
maintenance, unlike the 2L or LD28.
Yes, the pushrod-driven valvetrain does require periodic adjustment, and they do get out of adjustment but not usually so much that you can actually hear them above the general cacophony of the engine. If you are hearing significant noise, I would suspect injector spray pattern and plan on having the injectors overhauled -- which on this era diesel is considered a periodic maintenance item. An injector that gets bad enough can wipe out a piston -- it dribbles, fires early, and overheats the aluminum piston.
The SD engine was used in non-automotive applications from 1963 to the 90's and parts are pretty widely available, but Nissan has begun NLA-ing parts very fast recently. In particular, the cooling system hoses will likely have to be found generically, esp. the oil cooler hose . . . (in green below) (click on image for larger) . . .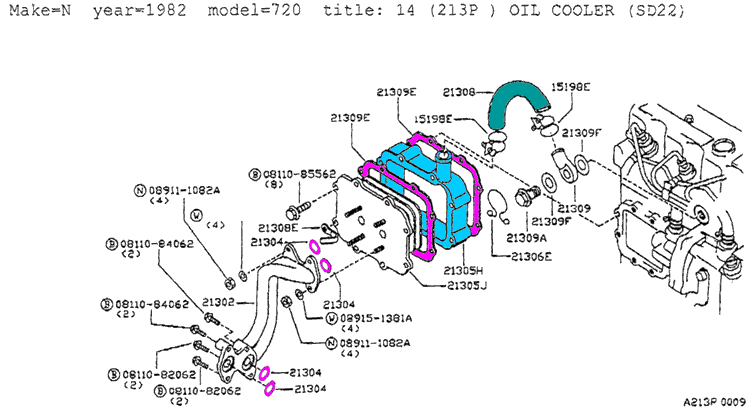 . . . and the water pump-to-thermostat housing hose (the 180° hose under the radiator hose in this pic)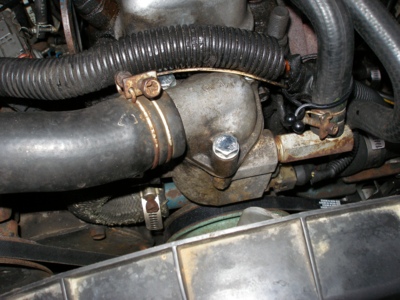 While Nissan sold the SD25 in the D21 chassis in Canada for
1987 only
and three members here own one, they are considered quite rare, and parts must be ferreted out -- Nissan can be difficult to deal with when trying to use "1987" and "SD25" together! Also, all 1987 IPs seem to be the VE-style, with completely different plumbing and hoses. But the short answer is that the SD25 can probably be made to fit into a D21 ("Hardbody") chassis, because Nissan did do it. If you really want to do that, it can be done.
Please update your Profile (click on "Profile" at the top of any page) and fill in at least the "Location" field, so I don't have to ask again: where are you located? If in the USA, I think $2700 for a crashed '84 SD25 is probably twice as much or more than what I'd consider paying, even for a low-miles engine. For that kind of money, I'd buy a core SD25 and either have it overhauled or do it myself. While the SD25 is a better-built engine than the older SD22, they are both rebuildable with hard parts still widely available.
I hope this helps.