(click in images for larger)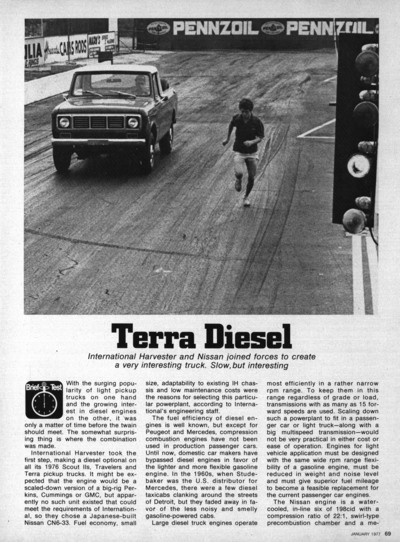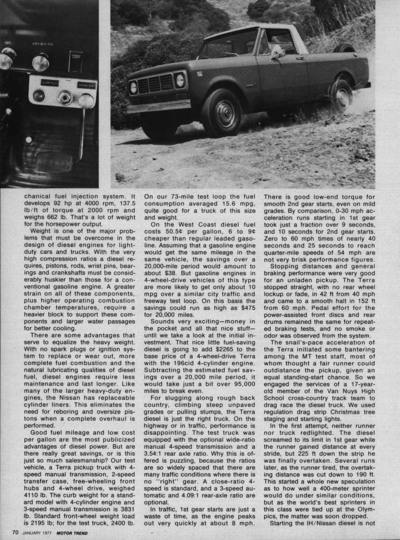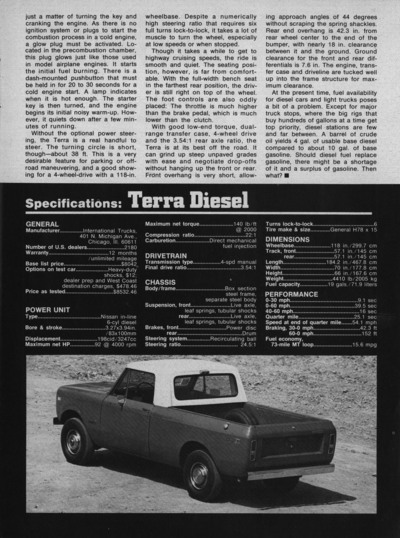 (Motor Trend, January 1977)
Terra Diesel
International Harvester and Nissan joined forces to create a very interesting truck. Slow, but interesting
With the surging popularity of light pickup trucks on one hand and the growing interest in diesel engines on the other, it was only a matter of time before the twain should meet. The somewhat surprising thing is where the combination was made.
International Harvester took the first step, making a diesel optional on all its 1976 Scout IIs, Travelers and Terra pickup trucks. It might be expected that the engine would be a scaled-down version of a big-rig Perkins, Cummings or GMC, but apparently no such unit existed that could meet the requirements of Internatlonal, so they chose a Japanese-built Nissan CN6-33. Fuel economy, small size, adaptability to existing IH chassis and low maintenance costs were the reasons for selecting this particular powerplant, according to International's engineering staff.
The fuel efficiency of diesel engines is well known, but except for Peugeot and Mercedes, compression combustion engines have not been used In production passenger cars. Until now, domestic car makers have bypassed diesel engines in favor of the lighter and more flexible gasoline engine. In the 1960s, when Studebaker was the U S. distributor for Mercedes, there were a few diesel taxicabs clanking around the streets of Detroit, but they faded away in favor of the less noisy and smelly gasoline-powered cabs.
Large diesel truck engines operate most efficiently in a rather narrow rpm range. To keep them in this range regardless of grade or load, transmissions with as many as 15 forward speeds are used. Scaling down such a powerplant to fit in a assenger car or light truck -- along with a big multispeed transmission -- would not be very practical in either cost or ease of operation. Engines for light vehicle application must be designed with the same wide rpm range flexibility of a gasoline engine, must be reduced in weight and noise level and must give superior fuel mileage to become a feasible replacement for the current passenger car engines.
The Nissan engine is a watercooled, in-line six of 198cid with a compression ratio of 22:1, swirl-type precombustlon chamber and a mechanical fuel injection system. It develops 92 hp at 4000 rpm, 137.5 lb/ft of torque at 2000 rpm and weighs 662 lb. That's a lot of weight for the horsepower output.
Weight is one of the major problems that must be overcome in the design of diesel engines for light-duty cars and trucks. With the very high compression ratios a diesel requires, pistons, rods, wrist pins, bearings and crankshaft must be considerably huskier than those for a conventional gasoline engine. A greater strain on all of these components, plus higher operating combustion chamber temperatures, require a heavier block to support these components and larger water passages for better cooling.
There are some advantages that serve to equalize the heavy weight. With no spark plugs or ignition system to replace or wear out, more complete fuel combustion and the natural lubricating qualities of diesel fuel, diesel engines require less maintenance and last longer. Like many of the larger heavy-duty engines, the Nissan has replaceable cylinder liners. This eliminates the need for reboring and oversize pistons when a complete overhaul is performed.
Good fuel mileage and low cost per gallon are the most publicized advantages of diesel power. But are there really great savings, or is this just so much salesmanship? Our test vehicle, a Terra pickup truck with 4-speed manual transmission, 2-speed transfer case, free-wheeling front hubs and 4-wheel drive, weighed 4110 Ib. The curb weight for a standard model with 4-cylinder engine and 3-speed manual transmission is 3831 lb. Standard front-wheel weight load is 2195 lb; for the test truck, 2400 lb. On our 73-mlle test loop the fuel consumption averaged 15.6 mpg, quite good for a truck of this size and weight.
On the West Coast diesel fuel costs 50.5ó per gallon, 6 to 9ó cheaper than regular leaded gasoline. Assuming that a gasoline engine would get the same mileage in the same vehicle, the savings over a 20,000-mile period would amount to about $38. But gasoline engines in 4-wheel-drive vehicles of this type are more likely to get only about 10 mpg over a similar city traffic and freeway test loop. On this basis the savings could run as high as $475 for 20,000 miles.
Sounds very exciting -- money in the pocket and all that nice stuff -- until we take a look at the initial investment that nice little fuel-saving diesel is going to add $2265 to the base price of a 4-wheel-drive Terra with the 196cid 4-cylinder engine. Subtracting the estimated fuel savings over a 20,000 mile period, it would take just a bit over 95,000 miles to break even.
For slugging along rough back country, climbing steep unpaved grades or pulling stumps, the Terra diesel is just the right truck. On the highway or in traffic, performance is disappointing. The test truck was equipped with the optional wide-ratio manual 4-speed transmission and a 3.54:1 rear axle ratio. Why this is offered is puzzling, because the ratios are so widely spaced that there are many traffic conditions where there is no "right" gear. A close-ratlo 4-speed is standard, and a 3-speed automatic and 4.09:1 rear-axle ratio are optional.
In traffic, 1st gear starts are just a waste of time, as the engine peaks out very quickly at about 8 mph. There is good low-end torque for smooth 2nd gear starts, even on mild grades. By comparison, 0-30 mph acceleration runs starting in 1st gear took just a fraction over 9 seconds, and 10 seconds for 2nd gear starts. Zero to 60 mph times of nearly 40 seconds and 25 seconds to reach quarter-mile speeds of 54 mph are not very brisk performance figures.
Stopping distances and general braking performance were very good for an unladen pickup. The Terra stopped straight with no rear wheel lockup or fade, in 42 ft from 40 mph and came to a smooth halt in 152 ft from 60 mph. Pedal effort for the power-assisted front discs and rear drums remained the same for repeated braking tests, and no smoke or odor was observed from the system.
The snail's-pace acceleration of the Terra initiated some bantering among the MT test staff, most of whom thought a fair runner could outdistance the pickup, given an equal standing-start chance. So we engaged the services of a 17-year-old member of the Van Nuys Hlgh School cross-country track team to drag race the diesel truck. We used regulation drag strip Christmas tree staging and starting lights.
In the first attempt, neither runner nor truck redllghted. The diesel screamed to its limit in 1st gear while the runner gained distance at every stride, but 225 ft down the strip he was finally overtaken. Several runs later, as the runner tired, the overtaking distance was cut down to 190 ft. This started a whole new speculation as to how well a 400-meter sprinter would do under similar conditions, but as the world's best sprinters in this class were tied up at the Olymplcs, the matter was soon dropped.
Starting the IH/Nissan diesel is not just a matter of turning the key and cranking the engine. As there is no ignition system or plugs to start the combustion process in a cold engine, a glow plug must be activated. Located in the precombustion chamber, this plug glows just like those used in model airplane engines. It starts the initial fuel burning. There is a dash-mounted pushbutton that must be held in for 20 to 30 seconds for a cold engine start. A lamp indicates when it is hot enough. The starter key is then turned, and the engine begins its initial noisy warm-up. However, it quiets down after a few minutes of running.
Without the optional power steering, the Terra is a real handful to steer. The turning circle is short, though -- about 38 ft. This is a very desirable feature for parking or offroad maneuvering, and a good showing for a 4-wheel-drlve with a 118-in. wheelbase. Despite a numerically high steering ratio that requires six full turns lock-to-lock, it takes a lot of muscle to turn the wheel, especially at low speeds or when stopped. Though it takes a while to get to highway cruising speeds, the ride is smooth and quiet. The seating position, however, is far from comfortable. With the full-width bench seat in the farthest rear position, the driver is still right on top of the wheel. The foot controls are also oddly placed. The throttle is much higher than the brake pedal, which is much lower than the clutch.
With good low-end torque, dual-range transfer case, 4-wheel drive and the 3.54:1 rear axle ratio, the Terra is at its best off the road. It can grind up steep unpaved grades with ease and negotiate drop-offs without hanging up the front or rear. Front overhang is very short, allowing approach angles of 44 degrees without scraping the spring shackles. Rear end overhang is 42.3 in. from rear wheel center to the end of the bumper, with nearly 18 in. clearance between it and the ground. Ground clearance for the front and rear differentials is 7.6 in. The engine, transfer case and driveline are tucked well up into the frame structure for maximum clearance.
At the present tame, fuel availability for diesel cars and light trucks poses a bit of a problem. Except for major truck stops, where the big rigs that buy hundreds of gallons at a time get top priority, diesel stations are few and far between. A barrel of crude oil yields 4 gal of usable base diesel compared to about 10 gal. of base gasoline. Should diesel fuel replace gasoline, there might be a shortage of it and a surplus of gasoline. Then what?
Specifications: Terra Diesel
GENERAL
Manufacturer ............... International Trucks,
                             401 N. Michigan Ave.,
                             Chicago, Ill. 60611  
Number of U.S. deaIers ..................... 2180
Warranty .............................. 12 months                
                               /unlimited mileage
Base list price ........................... $8042
Options on test car .................. Heavy-duty
                                     shocks, $12;
                       dealer prep and West Coast
                     destination charges, $478.46
Price as tested ........................ $8532.46

POWER UNIT
Type ............................. Nissan in-line
                                     6-cyl diesel
Bore & stroke ...................... 3.27x3.94in.
                                        /83x100mm
Displacement ...................... 198cid/3247cc
Maximum net HP .................... 92 @ 4000 rpm
Maximum net torque .................... 140 lb/ft 
                                           @ 2000
Compression ratio .......................... 22:1      
Carburetion ................... Direct mechanical 
                                   fuel injection                      
         
DRIVETRAIN
Transmission type .................. 4-spd manual                  
Final drive ratio ........................ 3.54:1      

CHASSIS
Body/frame .......................... Box section
                                     steel frame,
                              separate steel body
Suspension, front .................... Live axle,
                     leaf springs, tubular shocks
            rear ..................... Live axle,
                     leaf springs, tubular shocks
Brakes, front ........................ Power disc              
        rear ............................... Drum
Steering system .............. Recirculating ball
Steering ratio ............................24.5:1
Turns lock-to-lock ............................ 6
Tire make & size ............... General H78 x 15                                  

DIMENSIONS
Wheelbase ....................... 118 in/299.7 cm
Track, front .................... 57.1 in./145 cm
Length ....................... 184.2 in./467.8 cm
Width ........................... 70 in./177.8 cm
Height .......................... 66 in./167.6 cm
Weight .......................... 4410 lb/2005 kg
Fuel capacity .............. 19 gals./71.9 liters

PERFORMANCE
0-30 mph ................................ 9.1 sec
0-60 mph ............................... 39.5 sec
40-60 mph ................................ 16 sec
Quarter mile ........................... 25.1 sec
Speed at end of quarter mile ........... 54.1 mph
Braking, 30-0 mph ....................... 42.3 ft  
60-0 mph ................................. 152 ft

Fuel economy,
  73-mile MT loop ...................... 15.6 mpg