The glow plugs designed for the 1983-1986 SD25 are controlled differently than those for the SD22. See schematic, notice TWO glow relays. The FSM refers to this two stage voltage system as "Type-II".
The glows look identical but are quite different internally.
Using the SD25 spec'd glows in the SD22 (SD22 has Type I AutoAfter Glow system) will result in very early failure because the SD22 timer runs the glow plugs for much longer time periods.
The glow plugs fitting the SD25
(NGK as of Nov 14, 06)
Pick-Up 720 QGS
Type 2
1984 - 1986 4cyl 2.5-liter SD25 Y-112RS-1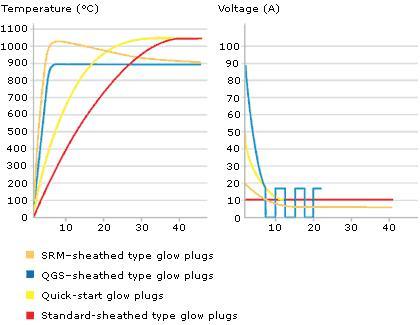 (900ºC = 1650ºF)
"A QGS sheathed glow plug heats up extremely quickly. However, a special QGS control device is needed. There are two different, non-interchangeable types of quick-start glow plugs. The first type has one heating coil with a low resistance which is designed for an extremely high current flow. The second type has both a heating and a control coil. This guarantees that the resistance increases with temperature and therefore provides a certain degree of temperature control. These glow plugs have very short preheating times and improve the cold start performance. "
"Safety information:

If the voltage is generated for too long, the glow plugs can melt and crack. Therefore the control device or relay must either reduce or completely switch off the current flow as soon as a temperature of about 900-1k°C is reached." (about 6 seconds for the RS-1 glow plug)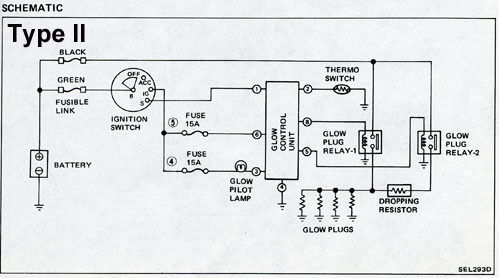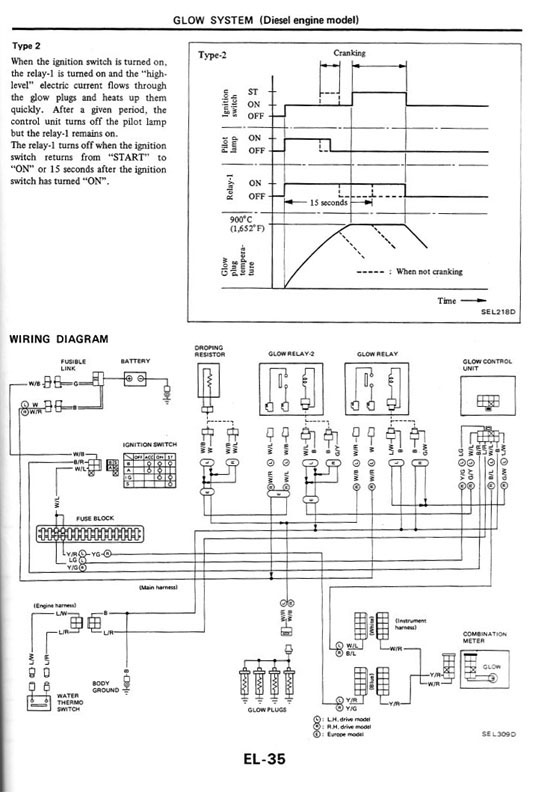 SAGE ADVICE from Al ...
If you are removing a glow plug, and it turns with reasonable torque for a turn or two, but then becomes hard to turn, STOP. Remove that cylinder's injector, bring that cylinder's piston to TDC, then remove the GP.
Chances are that the tip of the GP will break off and fall into the prechamber (and then the GP will turn easily again). If the piston is at TDC, the broken-off tip can't fall out of the prechamber and into the main cylinder.
With the injector and GP removed, you can now use compressed air or a magnet (in the GP's hole) to remove the tip out the injector hole, thus avoiding the need to remove the whole damned head.
Don't think you can just start the engine and "blow it out the tailpipe" because severe engine damage can and has been done trying to use that method.