Auction 110082821666
, ends Jan-29-07 17:45:31 PST
Here we have a 4 cyl. diesel engine made by the Nissan Diesel Motor Co. LTD. Model # CN4-33 , Ser. # 143089 , Rated Out Put 48HP at 3200 RPM , Cont. Out Put 36HP at 2600 RPM. This engine was removed from an aircompressor. I got it about 6 years ago from the estate of someone I knew. He told me that it had been rebuilt and was in the process of putting it in his boat. The engine is complete except for the fan, I have to check my storage unit to see if I can find it. This engine is free and should run but I'm selling it as is and where is for local pick up only. Payment and pick up to be within 14 days of auction end by cash or moneny order and I will help to load. This is also the same engine International put in their diesel scouts and pick ups. I don't know a whole lot about this but if you have any questions I'll do my best to answer them.

I've had a few people tell me that International only used 6 cyl diesels in their scouts. However, in the past I have seen a scout listed on ebay with a 4 cyl. diesel and the pics. were very clearly showing it as a 4 cyl. diesel. As I don;t know a whole lot about them, It could have been a transplant? Anyway this engine can be used for many different things, would work great for a generator.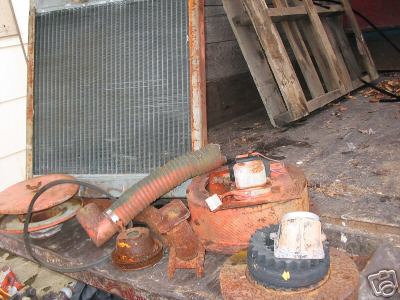 Notice the water pump sheave.