Knucklehead wrote:If you look on page 4 (of 7) about halfway down the page, you will see two very clear pictures of the two lines going from the governor. The forward one goes into the underside of the black air box, It doesn't matter where on yours, as long as it is somewhere between the turbo and the TB. It MUST have boost! If it is disconnected, that is your problem. The lines are easy, those two are the only ones that are very important. If the vent line has boost as it should, when you close the throttle the extra pressure will PUSH the diaphragm back closed. A torn diaphragm is not the problem or it would never run normally N/A..

I was only speaking about atmospheric pressure hypothetically. (Supongamos que la presion del ambiente era doble, que seria diferente? Nada.)
Hi KH,
Talking about the vent line, it think it was connected as I said into the air box, but what it's not clear to me is that it was not between the TB and the turbo as you said it has to be plugged. The order goes like this:
1- Air Box (vent line)
2- Turbo
X- IC
3- TB
So, this vent line had no boost cause it was before the turbo right?
What happens it's that comparing your truck's configuration with mine there's a difference in regards the order, TB position and hence the intake.
You can look at it better in the following pic.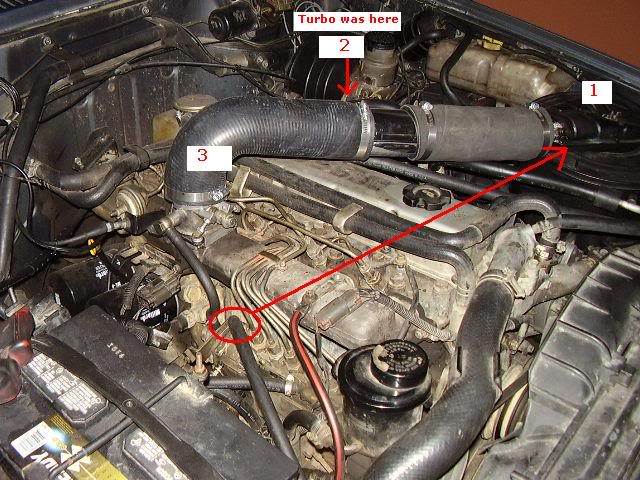 Note: if you need more pics or data in order to clear things out, please don't hesitate in letting me know, I will get them right away, well when I'll get home after work.