kassim503 wrote:Matt, you dont have to send the [cigarette] lighter. I actually found my old one. It was lodged in the center console behind the boot that goes over the parking brake lever.
[For those just tuning in, I was working as a locksmith at the time of this story.]
A few months ago, we had a 1997 Camaro (a real trashy one) come in to our shop because the Ign. key could not be removed. Tech 'A' started in on it, took the usual stuff off around the dash to access the Ign. lock. He gave up, and I got the job partially started.
I finished getting to the Ign. lock (steering column drop, in this case), but things started looking odd. The "feel" of the key action wasn't consistent with a damaged lock cylinder. I was thinking in terms of a grenaded switch, since there was a springy feel to the action.
When I was able to access the Ign. switch, a light bulb went off: there is an interlock cable into the mechanism that runs to the shift console. I guessed (correctly) that it prevents removal of the key (and attendent steering column locking) unless the shifter in in the Park position. The shift lever
looked
like it was moving into Park OK.
I removed the Ign. switch from the Ign. lock, and the lock worked OK.
So, I started in on the console. This is what I found after removing the top of the console:
(
Click on any image for larger
)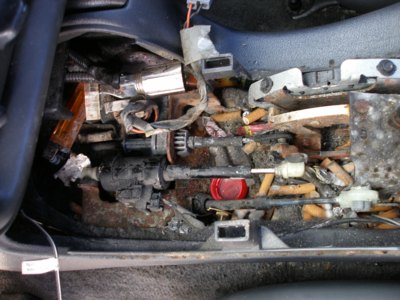 If you click on the larger image, you can see the Bic lighter on the left, the red bottle cap center, and the moldy cig butts on the right. What you can't see is the
other
Bic cig lighter and two Bic pens at the upper left under the electric cig lighter and harness.
30 minutes later, after using the usual Shop Vac-with-garden-hose-duct-taped-to-end tool, and a quart of Simple Green, I had it looking like this: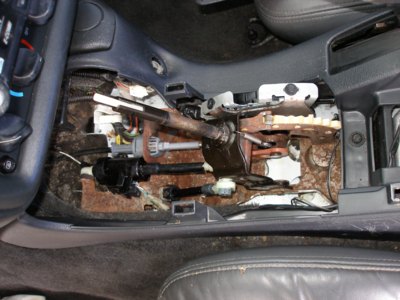 The lower cable in the picture is the interlock cable. After cleaning out the detritus, the shift linkage could push the interlock cable enough to allow the Ign. lock interlock to function.
Beware the shift console + slovenliness.
This particular console had a built-in ashtray, which was missing, leaving a large hole in the top of the console that the junk could fall through.