I was able to slip out at lunch and take some pics, and spent 20 minutes tonight working with it.
First off, it's a 198
1
, not 198
5
. I didn't notice until today . . . that's how much time I took looking at it when I picked it up, and yesterday I ignored it altogether.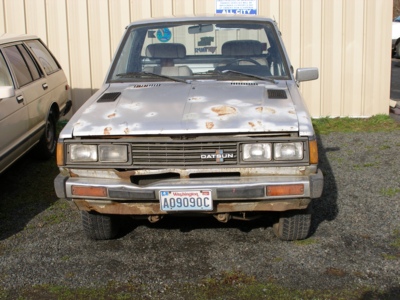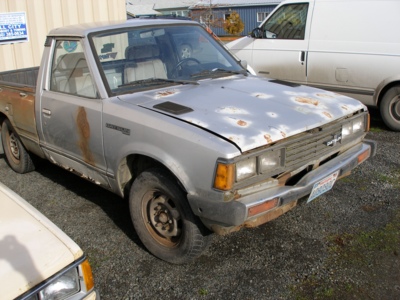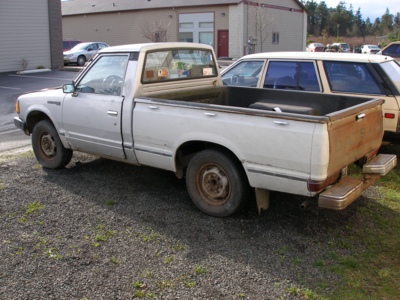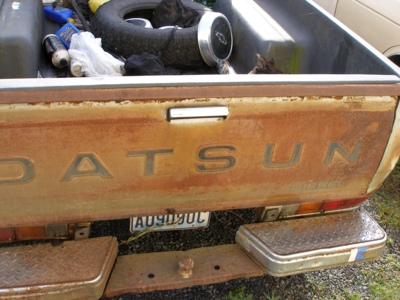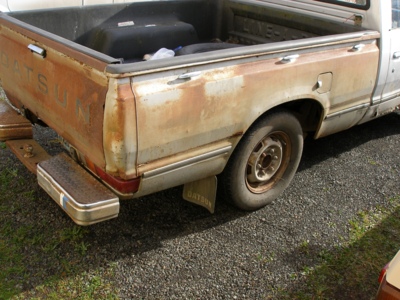 The bottom of the doors look bad from here, but the rockers may have been filled. I have not even gotten down on my knees to look yet. The bed appears to have a Line-X liner, and quite a few green beer bottles, one tire, and a full set of Chev. "dog dishes" (truck hubcaps, the small style that only covers the lugs).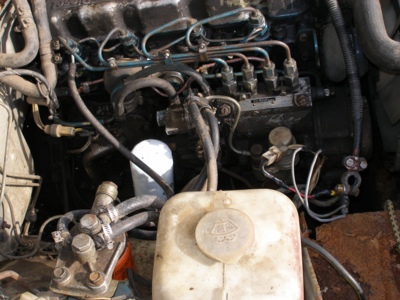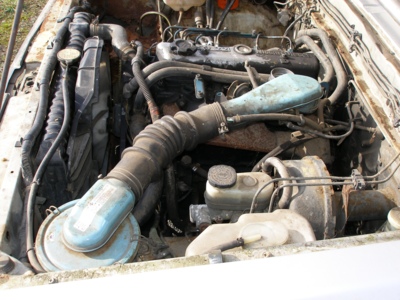 This is the
ONLY
non-A/C intake hose that I've seen that is
not
cracked. You can bet I'm going to treat it with kid gloves!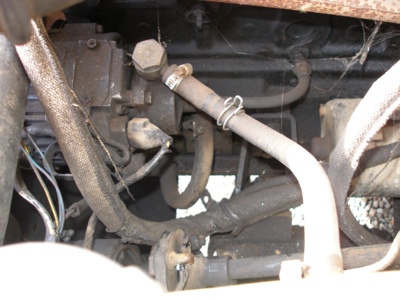 New alternator belt. Block heater again (as has the SD from the "Bellingham Truck", same location) but no cord. Coolant "looks" fresh (peering in, not doing a draw test), and the engine oil is fairly clean, certainly much cleaner than usual.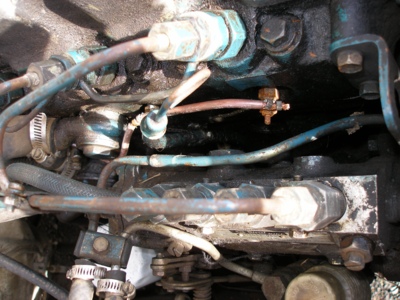 GP bus has been replaced with 8ga wire, reusing the original terminals but not soldered. Testing tonight indicates that No. 1 GP has power at the terminal but not at the GP's stud (touch it and sparks!). Needs work in this area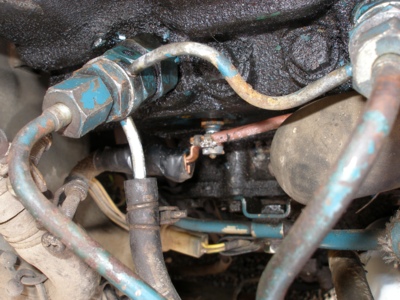 I was attempting to take a pic of the GP bus wire terminal here, but the camera's focus shifted to the No. 4 injector. Click on that image above and look at the return line where it meets the injector. See anything funny?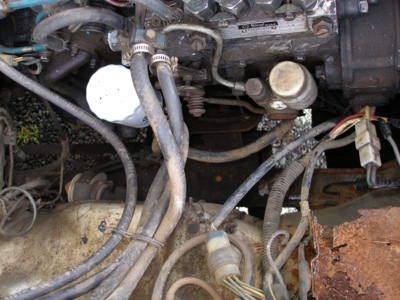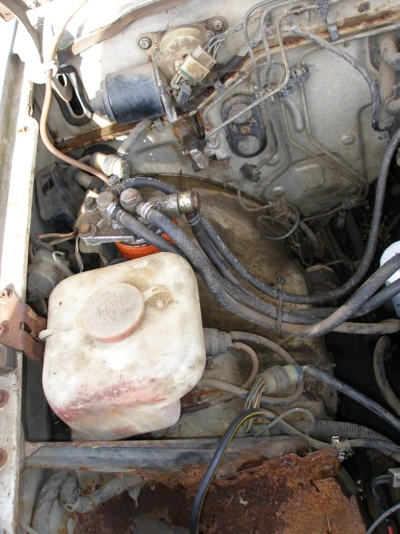 Not a good picture of it, but the battery box has very bad rot, as bad at the "Arlington Truck" and "Bellingham Truck". I'm beginning to think I'm going to take a portable SawzAll to the wrecking yard and cut out this corner from any 720 I find with a good one . . . hey, that's a good idea!
Philip will note that the DPC Module (controller) is not screwed down.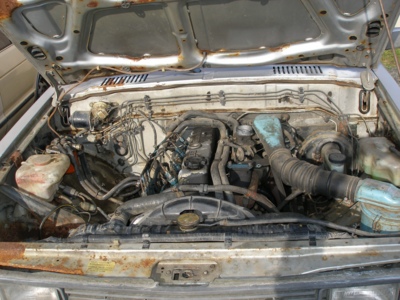 The engine & bay are filthy, by my standards.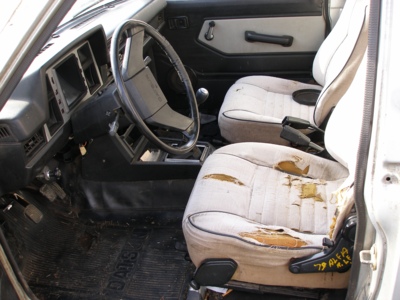 Yup, 1979 Alfa seats, it says. A little tall (I hit my head getting in, and I'm 5'10"). Rare-ish black door panels for 1981 around here. I got one key with the truck. Driver's door is sagged or hinges are worn, I didn't look.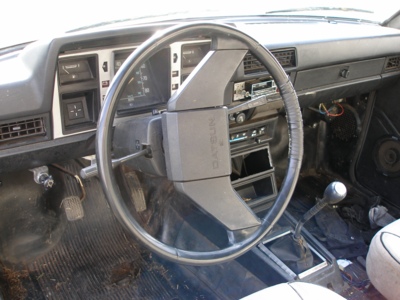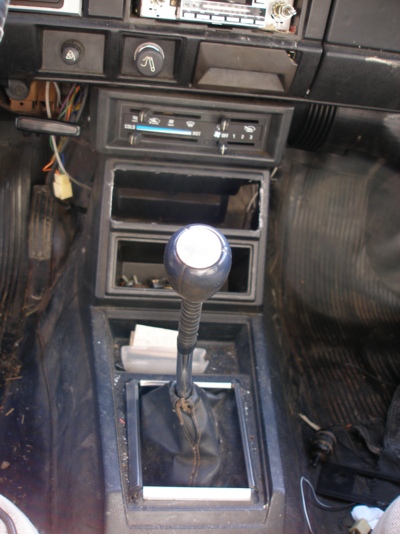 Though it looks like the console is blue in this pic, that's my camera. It's black. The shift boot is a lot better than most I see.
Indicated mileage is 318k !
So, I get out to this truck at after 10pm on Tuesday, 104 miles from work. I barely glance at the thing, I just want to load it and head home, I am so tired. Brake pedal has resistance. One very low rear tire, so I use my portable compressor to air it up, and then Chris tells me that the title wasn't transferred from the previous owner . . . shit!
In Washington State, you have 15 days from sale to transfer the title, or there are stiff penalties. Last time I paid it, it was $150, several years ago. You just know it hasn't gotten any cheaper. I pound my head on the door, and explain this to Chris. I offer $80 and he accepts.
Loading it up was a snap, he towed it with a strap uphill, we backed it around and got its nose headed downhill, and it rolled right up on the dolly.
Got home at 12:45am, got up at 5:15 to head to work. Loooong day.
208 miles, 17.6 gals, 12 MPG overall, $48 of fuel.
-----------------------
Tonight, I threw a fresh battery in it, cracked one IP bleeder, started operating the primer. No resistance for about twenty seconds, then gradually some resistance. About 40 seconds total to bleed all visible air from front bleeder only.
GP check with test light: no go at No. 1 GP (due to bad terminal crimp as noted above), but power at the rest of the GPs. I tapped the starter and verified DPC operation: good. Manually activated GP Relay via jumper for 20 secs (50°F ambient), cranked for about twenty seconds, and it came up -- on one/two/three cylinders as expected after air in the IP and one non-op GP.
Set the manual throttle to fast idle, went and tidied up tools -- all this by flashlight. Got jumpers out of the way etc.
After a little while, fuel began spurting (I do
not
mean dripping) from the return line fitting at No. 4 injector, and dribbling from same location at No. 1. Exactly what happened to Zoltan happened here. Fortunately, I picked up a spare return line and three injectors at the JY last Sunday, so I have spares.
After about three minutes the smoke was still fairly heavy (working in the dark, hard to quantify) and one cylinder starting nailing (hammering) so I backed down the manual throttle for about a minute, which shut it up mostly during that time. Evidently a bad injector or crap in it -- same thing.
Fuel filter is the '81 style with no water-in-fuel sensor.
I'll play with it more this weekend, pin down which injector and possibly try to swap in a JY one -- though the JY injectors look more like cores to me, than swappable good ones. And I'll swap out the steel return line, so it can be driven to the car wash and be de-grimed.
That's all for this post, time for bed soon. Still trying to catch up on sleep.
(I just increased the Signature line limit from 255 chars to 500 chars, so I could make my vehicles in my Sig "clickable". Use the [gotopost] tags, as explained in
this post
, to keep the total charcount low.)