(This post is to document some work I've performed on co-worker Laurel's rig. Laurel bought this truck new, and it now has 74k miles on it.)
Symptom: fuel gauge likes to stay at "F". Been this way for a long time. Many GM gauges will default to "F" when no signal (resistance) to sender in tank.
Normally, I would replace the fuel pump any time the tank is dropped. However, this is an unusually expensive fuel pump (over $450 my cost) and the truck has very low miles, so we decided to replace only the level sensor, which runs "only" $105 (cost).
(click on any image for larger)
It comes with detailed instructions that actually cover about half of what one needs to know. Plastic harness retaining clips and instructions not shown in pics below: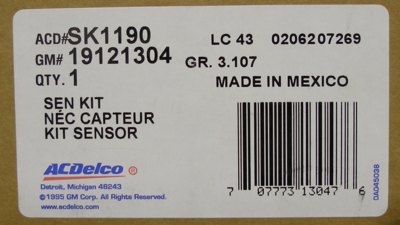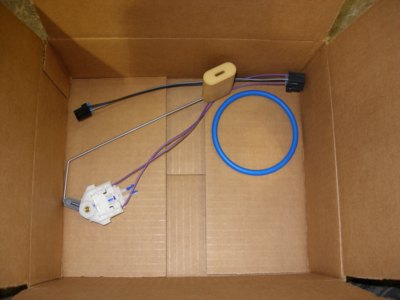 1/4" nylon tubing and an electric fuel pump got about 10 gallons of fuel out of the tank, but no more. There was about 15 gallons in there, so I dropped the tank with five gallons still inside, which is trickier than it sounds -- fuel sloshes while you are balancing the tank on a floor jack. The red pail? The electric pump was last used to pump ATF, so a bit of ATF was in its lines.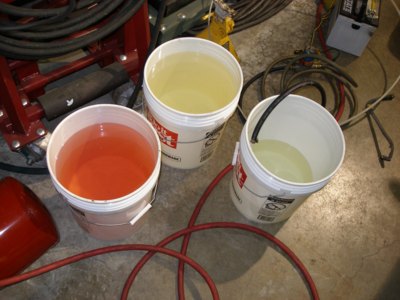 First challenge is that this model has the optional engine/transmission skid plates, and this heavy steel cage around the fuel tank. The driveshaft must be disconnected to get this cage out, and it's held to the frame by no fewer than eight bolts (mostly different sizes, of course). It weighs around 35 lbs.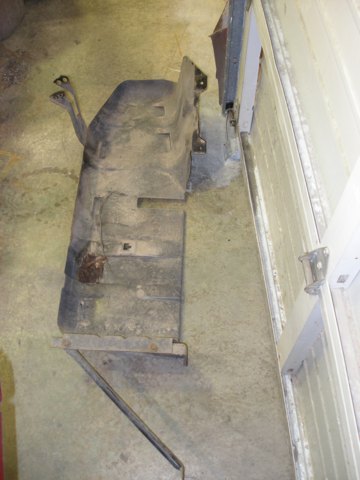 Lots of gravel & dirt have collected in the cage and on top of the tank.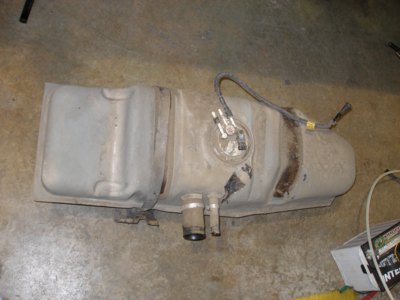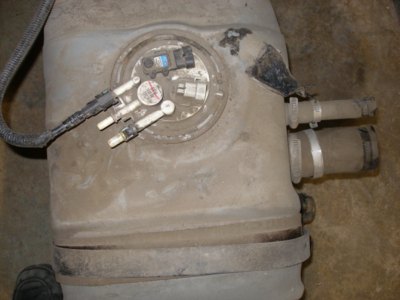 However, a toothbrush, a spray bottle of Windex, and a Shop-Vac, and it's ready to disassemble: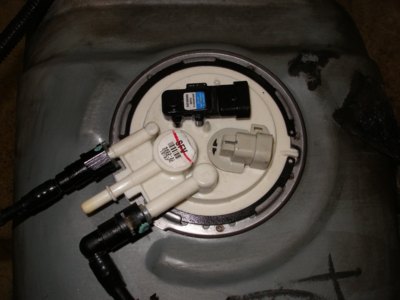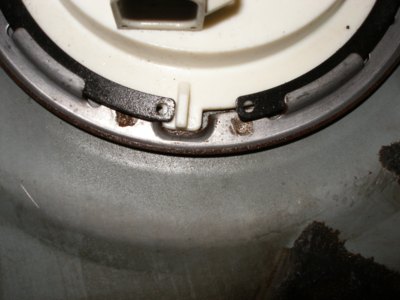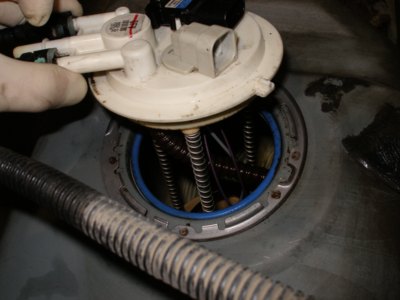 Checking the old sender with my ohmmeter, there are lots of dropouts of resistance when I move the arm slowly. This vintage of GM gauge is a thermal unit and "averages" the signal because it reacts slowly to inputs. This sender is definitely a bad one.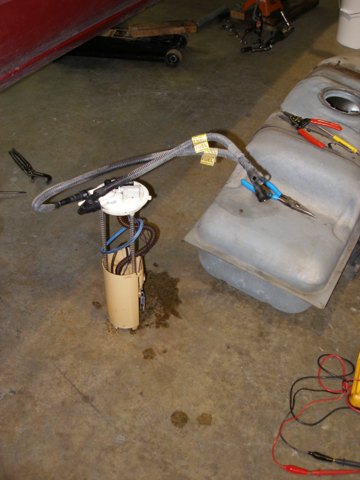 New sender installed on fuel pump module. Silcone/Teflon grease on the fat blue o-ring, in the electrical connectors, and in the slip-fit quick-connect fuel line fittings: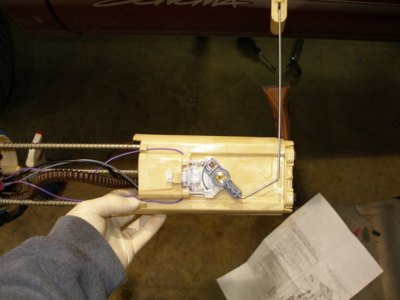 Suck the last five gallons out of the tank.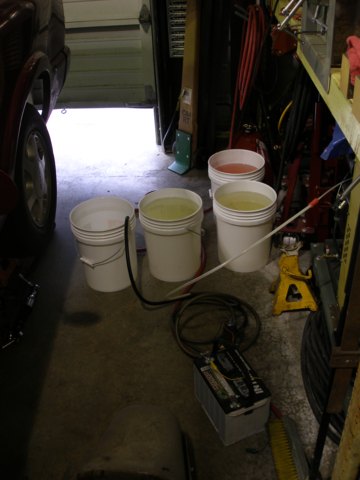 Then re-mount the fuel pump module: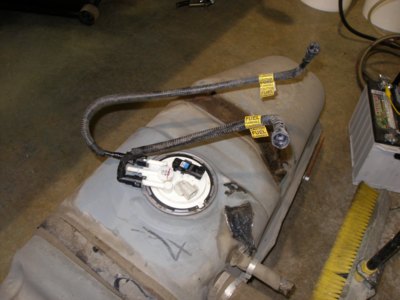 After the tank's back in, with truck down on the ground, I took three fuel gauge readings. Starting with a "dry" tank, putting in mostly-full five gallon pails of fuel and checking each time: