Slowly reviving this antique, pulled from my 1975 Holiday Ramblette.
This forced-air 12v LP furnace worked when I tested it four years ago, but didn't two years ago when I checked it again.
Pulled it out (Thanks, Mark!), blew it off, did some testing, found the Ignitor Board failed. While I could fix it, it's really old and I wanted a newer design.
Ordered a Dinosaur Electronics (Lincoln City, Ore.) Universal Ignitor Board w/spade terminal HV (UIB-S).
Then found that none of my carefully saved reference material had the correct info on this particular sub-model of NT22.
(click on images for larger)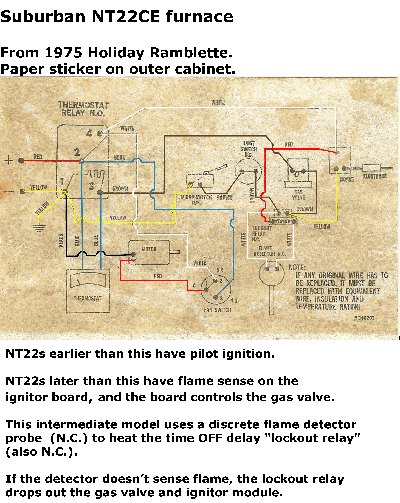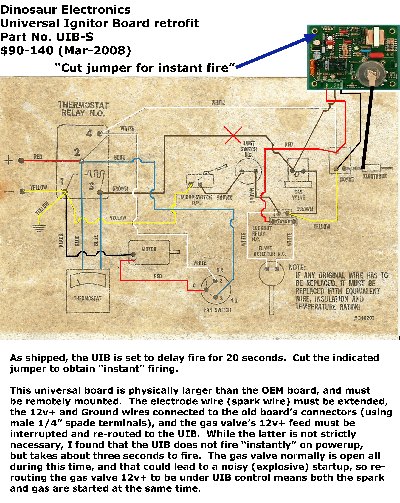 For the search engine (and, hopefully, someone will be able to use this wiring diagram, because I sure couldn't find it anywhere else besides this very worn copy pasted to the cabinet):
Al talking about NT22CE wrote:Suburban NT22CE furnace

From 1975 Holiday Ramblette.
Paper sticker on outer cabinet.

NT22s earlier than this have pilot ignition.

NT22s later than this have flame sense on the
ignitor board, and the board controls the gas valve.

This intermediate model uses a discrete flame detector
probe (N.C.) to heat the time OFF delay "lockout relay"
(also N.C.).

If the detector doesn't sense flame, the lockout relay
drops out the gas valve and ignitor module.

=============================
Dinosaur Electronics
Universal Ignitor Board retrofit
Part No. UIB-S
$90-140 (Mar-2008)

"Cut jumper for instant fire"

As shipped, the UIB is set to delay fire for 20 seconds. Cut the indicated
jumper to obtain "instant" firing.

This universal board is physically larger than the OEM board, and must
be remotely mounted. The electrode wire (spark wire) must be extended,
the 12v+ and Ground wires connected to the old board's connectors (using
male 1/4" spade terminals), and the gas valve's 12v+ feed must be
interrupted and re-routed to the UIB. While the latter is not strictly
necessary, I found that the UIB does not fire "instantly" on powerup,
but takes about three seconds to fire. The gas valve normally is open all
during this time, and that could lead to a noisy (explosive) startup, so re-
routing the gas valve 12v+ to be under UIB control means both the spark
and gas are started at the same time.
BTW: While the UIB-S looks to be a very nicely put together product, it ships with almost no documentation. Although "Universal", it looks to be designed to mate with a specific edge-connector harness. There is next to nothing technical on Dinosaur's website regarding the thing. There is a single-sheet describing how to cut the jumper and timing cycle changes that result, but it looks like they assume you know a lot more than
I
did. No good place to solder decent-sized wires either, so I through-drilled the board in two places for hot & ground, and probably will again for the gas valve feed.