So, when I bought this (1972) trailer in 2002, it had not had water hooked up for at least five years, because the owner two owners back had let it freeze without draining the pipe. Pipes (1/2", galvanized, like house pipes) split, water heater shot. I tossed it -- wish I'd kept it for parts . . .
The water heater is an unusual form factor, by a mfgr who went out of business decades ago.
I bought another trailer which had the same water heater, transferred it to my trailer, and it's been working well for seven years. It's a Mobil Temp G-602, six gallon capacity with a Unitrol gas control valve. It has an all-aluminum
tank. They put it under where my bed is.
Recently, I was smelling a bad odor when returning home. I started seeing some water dripping from the water heater end of the trailer, so I put 2+2 together . . .
Getting to the water heater is a major chore, as the mattress cannot be removed and put anywhere -- it's too large. So I have to fold it in half, rope it folded, then lay across it to access the plumbing portions of the water heater. Oh, and I have to reach between 1x4" slats that are not easily removed, in order to run the wrenches.
When I removed the propane gas line, the flare fitting was cracked north to south completely. Hence the bad smell. I'd thought it was rotting flooring, but though the flooring was wet, the smell was the propane all the time. Praise be to Mercaptan.
The fibreglas blanket around the tank was completely soaked and smelly and falling apart, so I tossed it.
Here's a pic with a spare cover to the right of it.
(click on any image for larger)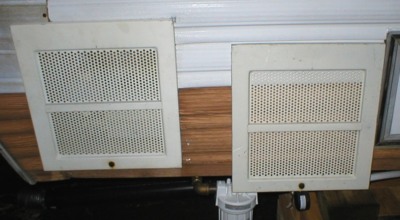 The galvanized box that the guts slide into: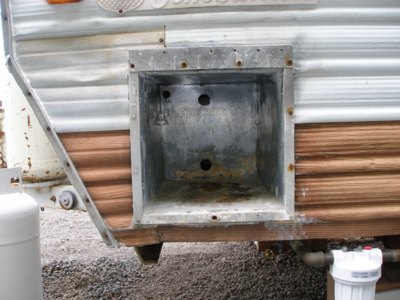 The G-602 with the insulation removed and pressure-washed: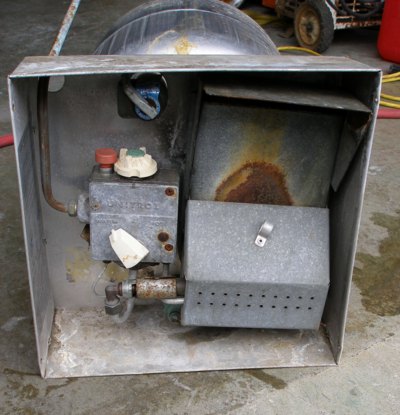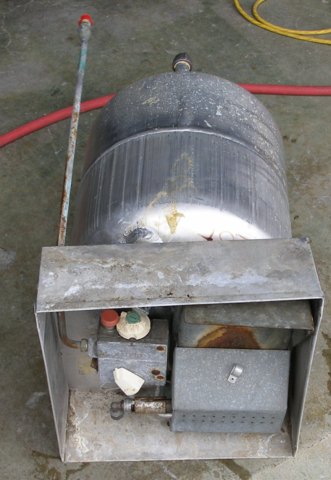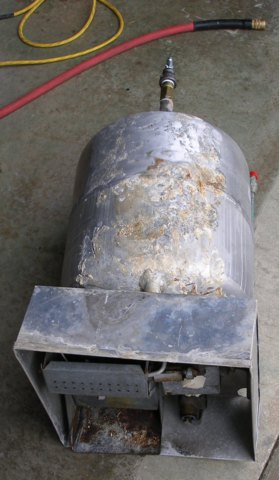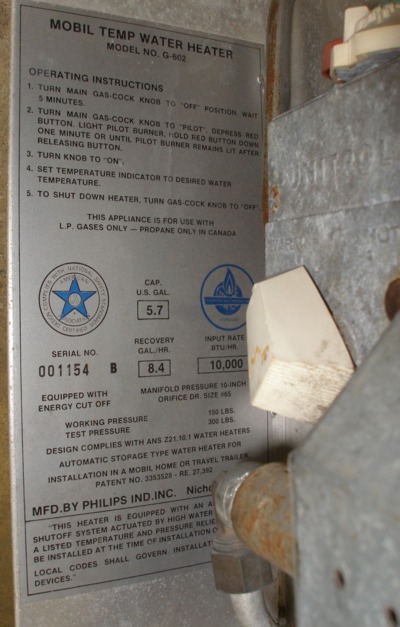 Well runs to 50 PSI, so I pressure-tested at 60 PSI, found two leaks, drilled 1/8" holes at the leaks to ascertain wall thickness: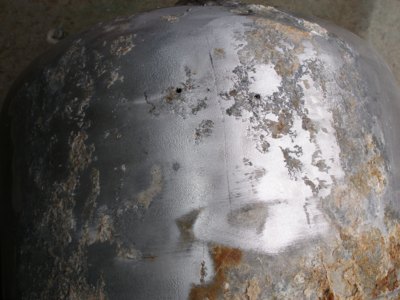 These Mobil Temp water heaters were installed in a LOT of little RVs and campers back in the 70's, but the ones that remain are generally in well-used condition, and working examples of the model G-602 are becoming scarce.
I called my welder and asked his opinion. He agreed to try to patch the tank. I told him I didn't expect much, and that I'd pay him for his time regardless of outcome. Take a look at what he accomplished: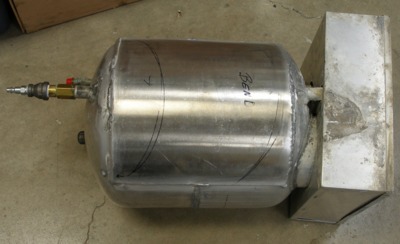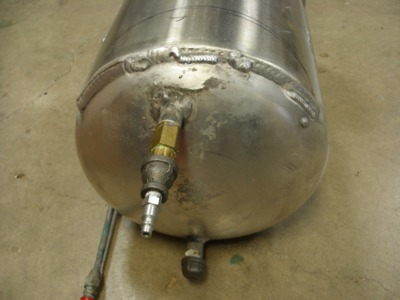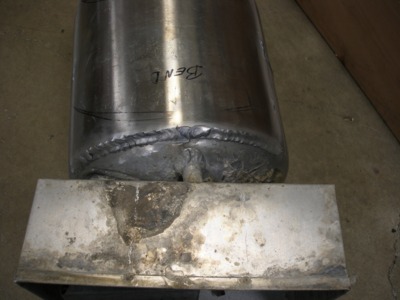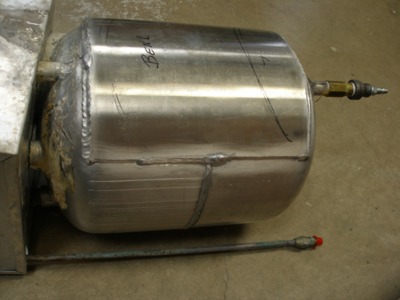 He only tested to 5 PSI (pressure vessels are like bombs, if you have a bad weld). When he brought this to me, I asked how much pressure it passed, he said 5 PSI and I laughed. I told him it had to pass 60 PSI or it was useless. He hid behind another building whilst I ran the pressure up to 60, sprayed Windex on it, found FOUR leaks. He marked them, took it back to his shop, now convinced it wouldn't explode.
Two hours later, he'd plugged the last holes. No warranty, and he made me promise to not mention his name, he's not proud of the quality of finish, but I'm happy. I paid him $80 to do the patch. Then next corrosion leak point will be at the tank's ends, nearn the drain valve etc. That can't really be patched. But I should get some more time out of it anyway.
Next, the water drain valve has been very reluctant to seal after use. It's been dripping slowly for a couple of years., but who wants to wake a sleeping dog? Odds were, when I attempted to remove the valve for service, it would snap off the aluminum spud it's screwed to. But if it was going to break, now is the time to break it.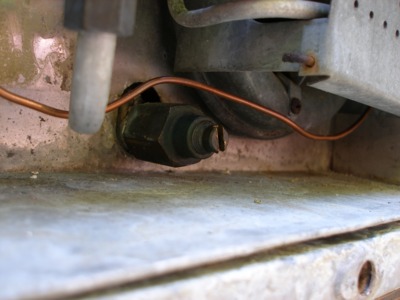 It came off with a 1" deep socket and a breaker bar and a propane torch. When I got it off, the stem unscrewed from the body fairly easily. The washer was rock-hard, but a replacement from the local hardware store was 37 cents . The washer is pressed by the screw against the aluminum spud's end, which is the "seat" in this case.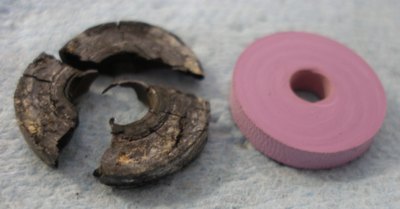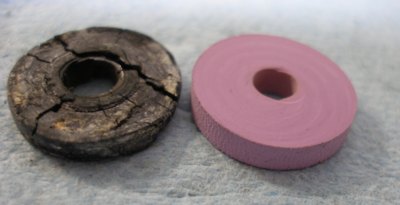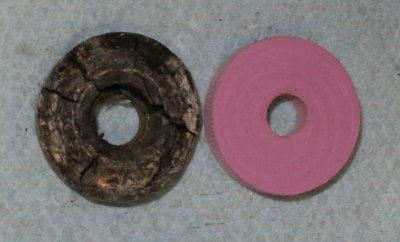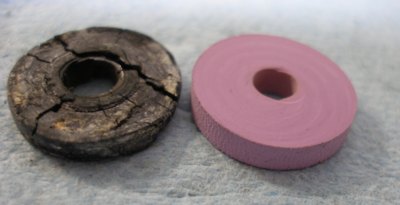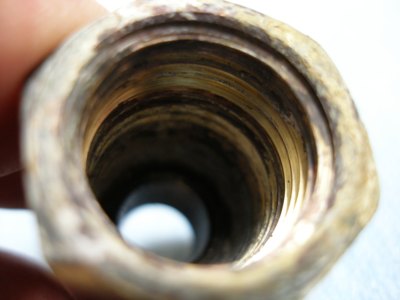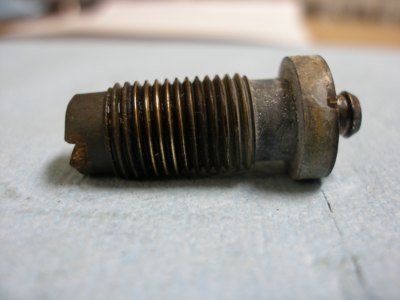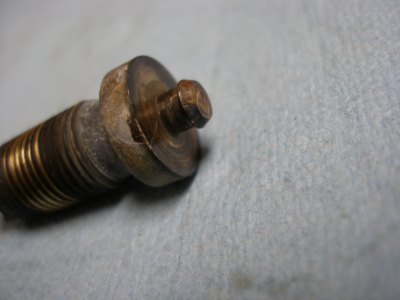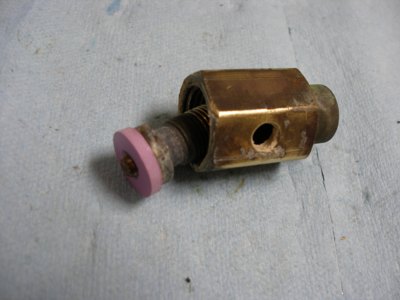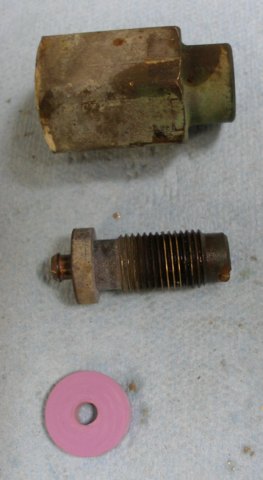 Some anti-sieze on the screw threads, and it works great, no more leaking.
The 1/2" NPTM cold water inlet spud was corroded back in 2003, and I'd run a 1/2" NPT die down it and added a brass coupler/nipple combo to it to re-extend it. This time, the hot water spud had the same problem, but I had to actually buy the die instead of borrowing it like last time. Another $20.
Bought a water heater blanket ($20) and cut/taped it to fit the repaired tank. The Maxima's dented-by-Dan hood make s decent work surface: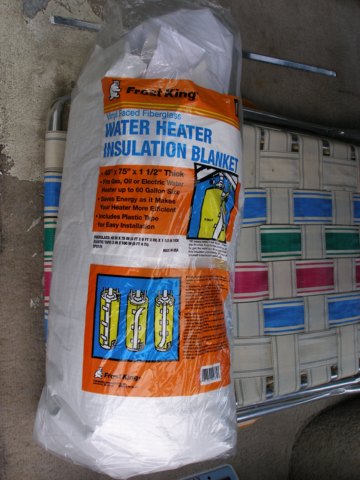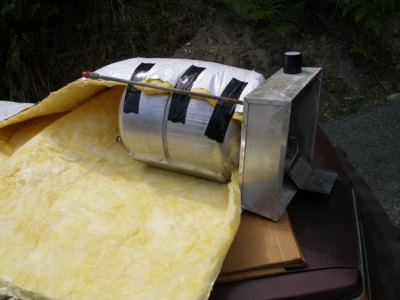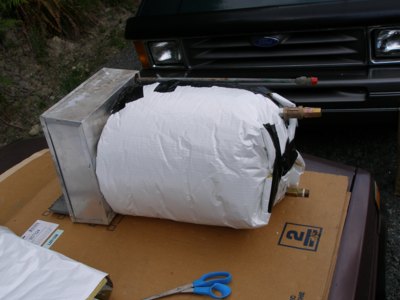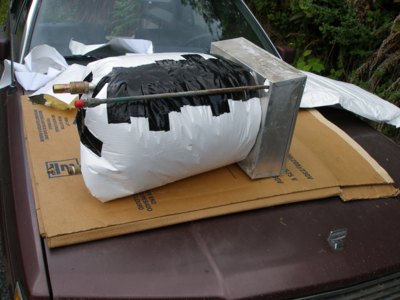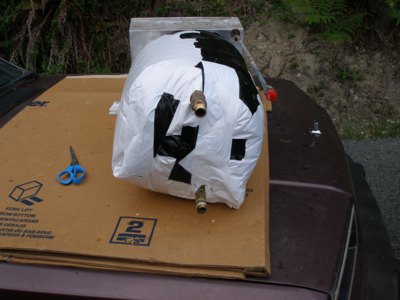 Slide it back into the cabinet. This is best done with two people, as there are the two water spuds and the gas spud to guide through the back of the cabinet. Naturally, I had to do it alone -- lots of trips inside/outside.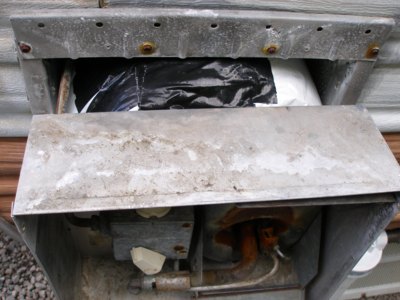 Then the real fun begins.
This trailer's getting a 50 gal. electric water heater in the storage closet soon, to run the "real" shower that Mark is building in place of the old 24" square "shower" and the old vanity I tore out. I'll need to isolate the Mobil Temp from the rest of the system when that happens. Now's the time to add the isolation valves. I hate plumbing, esp. in an RV. The pics make it look a lot easier and more accessible than it really is. Two new ball valves.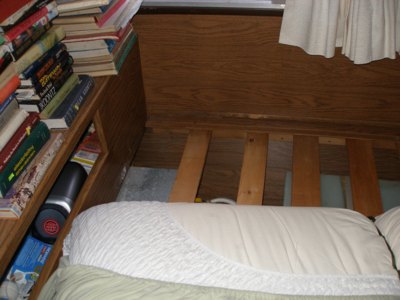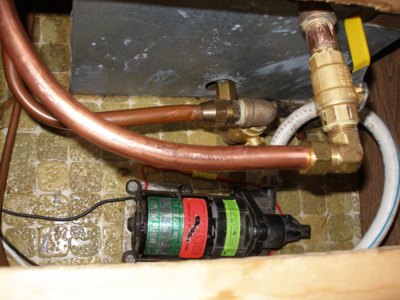 Oh, and the hot water 5/8" copper tubing had to be replaced, because it needed to be longer, and because it had frozen over the years, it was oversized from freeze stretching, so a compression fitting wouldn't work. And it isn't possible to flare oversize tubing well and get a flare nut over it -- I've tried in the past.
Problem is, the other end of this line is down in an inaccessible well. Normally, the entire bed frame & bookshelf would have to be removed (all glued & stapled in place 38 years ago). I bought a $23 NAPA 1" crowsfoot and ran it down into the well where with a lot of extensions I could get the flare nut loosened.
Second pic is the cold water flare nut; I had to remove/replace the flare nut NOT shown, at the end of that shiny, new copper tubing. You can see the hot line in the third pic.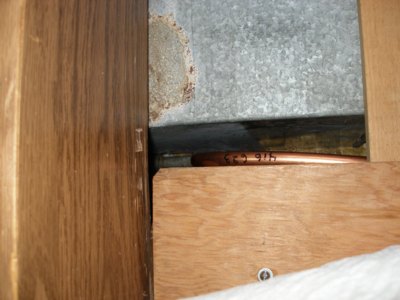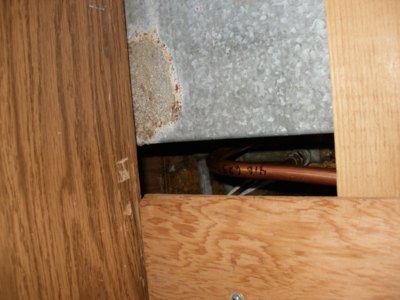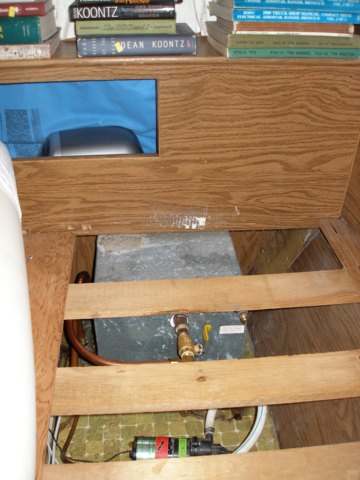 The pilot has been getting crankier for the last couple of years, and I found that the aluminum-sheathed thermocouple line had been sitting against the brass drain valve, and electrolysis had damaged it.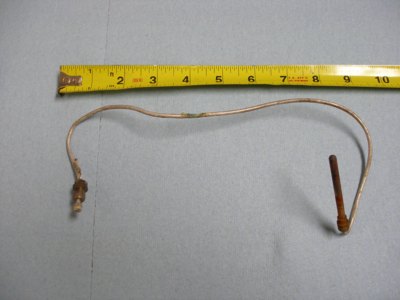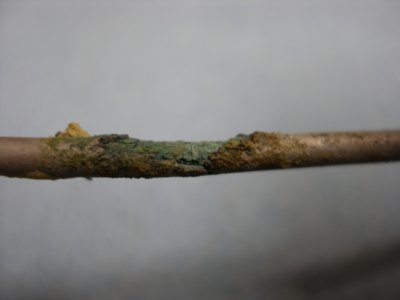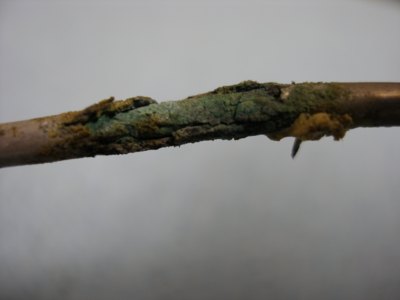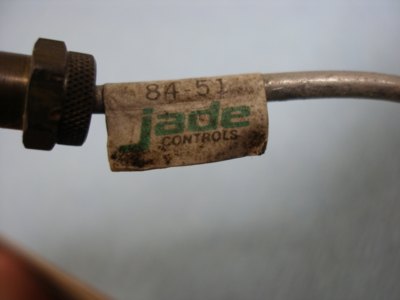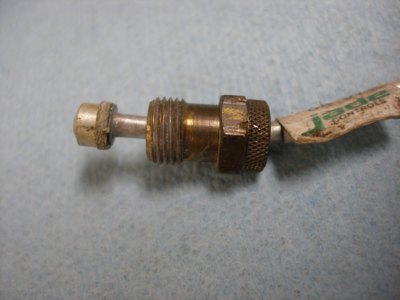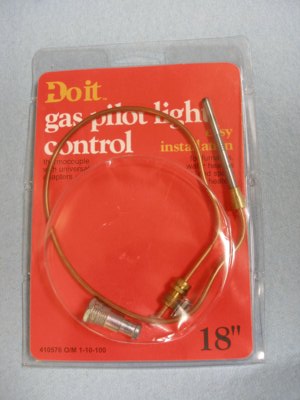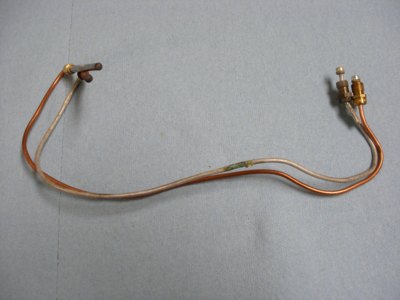 So, now I have hot water again (all six gallons of it).
Tank repair = $80
Blanket = $20
1/2" NPT die = $20 (US made)
Flaring tool set for 5/8" = $17 (Taiwanese)
Thermocouple = $7
5/8" copper tubing & flare nuts = $11
Ball valves & misc brass fittings = $28
I had RectorSeal & duct tape already.
[later]
The pilot still seemed fairly weak, so I removed the pilot orifice and found it blocked.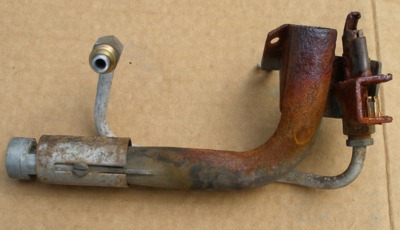 I could not blow through it. I used some canned air on the disassembled orifice tubing and orifice, blew back through it and then I could see light through it again. Pilot is about twice as strong now.