(
click on any image for larger
)
NISSAN CABALL
Petrol 2000cc 99HP / Diesel 2200cc 70HP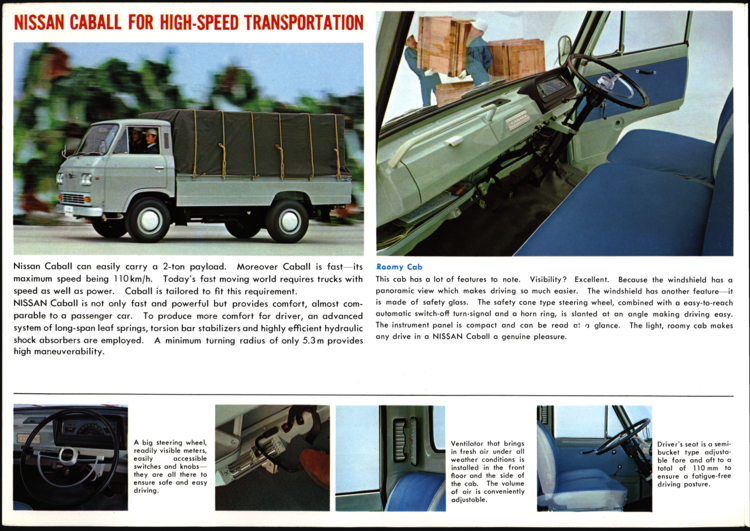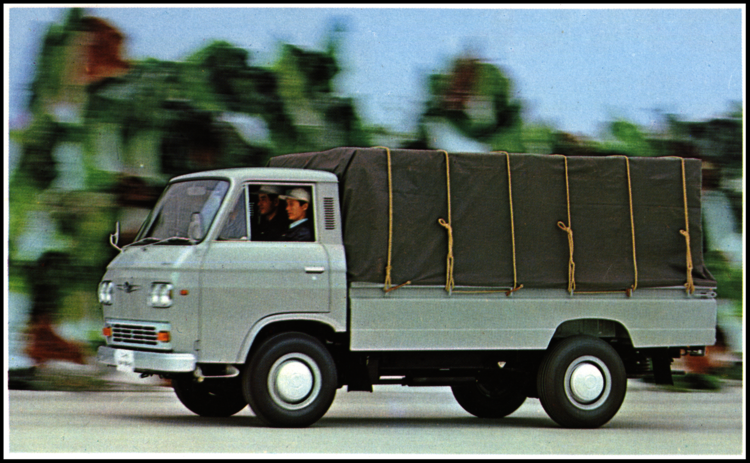 Nissan Caball can easily carry a 2-ton payload. Moreover Caball is fast -- its maximum speed being 110 km/h. Today's fast moving world requires trucks with speed as well as power. Caball is tailored to fit this requirement. NISSAN Caball is not only fast and powerful but provides comfort, almost comparable to a passenger car. To produce more comfort for driver, an advanced system of long-span leaf springs, torsion bar stabilizers and highly efficient hydraulic shock absorbers are employed. A minimum turning radius of only 5.3m provides high maneuverability.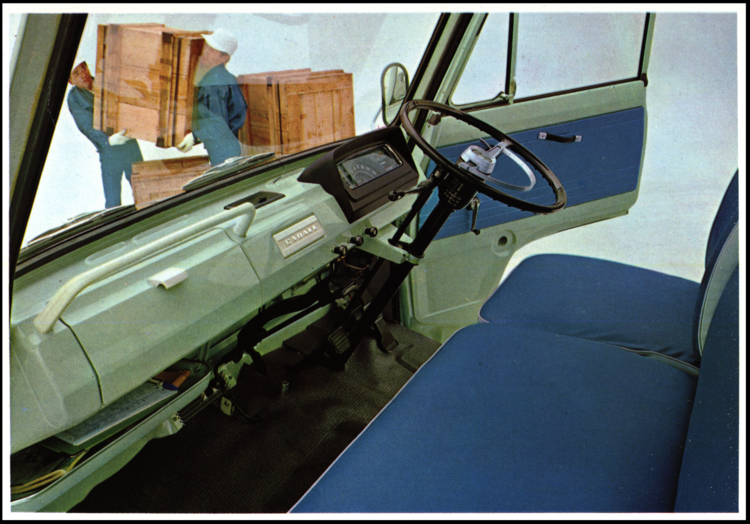 Roomy Cab
This cab has a lot of features to note. Visibility? Excellent. Because the windshield has a panoramic view which makes driving so much easier. The windshield has another feature -- it is made of safety glass. The safety cone type steering wheel, combined with a easy-to-reach automatic switch-off turn-signal and a horn ring, is slanted at an angle making driving easy. The instrument panel is compact and can be read at a glance. The light, roomy cab makes any drive in a NISSAN Caball a genuine pleasure.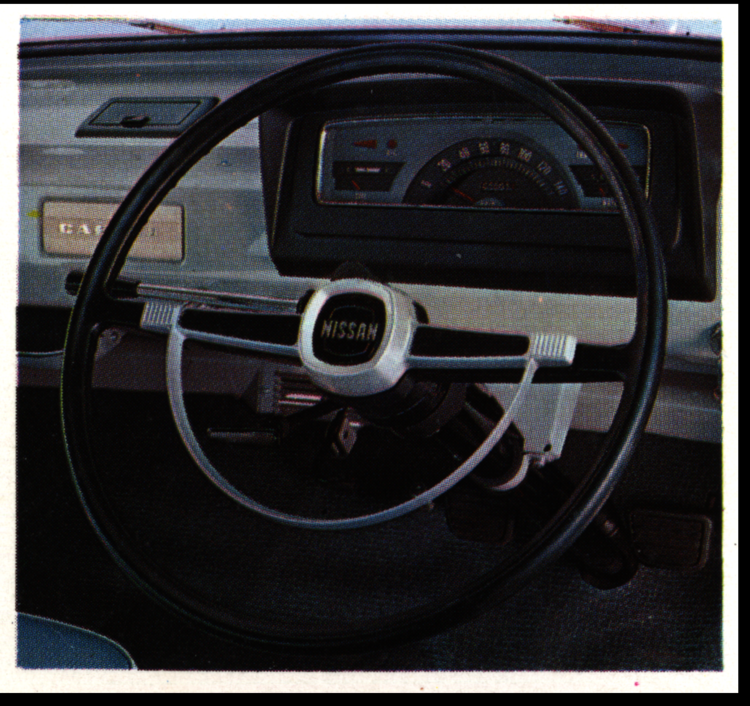 A big steering wheel, readily visible meters, easily accessible switches and knobs -- they are all there to ensure safe and easy driving.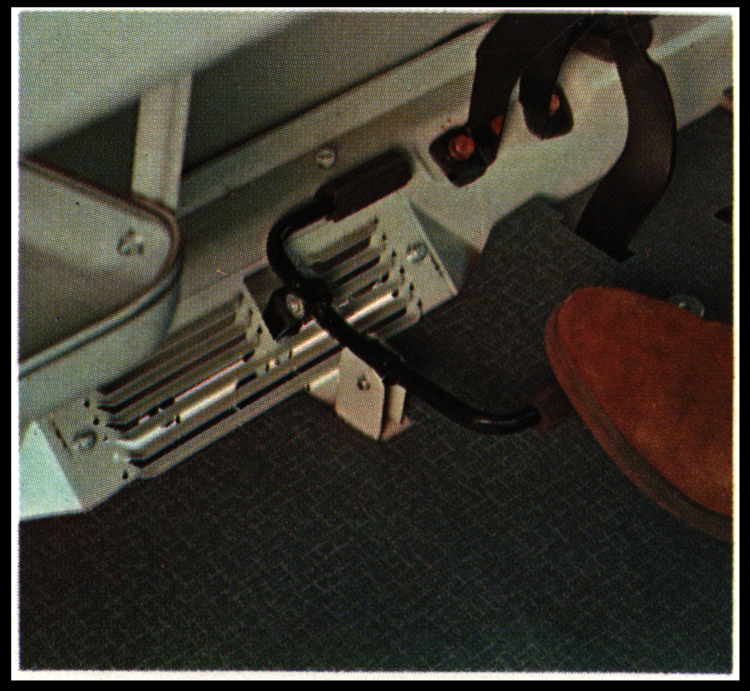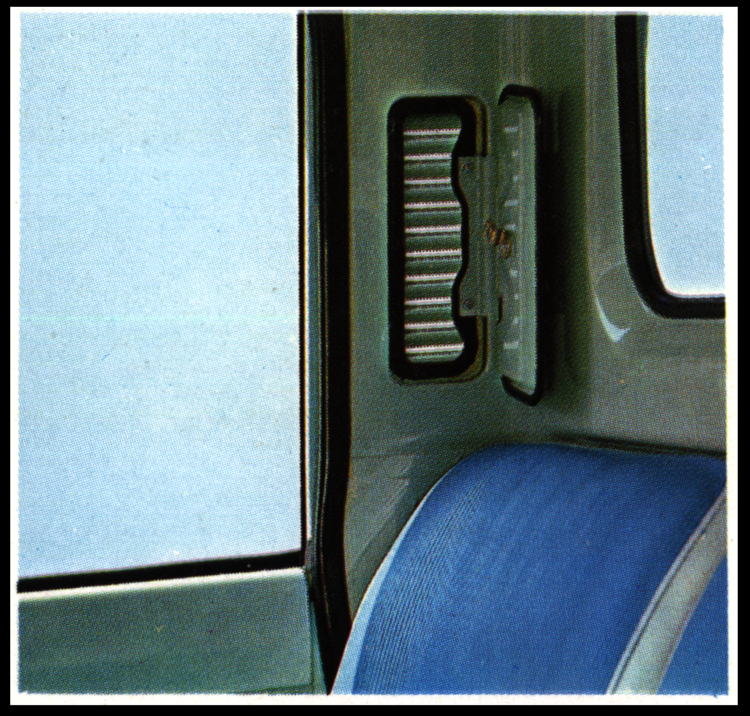 Ventilator that brings in fresh air under all weather conditions is installed in the front floor and the side of the cab. The volume of air is conveniently adjustable.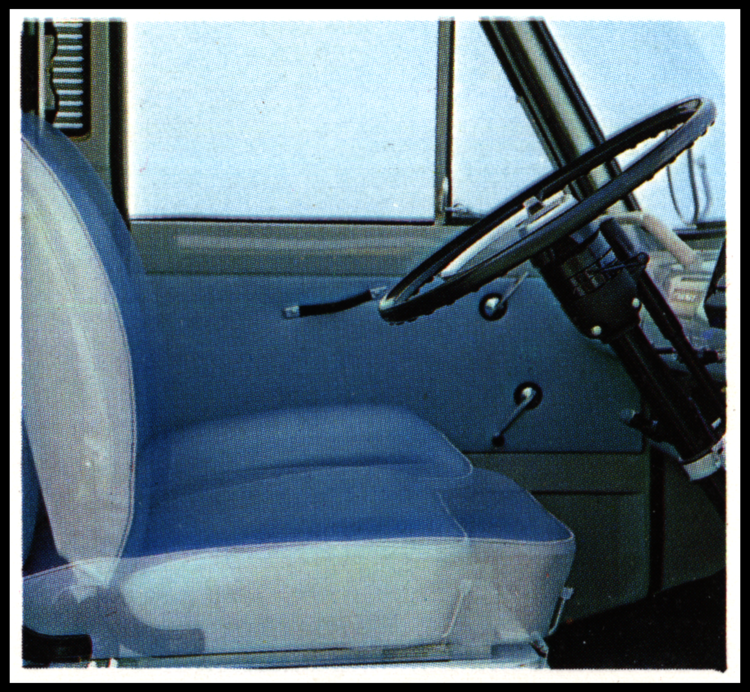 Driver's seat is a semi-bucket type adjustable fore and aft to a total of 110 mm to ensure a fatigue-free driving posture.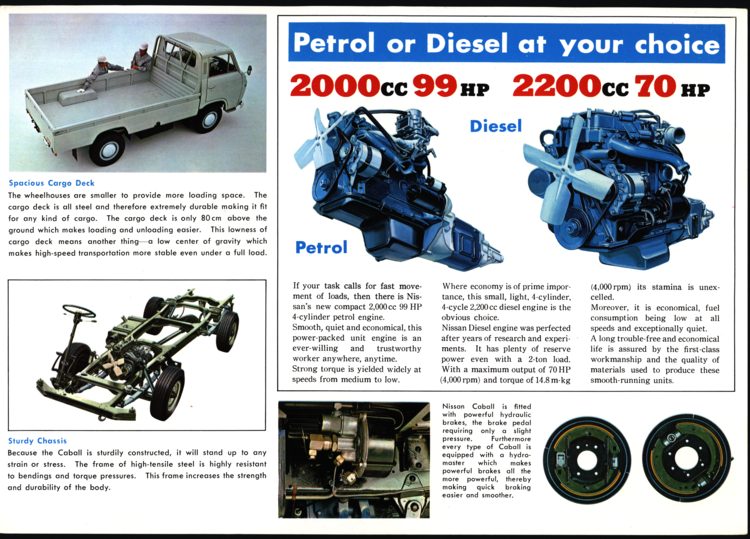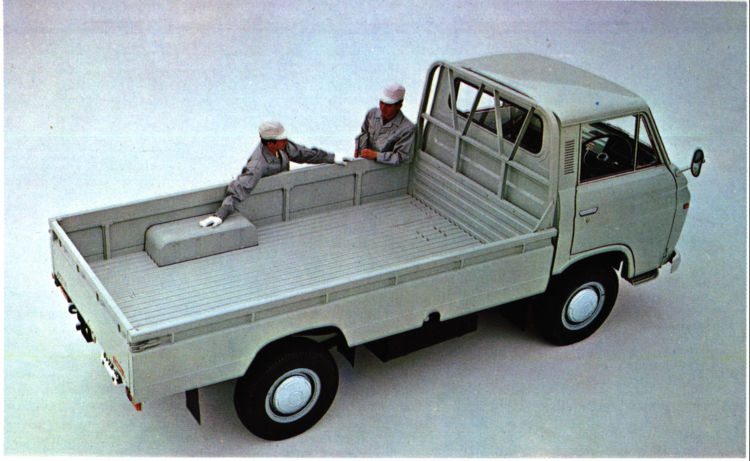 Spacious Cargo Deck
The wheelhouses are smaller to provide more loading space. The cargo deck is all steel and therefore extremely durable making it fit for any kind of cargo. The cargo deck is only 80cm above the ground which makes loading and unloading easier. This lowness of cargo deck means another thing—a low center of gravity which makes high-speed transportation more stable even under a full load.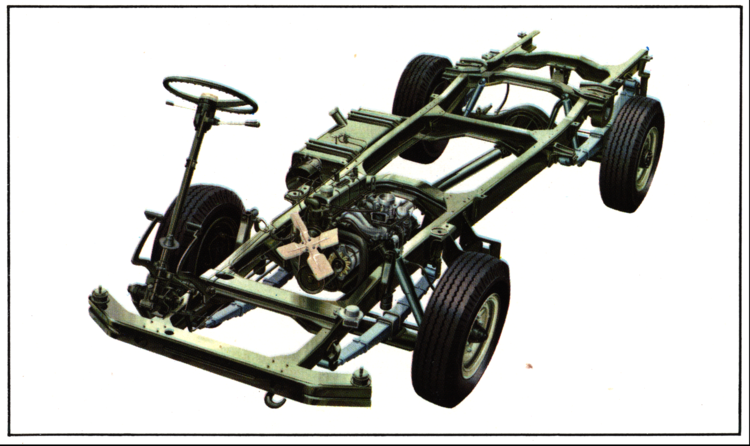 Sturdy Chassis
Because the Caball is sturdily constructed, it will stand up to any strain or stress. The frame of high-tensile steel is highly resistant to bendings and torque pressures. This frame increases the strength and durability of the body.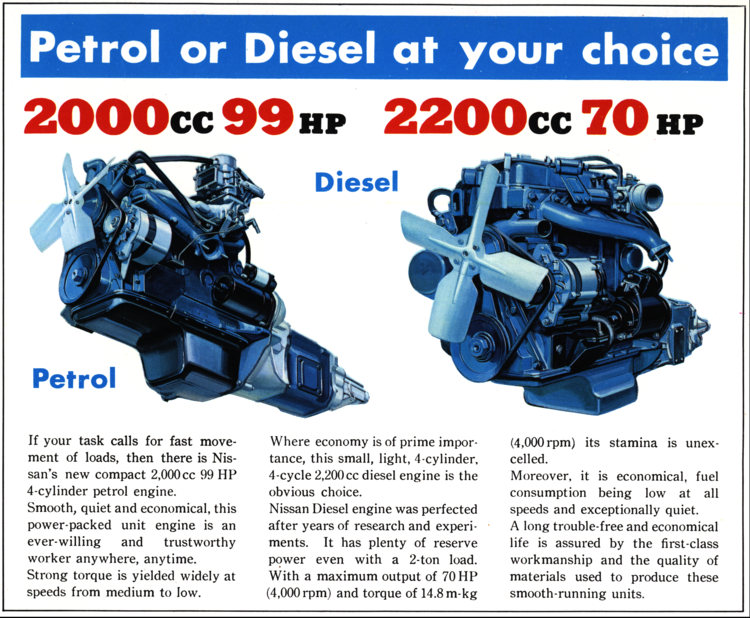 If your task calls for fast movement of loads, then there is Nissan's new compact 2,000 cc 99 HP 4-cylinder petrol engine. Smooth, quiet and economical, this power-packed unit engine is an ever-willing and trustworthy worker anywhere, anytime. Strong torque is yielded widely at speeds from medium to low.
Where economy is of prime importance, this small, light, 4-cylinder, 4-cycle 2,200 cc diesel engine is the obvious choice.
Nissan Diesel engine was perfected after years of research and experiments. It has plenty of reserve power even with a 2-ton load. With a maximum output of 70 HP (4,000 rpm) and torque of 14.8 m-kg (4,000 rpm) its stamina is unexcelled. Moreover, it is economical, fuel consumption being low at all speeds and exceptionally quiet. A long trouble-free and economical life is assured by the first-class workmanship and the quality of materials used to produce these smooth-running units.

Nissan Caball is fitted with powerful hydraulic brakes, the brake pedal requiring only a slight pressure. Furthermore every type of Caball is equipped with a hydro-master which makes powerful brakes all the more powerful, thereby making quick braking easier and smoother.
NISSAN CABALL SPECIFICATIONS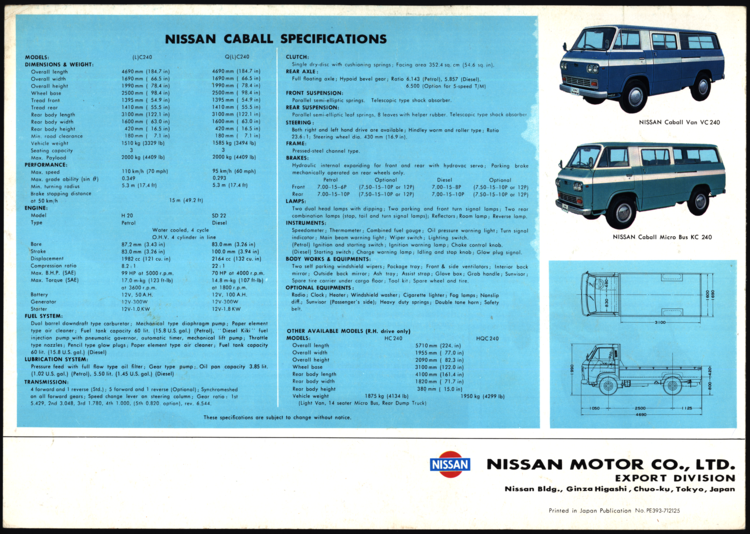 MODELS: (L)C240 Q(L)C240
DIMENSIONS & WEIGHT:
Overall length 4690 mm 184.7 in) 4690 rem 184.7 in)
Overall width 1690 mm 66.5 in) 1690 mm 66.5 in)
Overall height 1990 mm 78.4 in) 1990 mm 78.4 in)
Wheel base 2500 mm 98.4 in) 2500 mm 98.4 in)
Tread front 1395 mm 54.9 in) 1395 mm 54.9 in)
Tread rear 1410 mm 55.5 in) 1410 mm 55.5 in)
Rear body length 3100 mm 122.1 in) 3100 mm 122.1 in)
Rear body width 1600 mm 63.0 in) 1600 mm 63.0 in)
Rear body height 420 mm 16.5 in) 420 mm 16.5 in)
Min. road clearance 180 mm 7.1 in) 180 mm 7.1 in)
Vehicle weight 1510 kg (3329 lb) 1585 kg (3494 lb)
Seating capacity 3 3 Max. Payload 2000 kg (4409 lb) 2000 kg (4409 lb)
PERFORMANCE:
Max. speed 110 km/h (70 mph) 95 km/h (60 mph)
Max. grade ability (sin 0) 0.349 0.293
Min. turning radius 5.3 m (17.4 ft) 5.3 rn (17.4 ft)
Brake stopping distance at 50 km/h 15 m (49.2 ft)
ENGINE:
Model H20 SD22
Type Petrol Diesel
Water cooled, 4 cycle O.H.V. 4 cylinder in line
Bore 87.2 mm (3.43 in) 83.0 mm (3.26 in)
Stroke 83.0 mm (3.26 in) 100.0 rem (3.94 in)
Displacement 1982 cc (121 Cu. in) 2164 cc (132 Cu. in)
Compression ratio 8.2 : 1 22 : 1
Max. B.H.P. (SAE) 99 HP at 5000 r.p.m. 70 HP at 4000 r.p.M.
Max. Torque (SAE) 17.0 m-kg (123 ft-lb) 14.8 m-kg (107 ft-lb) a at 3600 r.p.m. t 1800 r.p.m.
Battery 12V, 50 A.H. 12V, 100 A.H.
Generator 12V-300W 12vi00w
Starter 12V-1.0 KW 12V-1.8 KW
FUEL SYSTEM:
Dual barrel downdraft type carburetor Mechanical type diaphragm pump ; Paper element type air cleaner ; Fuel tank capacity 60 lit. (15.8 U.S. gal.) (Petrol), Diesel Kiki fuel injection pump with pneumatic governor, automatic timer, mechanical lift pump; Throttle type nozzles ; Pencil type glow plugs; Paper element type air cleaner ; Fuel tank capacity 60 lit. (15.8 U.S. gal.) (Diesel)
LUBRICATION SYSTEM:
Pressure feed with full flow type oil filter ; Gear type pump ; Oil pan capacity 3.85 lit. (1.02 U.S. gal.) (Petrol), 5.50 lit. (1.45 U.S. gal.) (Diesel)
TRANSMISSION:
4 forward and 1 reverse (Std.); 5 forward and 1 reverse (Optional); Synchromeshed on all forward gears; Speed change lever on steering column ; Gear ratio 1st 5.429, 2nd 3.048, 3rd 1.780, 4th 1.000, (5th 0.820 option), rev. 6.544.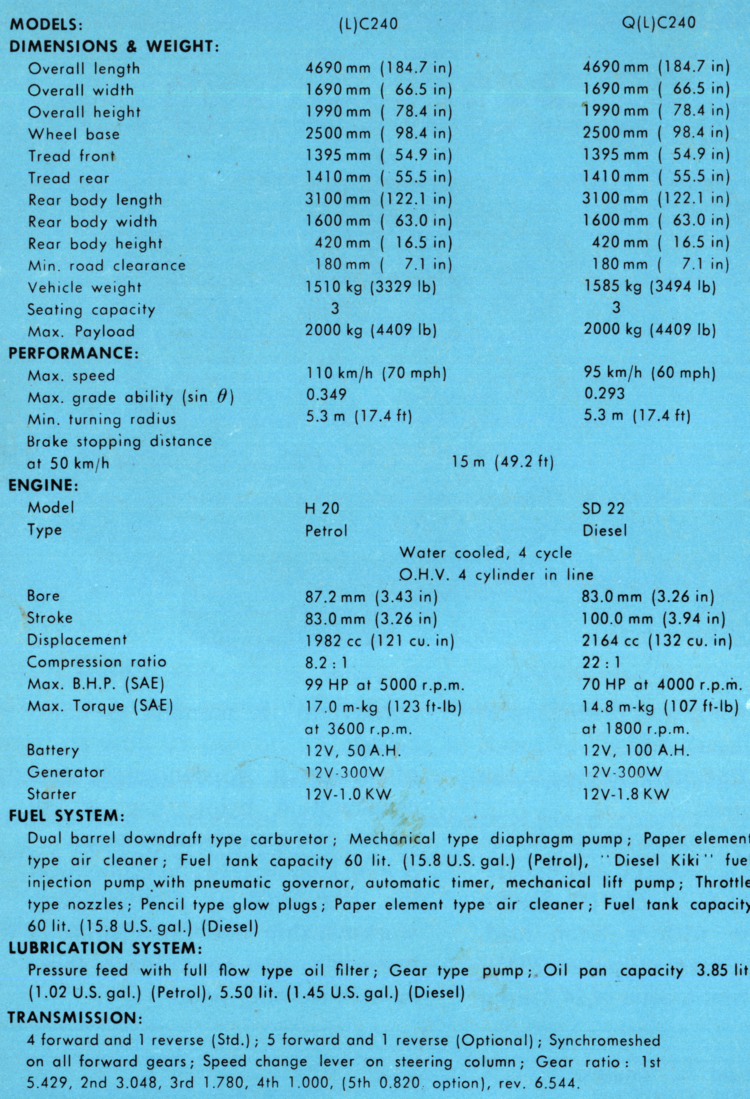 CLUTCH:
Single dry-disc with cushioning springs ; Facing area 352.4 sq. cm (54.6 sq. in
REAR AXLE
Full floating axle ; Hypoid bevel gear ; Ratio 6.143 (Petrol), 5.857 (Diesel). 6.500 (Option for 5-speed TIM)
FRONT SUSPENSION:
Parallel semi-elliptic springs. Telescopic type shock absorber. REAR SUSPENSION: Parallel semi-elliptic leaf springs, 8 leaves with helper rubber, Telescopic type shock absorber
STEERING:
Both right and left hand drive are available; Hindley worm and roller type Ratio 23.6 :1; Steering wheel dia. 430 mw (16.9 in). FRAME: Pressed-steel channel type.
BRAKES:
Hydraulic internal expanding for front and rear with hydrovac servo; Parking brake mechanically operated on rear wheels only.
Petrol Optional Diesel Optional
Front 7.00-15-6P (7.50-15-10P or 12P) 7.00-15-8P (7.50-15-10P or 12P)
Rear 7.00-15-10P (7.50-15-10P or 12P) 7.00-15-1OP (7.50-15-1 OP or 12P)
LAMPS:
Two dual head lamps with dipping ; Two parking and front turn signal lamps; Two rear combination lamps (stop, tail and turn signal lamps); Reflectors ; Room lamp ; Reverse lamp.
INSTRUMENTS:
Speedometer ; Thermometer ; Combined fuel gauge ; Oil pressure warning light ; Turn signal indicator ; Main beam warning light; Wiper switch ; Lighting switch.
(Petrol) Ignition and starting switch ; Ignition warning lamp ; Choke control knob.
(Diesel) Starting switch ; Charge warning lamp ; Idling and stop knob; Glow plug signal.
BODY WORKS & EQUIPMENTS:
Two self parking windshield wipers ; Package tray; Front & side ventilators ; Interior back mirror ; Outside back mirror ; Ash tray; Assist strap ; Glove box ; Grab handle ; Sunvisor Spare tire carrier under cargo floor ; Tool kit ; Spore wheel and tire.
OPTIONAL EQUIPMENTS:
Radio; Clack; Heater ; Windshield washer ; Cigarette lighter ; Fog lamps; Nonslip diff.; Sunvisor (Passenger's side); Heavy duty springs; Double tone horn ; Safety belt.
OTHER AVAILABLE MODELS (R.H. drive only)
MODELS:
HC 240 HOC 240
Overall length 5710 mm (224. in)
Overall width 1955 mm ( 77.0 in)
Overall height 2090 mm ( 82.3 in)
Wheel base 3100 mm (122.0 in)
Rear body length 4100 mm (161.4 in)
Rear body width 1820 mm ( 71.7 in)
Rear body height 380 mm ( 15.0 in)
Vehicle weight 1875 kg (4134 lb) 1950 kg (4299 lb)
(Light Van, 14 seater Micro Bus, Rear Dump Truck)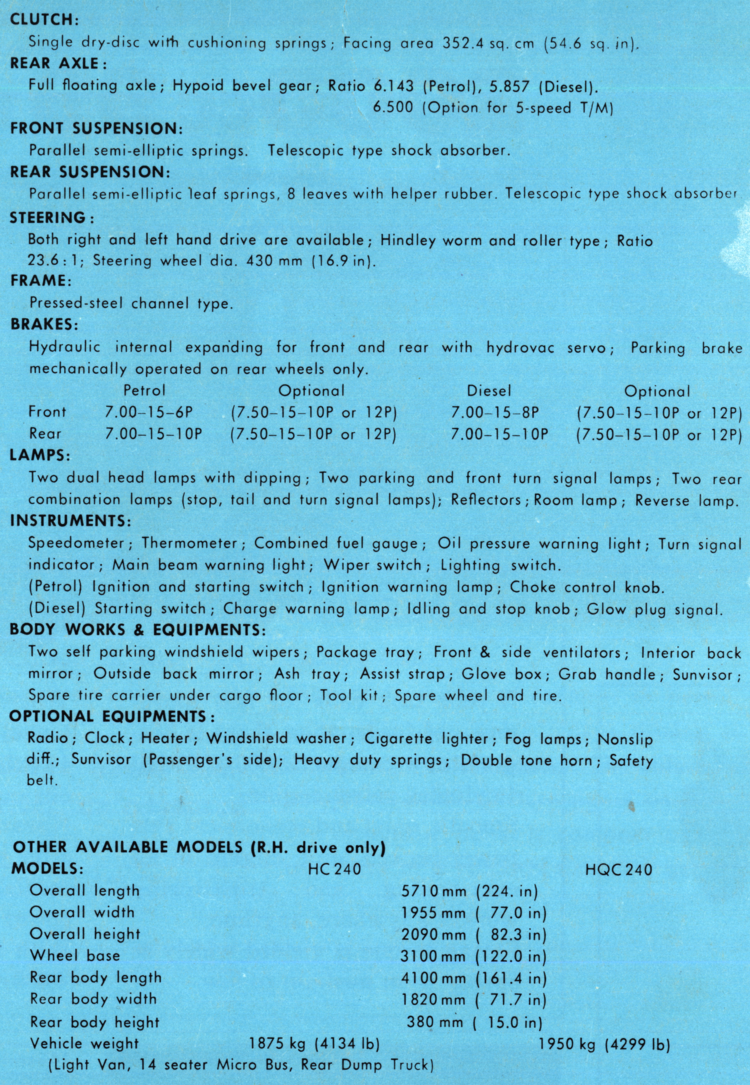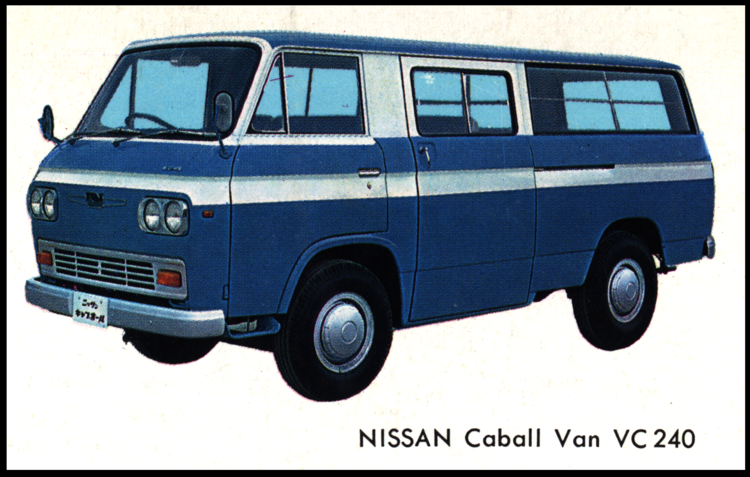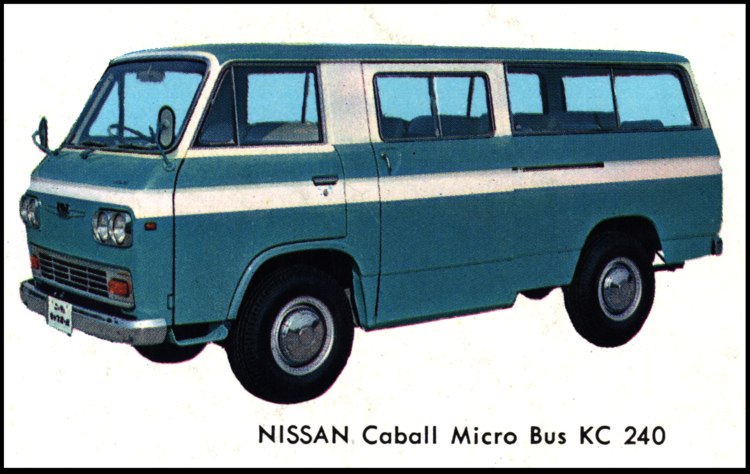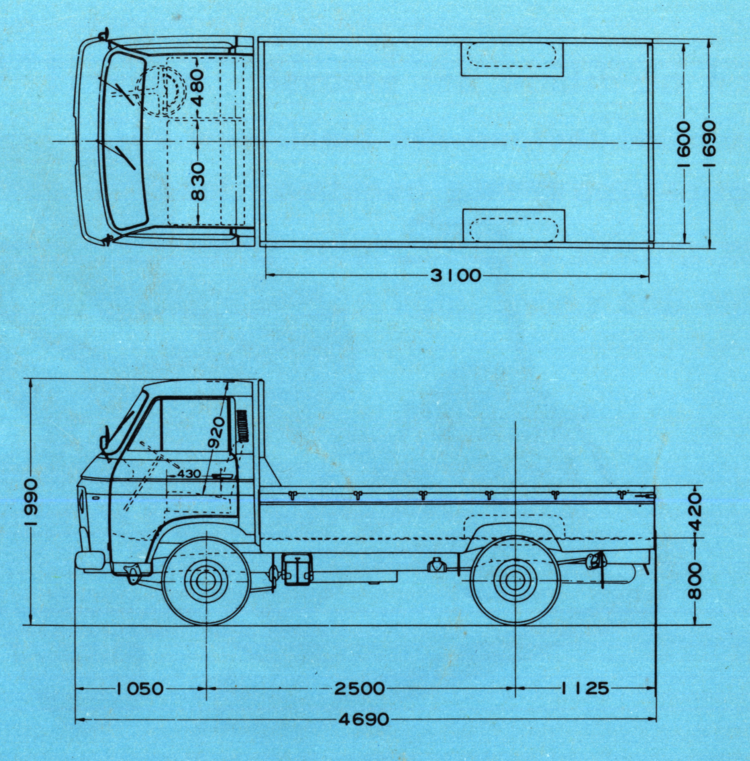 I have a fondness for four-speed-on-column shifters. My Simca Aronde had one, as did my early-60s MBs (220SEb, 200D, etc.).