I haven't checked the '81 FSM, but these next errors are in the '82, '83, & '84 FSMs.
1)
1982: Page EL-66, 73
1983: Page EL-67, 72
The SL (and all 1984s) , which has an add'l oil pressure gauge and voltmeter, has two V/Rs: one feeds the Oil Pressure & Fuel, the other the Temp gauge only.
The (non-SL gasser, and diesel) utilizes only one V/R, which feeds the Fuel and Temp gauges.
The wiring diagram and schematic show only the SL model information, not the diesel/non-SL gasser info. Earlier in the FSMs (pages EL-64-5 in both FSMs) the instrument cluster wiring is quite different between SL and (non-SL (gasser) and diesel) models.
Also, same VR mixed Ground/Output wiring as problem 2) below. Corrected in image below.
(click on image for larger)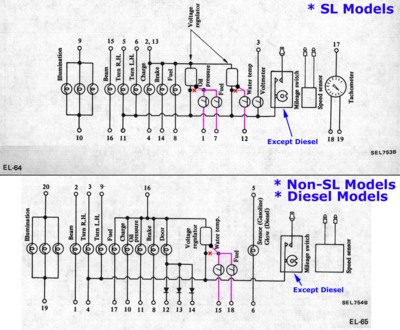 2)
1982: Page EL-73
1983: Page EL-72
1984: Page EL-61
The wiring diagram for the first voltage regulator ("V/R") (the one that -- in the diagram -- feeds both the oil pressure gauge (SL models that have one) and the fuel level gauge (all models) is incorrect.
The second voltage regulator is shown with three connections: Hot, Output, and Ground: correct. The first V/R only shows two, and is wrong.
[insert PhotoShop'd picture here]
3)
1982 & 1983 only:
All above referenced pages show a "Mileage Switch" for the gasser's O2 sensor/EGR maintenance reminder, which the diesel does not have. When the switch is referenced in diagrams, it ought to have "except diesel" next to it. See my added note in first pic above.