Most of the instrument cluster is different, between the gasser and diesel versions. One glaring lack is the tachometer -- diesels didn't get one.
One solution (that I have not tried) is a
TinyTach
.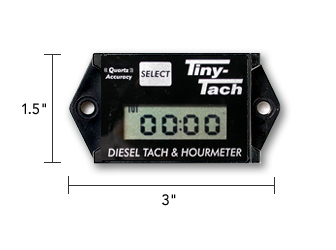 Diesel Tiny-Tach™
Engine RPM to 19,990.
Correct reading regardless of the number of cylinders.
Displays RPM when engine is running.
Automatically displays run-time hours when engine is shut off (and power is still on).
A low cost method of keeping track of engine performance.
Standard wire length is 8 feet.
Accurate means of setting exact engine RPM for proper operation of diesel engines.
Requires vehicle power or external 9 volt transistor battery. (Replace 9 volt battery only once per year.)
Has job timer and 2 service timers.
They're $65 (in 2005; $95 in 2013), and use a clamp-on piezoelectric pickup on an injector line.

Apparently, it updates the display every .5 second, and the piezo pickup lead is a coax cable, so you'll not want to cut it unless you're good with soldering up coax.
Looks like a nice unit to me.