I have a whole boxfull of Frantz toilet paper bypass oil filter setups somewhere, and at least three Motor Guard units, but I've gotten lazy in my old age have never gotten around to installing any of them

So I did the lazy thing: I ordered the AMSOil dual-filter setup that includes a full-flow filter and a bypass filter setup. Apparently, you have to order this setup à la carte, so it's customised on-the-fly. The basic setup is plumbed like this: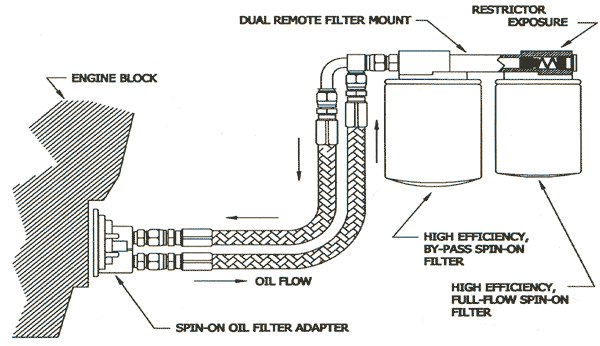 I plan on installing it on the right frame rail. I specified the optional oil sample valve (so I can draw off oil for periodic lab testing).
Part No.    Description	                        Qty     Price   Al's notes               
BMK23-EA    Dual Remote Mounting Kit             1     208.50   The base universal mount kit with hoses, fittings etc. 
                                                                The base mount without the rest of the kit is BK309	
BK295-EA    Spin On Adapter                      1 	44.95   Adapter in place of the stock oil filter. 
                                                                This one is 3/4"-16 UNF for my Ford 4.0l OHV. A common size.
G1570-EA    Oil Sample Valve                     1 	22.35   This is the "deluxe", button-operated valve,
                                                                with the screw-on discharge cover.
BP209-EA    Adapter Fitting, 3/4"-16 to 1/4" NPT 1 	 4.00   The adapter for the sample valve above.
EABP90-EA   Absolute Efficiency By-Pass          1 	29.30   The smallest/shortest bypass filter. One quart capacity.
EAO15-EA    Absolute Efficiency Oil Filter       1 	14.25   A standard full-flow filter, by AMSOil. 
                                                                IDK if it's worth the price, but I'm going to try it.
KIT06-EA    OAI Non-Postage Paid Kit             1 	17.95   An oil sampling kit for lab testing of used oil.
That list came to around $380 shipped and taxed. It's not particularly simple to figure out what to order; I'll have to see if I did it correctly.
I purposely ordered the smallest (shortest) bypass filter, a one-quart capacity unit, as I'm uncertain if I'll have enough vertical clearance for the 1.5 or 2 quart versions.
AMSOil has a wide selection of adapters & special fittings for various installation situations, but you pretty much need to do your own research on what you'll need. My install ought to be darned simple.
The OEM recommendation for oil changes is 7500 miles in normal use, which is mostly how I drive it these days (55 miles/day commute). When using AMSOil's Signature Series oil and their full-flow filter, they say you can run 25k OCIs (oil change intervals). With the bypass setup, and figuring a make-up oil rate of 1/2 quart per 5k miles (that's the current rate on this engine), I don't know that I'll ever need to change the oil again. Being conservative, I will probably change one or both filters annually anyway, just to feel like I'm doing something, but is it necessary? IDK.