(This post is a consolidation from another thread on the same subject)
fud2468 wrote:I have a Popular Mechanics Imported Car Repair manual 1975-83 that says 20 degrees BTDC for the SD-22. It gives no information for the LD-28 or other import diesels.
Ray Mac
TheDieseliminator wrote:The LD28 has an exact initial injection timing of 7° and is far different in the case of an SD22 (since its injection timing is 20° and 18° for California models). I found the above specification right on the back cover of my 81 diesel FSM.
There is a bit of variance in base timing specs for the SD fours. There are three different injection pumps possible(Inline RBD-MZ, VE rotary, & C.A.V.-DPA), four pumps when you include an all mechanical marine version of the inline pump).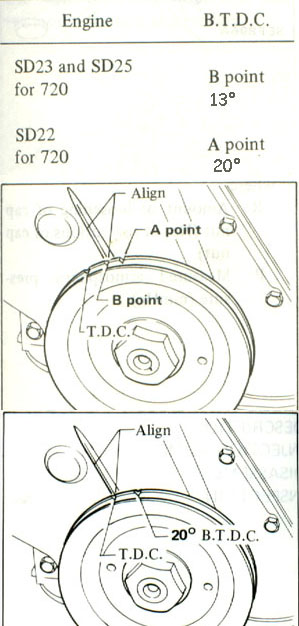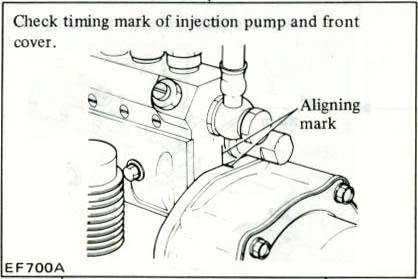 RBD-MZ inline.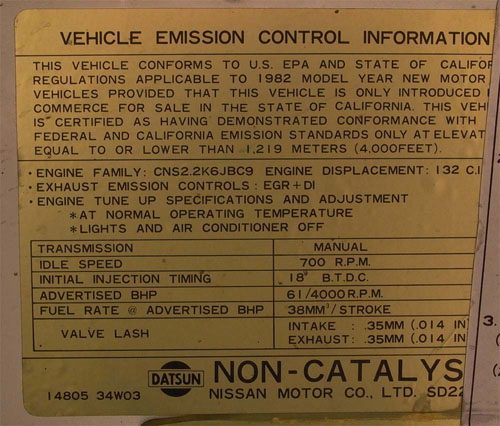 This diagram illustrates the sequence of events through the combustion cycle in a diesel engine.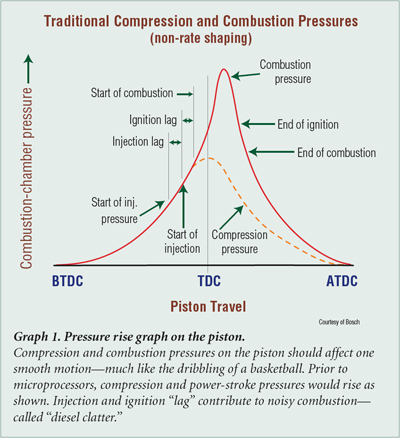 True injection timing (not ignition) begins the moment fuel begins to be discharged from the injector nozzel (which is later than the moment of spill port closure in the injection pump). The moment of discharge will be affected by injector pop-off pressure (typically 1,600 psi in SDxx engines), leakage between the pump plunger and its barrel, and any air present in the delivery line. For example, if the injector pop-off pressure is significantly lower than 1,600 psi, fuel injection will begin earlier (further from TDC). Conversely, when the injector pop-off pressure is significantly higher, then fuel injection will begin later (closer to TDC). Air in the line will have a retarding effect because you are compressing that trapped air until the injector pops off.
Here are some clues that your timing is not optimized for the fuel you are using (assuming
normal
engine temperature):
1) Late timing: lowered power, increased fuel consumption, elevated coolant temperatures, black exhaust visible under load, lower NOx, possibly increased difficulty starting cold.
2) Early timing: lowered power (subjective), perceptable rpm instability at cruise, combustion clatter (transcient metalic knocking) at lower rpm more prevalent with cold engine, elevated oil consumption, higher NOx, piston crown damage.
The factory shop manual and diesel suppliment outline a process for setting the injection pump timing.
Injection Pump Timing How-To For Nissan SD22
Before beginning set parking brake, chock wheels, disconnect battery ground cable.
1. Thoroughly clean around high pressure injection lines, and delivery valve holder for cylinder #1
2. Remove the band clamp securing all four injection lines together.
3. Remove injection line from cylinder #1
4. Remove the wedge shaped lock plate from the delivery valve holder for cylinder #1
5. Remove the Delivery Valve holder, delivery stopper (if so equipped), & delivery spring. Replace the DV holder and lightly torque.
6. Install a drip spout on Delivery Valve holder (will direct exiting fuel into a catch cup).
7. Turn engine in normal rotational direction to about 30 degrees BTDC compression stroke for cylinder 1.
8. Pump the hand primer while very slowly rotating the engine toward TDC (clockwise). Fuel will drain from drip spout. When fuel just stops dripping, or slows to 1-2 drips every 5-10 seconds while operating the hand primer, stop turning the engine.
9. Locate timing pointer on the cam gear cover and the chisel mark on the rear most edge of the crankshaft pulley. Setting is 18-20 degrees BTDC. Adjust by loosening pump mounting nuts, rotating the pump housing if/as needed, tighten, and recheck. As viewed from the front of the truck, rotating the pump housing counter clockwise will advance the timing. Check 2-3 times after final adjustment, if done properly the same result will be observed each time.
10. Remove drip spout, and DV holder. Carefully reinstall delivery spring and stopper (if so equpped) being very careful to ensure no dirt or debris enters the pump. Torque the DV holder to 22 ft. lbs., then loosen, then to the final torque of 25 ft. lbs. install the locking clamp, and tighten securely.
11. Reinstall the high pressure line, and tighten. Install band clamp. Reconnect battery cable, start engine and check for leaks.
12. Congratulations you have just successfully checked or set the timing on your SD22!!