As if I don't have enough projects on the table already (Dad's gen, my Onan BFA 4.0 gen, a Case/Winco diesel gen in the attic, tach for Maxima, turbo for Maxima, re-brg trans for "Arlington Truck" then convert it to diesel, etc etc), I have a hankering for a fullsize Chev diesel truck.
I owned a 1969 Chev C10 CST (Custom Sport Truck, two-tone gold with white roof and gold interiour) from 1981 to 1987, one of my longer held vehicles. It was stolen fron Tennessee and when recovered in Tacoma, the owner called my neighbor and told him if he went and picked it up, it was his. I ended up working on it for the neighbor, and later bought it from him for $500 IIRC.
It had a '73 350ci and T400. Smog motor. Cyl No. 7 would foul its plug long before the rest so I just changed it out every six months. When I pulled the valve covers to replace the valve stem seals, the engine was extremely crudded up. I cleaned as much of it off the springs as I could, and put the covers back on. Over the years it lost a fuel pump, jumped the timing chain (in my driveway) and shorted the starter's armature (in my driveway). When my neighbor got it, it had no PS pump, though it was a PS truck: very hard to wrestle the wheel. After about a year of that, I finally found a compatible PS pump and brackets and got it all plumbed up: what a relief!
I hauled dozens of cars with it, hand-shoveled twenty-one heaping loads of dirt out of Mom's driveway and hauled them away, fixed the T400 with a B&M shift kit and could then chirp the tires on a manual upshift at 45, and just generally beat the heck out of it. I remember jumping it in Edmonds once and having the Interstate battery come loose and get fed into the fan. But I caught a lot of air, so it was OK I guess

It ran very well, had a perfect idle and no hesitation when you hit the back barrels. It got 9-12 MPG, mostly in the 10.5 MPG range.
Though nominally a half-ton, it hauled lots of cut-up cars (including a '62 Corvair and two '65 MB 190s) and did not break an axle.
After six years of this, the front end was shot and was going to be
very
expensive to fix everything. I just kept hanging used tires on it.
1987 was a "bad year" for me, when I had moved to Salem and then sold my '71 Triumph Tiger 650, and then the '69 C10. I think I got $600 for it.
I've been hankering for a replacement like it. Every once in a while I see one I like, but mostly they're getting a bit long in the tooth, and Chevy trucks always did like to rust. Recently, a couple have come my way in the required green color, and it seems likely that one may stick to me soon.
Of course, nowadays I want diesel power (if I can't have electric).
Today, I drove to Aberdeen (~100 miles) in beautiful fall weather, in the '82 Maxima and the same old Apache utility trailer, and bought a 1983 6.2l diesel engine. The fellow had owned it a couple of years but isn't a "diesel guy" and pulled it two weeks ago and installed a SB Chev instead -- I saw it. Rig is an '83 GMC version of the Blazer, ex-state owned (Oregon Dunes area) so presumably it got maintained, if driven hard. Intake looks good (that's where you'll find the real story on these, how much crap -- blowby -- is in the intake manifold). Comes "complete": engine oil cooler lines, firewall fuel filter, on-engine fuel filter, all injectors/GPs, GPC still intact (though he thinks it's bad, because it had a manual GP button installed when he got it)., alternator, CDR, EGR, rebuilt IP by Oregon Fuel Injection. No PS pump. Does have A/C compressor. Intake muffler missing but bracket intact. CC servo. Air filter housing.
Now for a 700R4 for 2WD diesel duty, and a diesel radiator (to accomodate the engine oil cooler setup). Other than that, it's all plumbing: coolant hoses, GP wiring, dual exhaust, throttle cable, shorten front driveshaft for the 700R4. His SBC bolted in, so I expect that the 6.2l will drop in place in the '67-72 series Chev PU just fine. The 6.2l has the corporate Chev bolt pattern, so I could bolt it up to most any Chev pattern trans, but the old cable-operated throttle valve version of the 700R4 is my first choice. It has OD and lockup, and other than being unable to obtain both full-pedal
and
OD, it worked very well in my '83 G30 for 180k miles (with one rebuild in there). The T400 is another possibility, it's tougher than the 700R4 but lacks both OD and lockup, though I wouldn't have to shorted the driveshaft to accomodate it, I could use a stock part.
Pics of this heavy beast later.
Here is the CL ad for the engine:
------------------------------------------------------------
Complete 6.2 LTR Diesel Engine - $100
Reply to:
sale-429457433@craigslist.org
Date: 2007-09-22, 4:31PM PDT
Complete 6.2 LTR Diesel Engine from a 1983 GMC Jimmy. Runs good. 129K. (360)-261-5241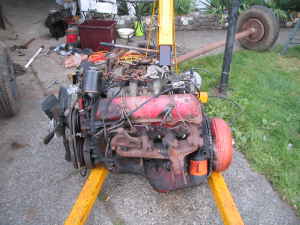 * Location: Aberdeen
----------------------------------------------------------