ecomike wrote:The eRam guys are wrong about what exactly?
If your pyro is running 1200°, they are wrong that your IP isn't supplying enough fuel.
When I first got this beast I could not go over about 30% of WOT because the IP lever was stuck, locked in the start position with a failing diaphram on top of it.
Possible confusion here. Understanding the Pneumatic Governor is fundamental to making the SD22 run its best so please be patient with me while I ramble.
The position of the IP lever (which controls the Full Speed Stop) determines the maximum rack travel. In Start position, the lever is forward, allowing the Governor Spring to push the rack all the way forward, even a little more than in Run position. Only the diaphragm connects to the rack, not the Stop Lever. The little spring loaded button in the end of the diaphragm (Ungleich Mechnism) bumps into the Stop lever when there is no (or little) vacuum. Start position doesn't forcibly put the rack anywhere, but it allows the Governor Spring to push it really wide open. Adjusting the smoke screw back moves the Full Speed Stop forward = forward rack, more fuel. The governor is by default WOT. Only engine vacuum on the diaphragm (or max rpm flyweights) pulls the rack back against the spring (that's why opening the TB when cranking makes starting easier). If you have holes in the diaphragm, idle vacuum won't be able to overcome the spring, and the rack will be more forward in relation to the TB position than it should, in effect fueling it and choking it at the same time. If you have a bad diaphragm, idle is the worst situation, but if it's WOT (at the TB) the condition of the diaphragm doesn't make any difference. IOW, both conditions you described would lead to lots of fuel. So if you mean that you could only get 30% before the embarrassment made you back out of it, maybe yes, but not because the IP was stuck in an underfueling condition.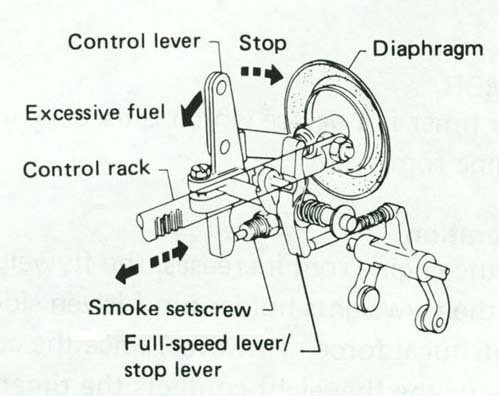 Perhaps it would be more accurate to say that we have
two
throttles on the SD22: The IP which is primary, and the TB which is secondary and artificial, because remember, air does not need to be metered to a diesel. These two things have been made to operate in a parallel fashion. If you open up the TB (WOT) or take it off, and take the diaphragm off the IP so that you can see the back of the rack, you can control the engine with your hand directly on the rack, but it's very sensitive.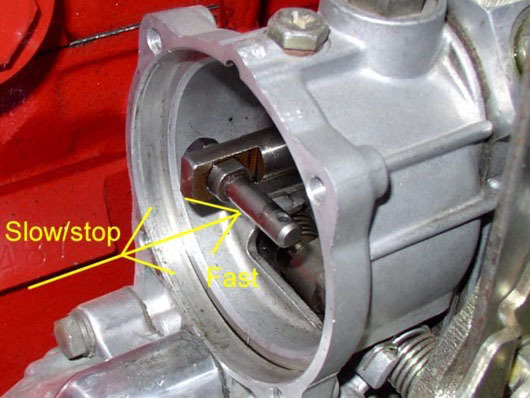 Thank you Phil for the many diagrams and the page about the Ungleich Mechanism from years ago. I spent quite a while getting my head around that.