[I
originally wrote this post
at
BiodieselNow.com's FAQ forum
.]
More than a year ago, I bought, repaired, drove, then sold an '82 Datsun 720 diesel pickup. I drove it a little more than 1000 miles on B100, and the woman (a local) who bought it, did so expressly to run B100, which she did for the next year.
When I sold it to her, I warned her that at some point in the future, the fuel lines would have to be upgraded. Almost exactly a year later, one pressure line began weeping enough to drip, and that's when she called me and I ordered the McMaster-Carr viton tubing, in three diameters for this rig.
I took out the fuel tank,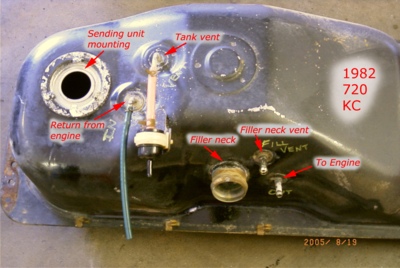 a task made easier due to the OEM fitment of a drain plug. While the tank was down, I replaced the fuel suction line and return line as described below; I did not replace the vent line, the filler neck hose, or the filler neck vent line (runs up the side of the filler tube).
On the advice of a couple of people here, I ordered three diameters of viton tubing from
McMaster-Carr
and when it arrived I was shocked at how thin the wall is on this stuff.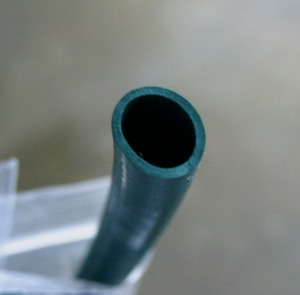 A worm-drive hose clamp will not only not effectively clamp it, but would likely tear it. I called Greaseworks in Oregon, and asked Justin what he uses on their conversions, he gave me a couple of ideas and added that the viton tubing isn't very abrasion resistant either, and he suggested sheathing it inside other hose in places where abrasion could occur.
So I scoured various sources for appropriate clamps, and thought I'd found something that would work well: plastic ratcheting clamps.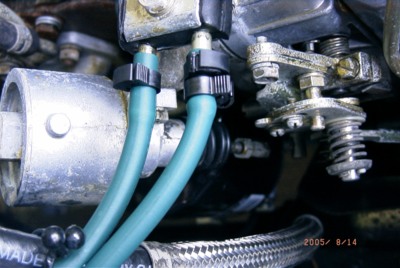 When I tried them, some of the pressure lines would still leak, so I double-clamped them, but I also found that they aren't really reuseable after all. One use, and the next time they won't ratchet and hold anymore. Bummer.
Adjustable band clamps, such as NAPA/Balkamp's 705-1226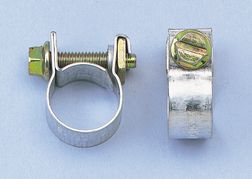 aren't readily available in a small enough clamp range to accomodate the OD of the viton tubing.
What I ended up doing was using a 3/4" long piece of Gates 3/8" ID fuel line, and putting it over the viton line where it fits over the hose barb. A sheath or sleeve. Then I used the Balkamp band clamp to clamp on that. For the 8mm fittings (the majority), it works very well. Looks a bit odd. I have about seven connections done like that, and they don't leak a bit. They can be removed and reinstalled without damage to the tubing.
I also sheathed several of the long runs that wiggle around with the same 3/8" fuel line, but slit down the side so it was easy to slip the viton tubing inside. I was also able to re-use the OEM SS braided hose covers near the IP. The sheathing also helps to prevent the viton tubing from kinking, which it will do if you look at it cross-eyed; the thin wall again.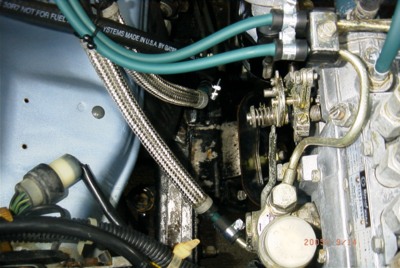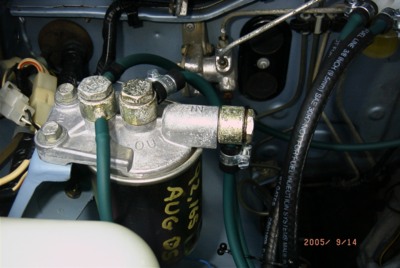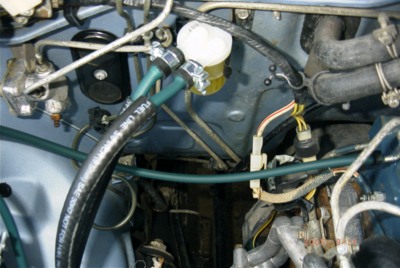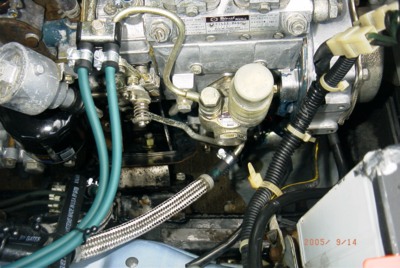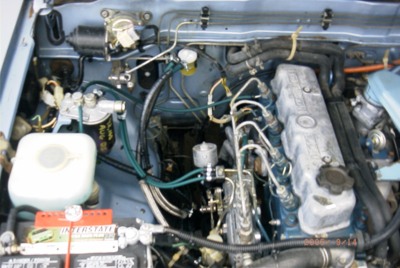 Along the way, the primary filter (a filter much like the old MB "prefilter") got inadvertantly switched to one physically identical, but for a gasser: it had a paper element. When I was still using that (wrong) primary filter, I was generating a lot of vacuum on all the suction lines that isn't normal for the system -- at one point I measured 11" ! I suspect even the OEM lines would have been compromised in that situation, but it was very clear that the viton lines were flattening out. Inserting 3/16" or 1/4" x 12" long compression springs (loose coil wind)

inside the suction sections of viton tubing moved the problem from the lines back to the filter. I do not know if there would be a problem with the viton lines collapsing in a normal vacuum situation, but the springs were cheap insurance (about $3.50 for 12"). And, like the outer 3/8" sheathing, the springs help prevent hose kinking as well.
The McMaster-Carr viton tubing is a PITA to work with. Lubricants won't "stick" to it, so even pushing it on hose barbs is not easy. It's thin wall and requires care and a special clamping technique. But it's the only tubing that I know will work in the long-term, because it's been done before, and that's why I used it. I hope to find something easier to work with for the next one I do.
I hope this helps someone avoid the pitfalls I found.