We have enough devices in the house now that run 1000base-T that it became time to upgrade their intervening switches. I picked up a 3Com semi-managed switch (3Com calls it "configurable") for the server room. Yes, I have a server room

It
was
the exercise room, but . . .
The used 2824 arrived, I plugged power to it, and the noise! One locked up fan, and one that sounded like a cat having kittens. No way am I having that in my house. Removing the cover involved cutting a "Warranty Void if Broken" sticker (snicker), and a lot of careful prying. The cover really doesn't want to come off. I removed the obvious screws, and massaged at the cover for several minutes before determining that only more force was needed: pull the cover straight back, about 3/8", and it comes right apart, but it ain't obvious, and it's plastic, so it could break if you pried the wrong way.
Lots of dust. This wasn't operated in a strictly clean environment, but few are.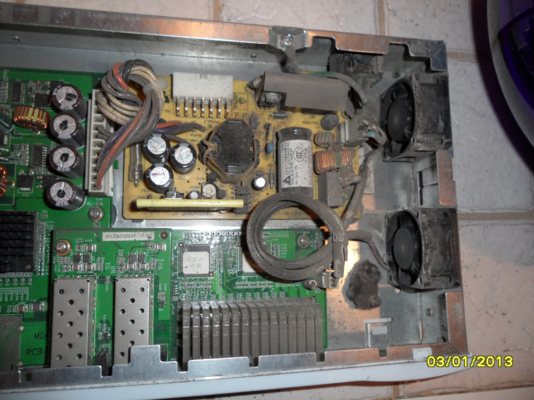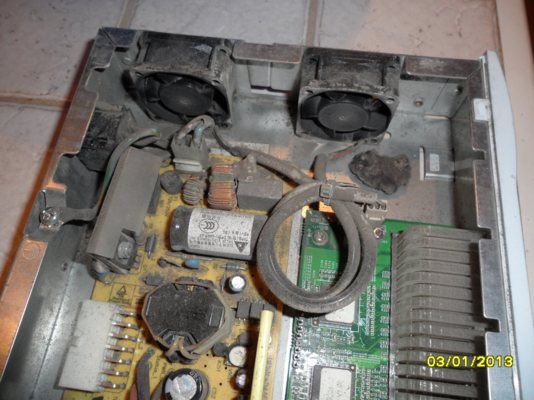 The OEM Adda AD0412HB-C52 fans are ball bearing, all right, and ball bearings are what you want in a fan for long life, but not for quiet. Quiet and ball bearings don't mix.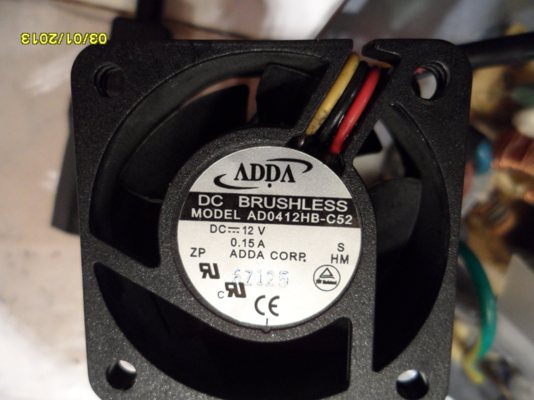 Because I don't really
need
the reserve cooling that this has -- it's designed to operate in a rack, perhaps an enclose rack, and some folks don't put enough A/C in their server area to properly keep things cool -- my first thought was to replace the 12v fans with 24v versions, have them run slow. The unit would have given a Fan Fault error because it monitors the fan speed, but I could live with that. Unfortunately, the vendor I chose shipped me 12v fans, even though I'd specified 24v.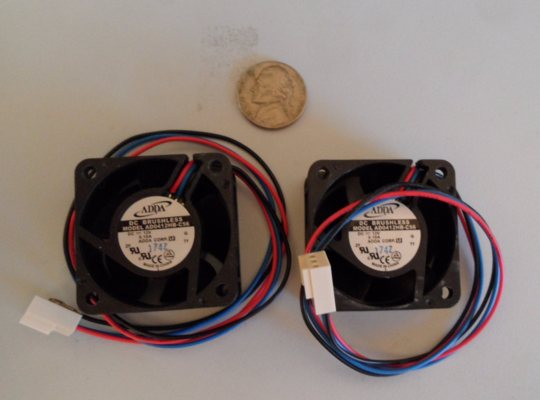 I plugged one in, just for fun, and it was nearly as noisy as the old ones, though a lot smoother in operation. I sent them back.
After some reading, I ordered a pair of Sunon HA40201V4-D000 fans. These have a fancy MagLev bearing that Sunon has high claims for. They do not move a lot of air, but in compensation are quiet.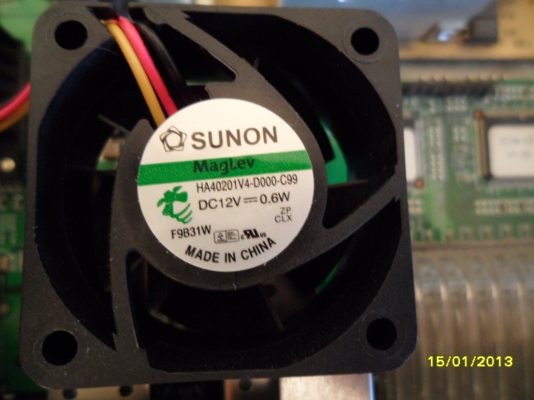 The connector pin spacing is off for my application. I went ghetto and did a little bending of the board's pins; if I was being paid to do this, I'd have cut off the old fans' connectors and soldered 'em to the new fans' leads, but this situation is "robust-enough" for the use I'm putting them to. The connectors will not lock to the board, of course, so you couldn't expect to ship the thing and have it arrive with working fans.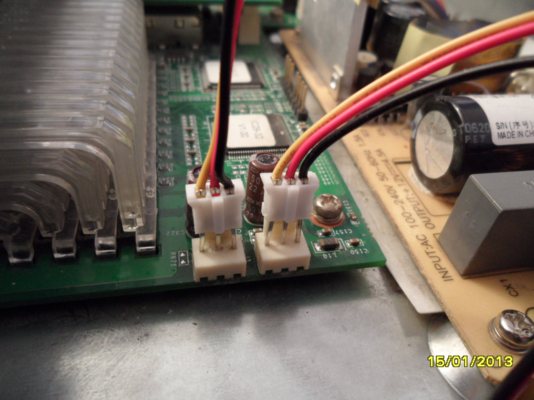 The noise reduction is incredible. I literally cannot hear them at all in my server room, and even in a quiet room, they're very quiet.
If I can get a few years from them without crapping, I'll be happy.