(I have no pics of my wagon right now, but I'll take some someday)
VIN = JN1SU05S4CX005840
I'm both the 2nd & 4th owner of my '82 wagon. Bought it in 1996 from the original owner with 86k miles on it, has 154k miles now. AT (L3N71B). Maroon or Burgundy, but no woodgrain. No roofrack. Light Grey interiour (blue and brown were the other popular choices). It lived most of its life in Pennsylvania, so it's rusty by PNW standards, but not so much as to prevent it being driven.
I bought a carpet kit for it, but never got around to yanking the seats and installing it while I owned it. I gave the kit to the co-worker, it got put in a basement, got wet, and moldy, and thrown out. Sigh.
I loved it the way it ran, but on long trips the seats and seating position made my back hurt. The seat is low, and the accel pedal too far to the left, making my right leg bend oddly. I took to bracing my leg against the shifter via a rolled-up bath towel, but it was just a band-aid.
I owned it for three years, then sold it to a co-worker in 1999 (with about 110k miles) with the stipulation that when he tired of it, I had first dibs on buying it back. I sold it because the seating position hurts my back: poor thigh support, and the accel pedal is too far to the left, so my leg bends uncomfortably. I took to rolling up a bath towel and propping my right knee against the shift lever on long trips to help. Eventually, I bought a '75 W115 MB 300D to replace the Maxima, but after a few months decided I didn't much like it either, and sold that one too.
In 2004, my co-worker agreed to sell the wagon back to me (154k miles), so I re-acquired it and did some basic maintenance. I haven't driven it 2k miles since, but I keep it licensed and I drive it about once a month or so. The paint is poor and peeling off the rockers, there are some dime-n-quarter sized holes in the rockers, and the interiour is getting ratty. The radio died and I had to replace the A/C's expansion valve, so the radio got left out and the glovebox hasn't been reinstalled (but the A/C works great!). It's beginning to be a car that holds stuff in storage, things just get put in the back of it and never leave.
Wagons (AFAIK) never came with the factory alloy wheels,but I bought a set from an '83 gasser in a junkyard that had recent new tires. Got them for $100 with all the lugs/washers/center caps. Had them rebalanced, and they drive very nicely.
I picked up an '83 engine Apr-2005 from Tigard, Ore., that was from a 5-spd sedan, which is now in storage.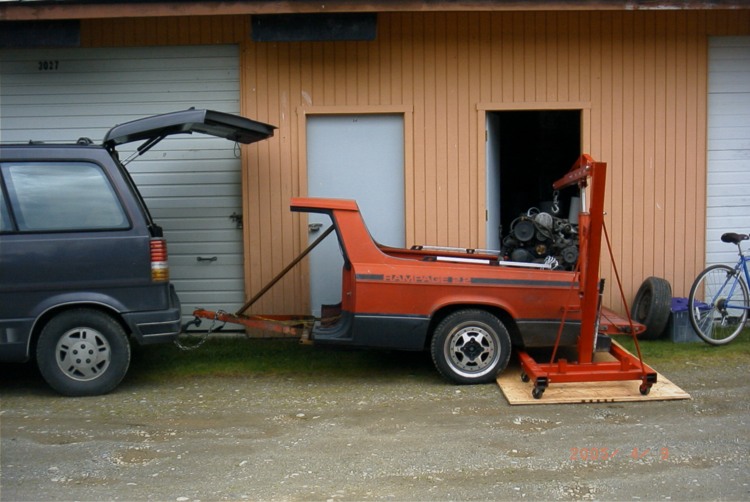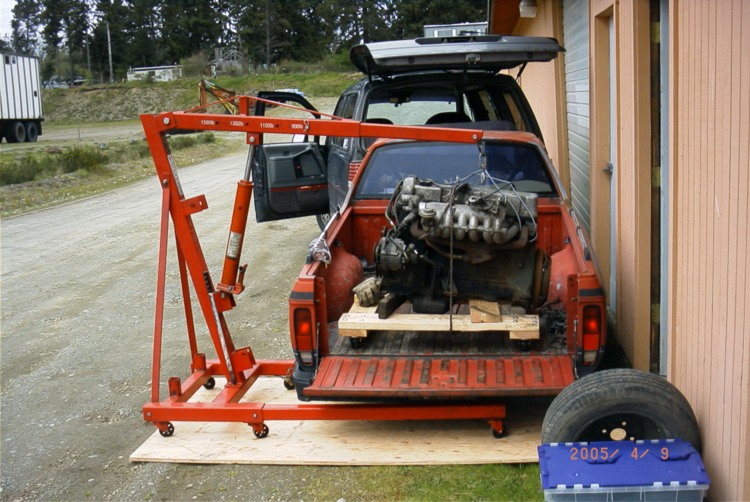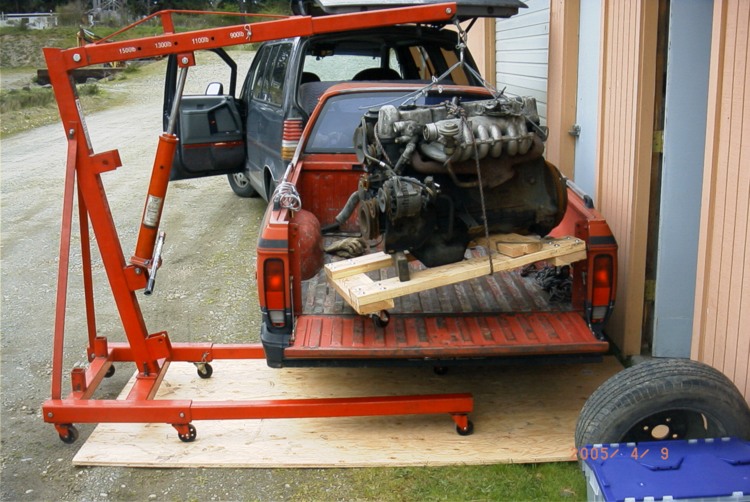 (No, I borrowed the trailer, it's not mine!)
Plans are to repower some old wagon from the 60's in the future, possibly a Ford Falcon or Dodge Dart or similar.
I bought a gasser '83 AT (L4N71B) to have an OD trans for that project, but I'd really like one from a diesel, because some of the iinternals are different part numbers, according to the parts catalog. But in a pinch, the gasser one should work.