I picked up this May1980 Sales Brochure from eBay recently. It's dated 5/80 .
Click image for larger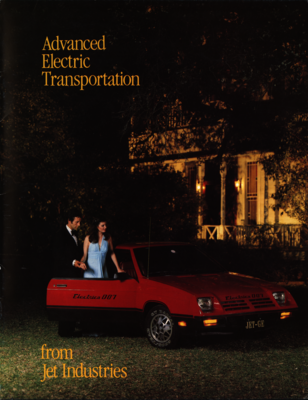 Click image for larger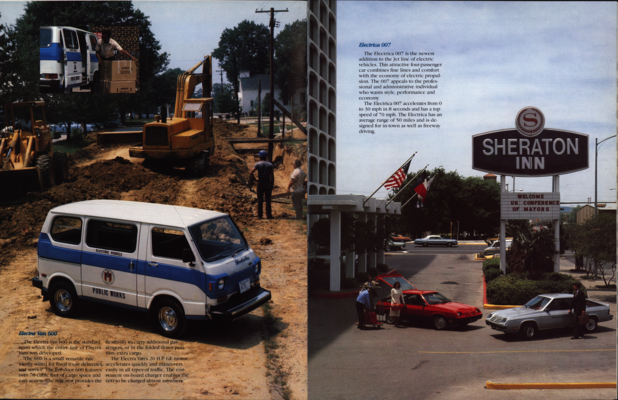 Electra Van 600
The Electra Van 600 is the standard upon which the entire line of Electra Vans was developed.

The 600 is a small versatile van ideally suited for fixed route deliveries and service. The five-door 600 features over 76 cubic feet of cargo space and east access..The rear seat provides the flexibility to carry additional passengers, or in the folded down position, extra cargo.

The Electra Van's 20 H.P. GE motor accelerates quickly and maneuvers easily in all types of traffic. The convenient on-board charger enables the 600 to be charged almost anywhere.

Electrica 007
The Electrica 007 is the newest addition to the Jet line of electric vehicles. This attractive four-passenger car combines fine lines and comfort with the economy of electric propulsion. The 007 appeals to the professional and administrative individual who wants style, performance and economy. The Electrica 007 accelerates from 0 to 30 mph in 8 seconds and has a top speed of 70 mph. The Electrica has an average range of 50 miles and is designed for in-town as well as freeway driving.
Click image for larger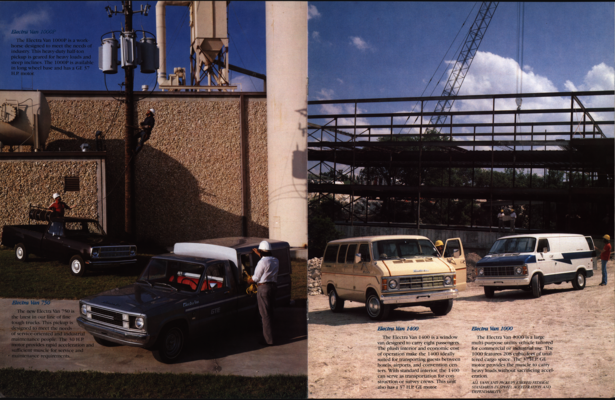 Electra Van 1000P
The Electra Van 1000P is a work-horse designed to meet the needs of industry. This heavy-duty half-ton pickup is geared for heavy loads and steep inclines. The 1000P is available in long wheel base and has a GE 37 HP motor.

Electra Van 750
The new Electra Van 750 is the latest in our line of fine tough trucks. This pickup is designed to meet the needs of service-oriented and industrial maintenance people. The 30 H.P. motor provides rapid acceleration and sufficient muscle for service and maintenance requirements.

Electra Van 1400
The Electra Van 1400 is a window van designed to carry eight passengers. The plush interior and economic cost of operation make the 1400 ideally suited for transporting guests between hotels, airports, and convention centers. With standard interior, the 1400 can serve as transportation for construction or survey crews. This unit also has a 37 H. P. GE motor.

Electra Van 1000
The Electra Van 1000 is a large multi-purpose utility vehicle tailored for commercial or industrial use. The 1000 features 208 cubic feet of unaltered cargo space. The 37 H.P. GE motor provides the muscle to carry heavy loads without sacrificing acceleration.
ALL VANS AND PICKUPS EXCEED FEDERAL STANDARDS IN SPEED, ACCELERATION AND DEPENDABILITY.
Click image for larger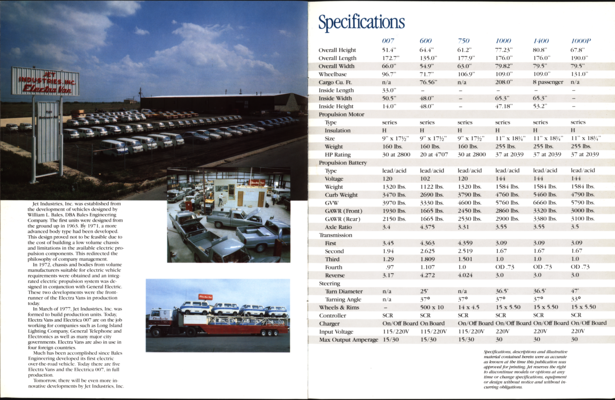 Jet Industries, Inc. was established from the development of vehicles designed by William L. Bales, DBA Bales Engineering Company. The first units were designed from the ground up in 1963. By 1971, a more advanced body type had been developed. This design proved not to be feasible due to the cost of building a low volume chassis and limitations in the available electric propulsion components. This redirected the philosophy of company management.

In 1972, chassis and bodies from volume manufacturers suitable for electric vehicle requirements were obtained and an integrated electric propulsion system was designed in conjunction with General Electric. These two developments were the front-runner of the Electra Vans in production today.

In March of 1977, Jet Industries, Inc. was formed to build production units. Today, Electra Vans and Electrica 007 are on the job working for companies such as Long Island Lighting Company, General Telephone and Electronics as well as many major city governments. Electra Vans are also in use in four foreign countries.

Much has been accomplished since Bales Engineering developed its first electric over-the-road vehicle. Today there are five Electra Vans and the Electrica 007, in full production.

Tomorrow, there will be even more innovative developments by Jet Industries, Inc.
Specifications, descriptions and illustrative material contained herein were as accurate as known at the time this publication was approved for printing. Jet reserves the right to discontinue models or options at any time or change specifications, equipment or design without notice and without incurring obligations.
Click image for larger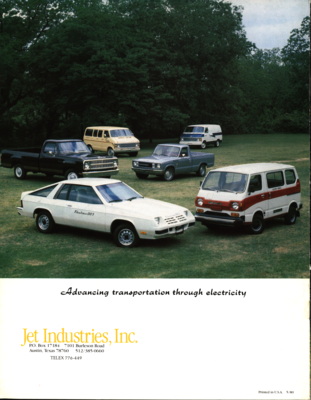 Advancing transportation through electricity

Jet Industries , Inc.

P.O. Box 17184 7101 Burleson Road

Austin, Texas 78760 512/385-0660

TELEX 776-449