Since 2007, I have been offering rebuilt IP belt tensioners, but I don't think that I actually put this information in the Buy/Sell section, so here it is.
The LD28 injection pump belt tensioner hasn't been available from Nissan for several years. The bearing in them does wear out and get sloppy, and if you use it long enough, it can ruin your IP belt. The good news is that I am set up to rebuild the tensioner, installing a new, welded axle shaft that supports a double-row quality SKF bearing that is not only "lifetime" rated for this application, but can be replaced if you ever thought you needed to. There's a lot of discussion in
this thread
, and I've included pictures & dimensions if you care to rebuild your own, but if you just want to buy a replacement belt tensioner . . .
Click on image for larger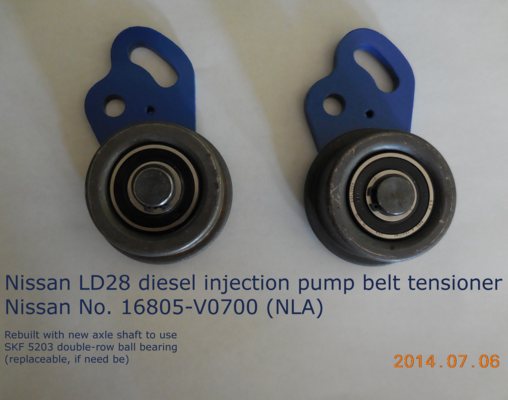 The price was $160 + $20 core + shipping (generally $6.80 USPS SMF) in 2007, and remains the same in Nov2016. Contact me via email only (yes, that means you have to register to be a member of this forum).
I anticipate being able to continue to offer this service as long as cores are returned to me; I am not in a position to go scouting them out anymore, but so far people have been pretty good about finding me cores. I had a batch of (100) axles machined back in 2007 and I still have plenty left from that run.