See next post: this truck is not for sale as a runner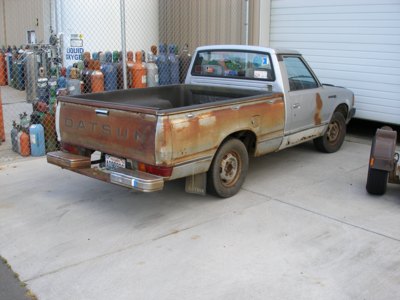 I have no need for this truck, don't know why I bought it and am not interested in fixing it up. It's gotta find a new owner to love it.
Many more details, and fresh pictures at the end of
this thread
.
To make it into a brand-new truck it needs . . . a lot. Steering box, radio, tires, heater blower fix would be near the top of my list. It has low compression in No. 4 cylinder and blow-by. It doesn't smoke much after it's warmed up. It's rusty but not particulary dented. The cab is not too rusty, the pass door is pretty darned rusty and the battery box is very rusty, but other than that there is nothing structurally bad. There
is
rust-through on the passenger side floorboard, but the rockers seem solid.
But it runs & drives and can be used right now, as-is. Drives straight, stops straight. Most lights work. Doors lock. Does not smell bad/musty/smoky. Seats look funky and aren't bolted down as well as I'd like but aren't uncomfortable. Use it as a trash hauler, fixer-upper, parts donor, yard art, conversation starter. Running on commercial biodiesel now. New fuel filter and thermostat. See the above linked thread for other details.
At $500 this does not include the Interstate battery, but I will supply something battery-shaped and battery-like to get you home.
Frivolous inquires invited. Some spares available. Batteries not included. email
asavage@iname.com
I will be listing this on CraigsList later this week.