To recap, for those who haven't been keeping up . . .
In the past three years, I've had one 620/L20b, three 720/SD22s and one 720/Z24 through my hands. I don't own any of them anymore
The first SD22 ("Lela") was a $400 '82 KC, and I put the tran's guts from the $100 '79 620 into its case. Sold it locally, it's still running around here.
The second SD22 was an 81/82 720 KC ("
Bellingham Truck
") that I bought (for $100) as a non-runner expressly for Peter, my co-worker at the time, who wanted a small diesel PU to run BD in, instead of his fiance's Toyota PU. The year confusion is because the VIN is clearly an '82, but it has the '81-style fuel filter. It has been parted out as of two weekends ago. Its engine runs very well now, and is sitting on a pallet on top of the office in our warehouse.
The third SD22 ("
Vashon Truck
") is a 1982 KC with a blown-up engine, hole in the oil pan. It was "free" with no title, but gas & ferry fare for the tow trailer etc. ran about $100. It is so rusty that the doors are sagging. It has a factory sunroof. It will be parted out soon.
The Z24 ("Arlington Truck") is a 1986 std cab w/315k miles showing on the odo, and for which I paid $50. It was supposed to have a blown head gasket. I replaced the ignition rotor (a fairly expensive part on a NAP-Z engine) and it lit off and runs well. A few hours with a pressure washer and it cleaned up reasonably well, though it has sat a while since then and collected more detritus on its paint. It has none of the usual rusted out areas, but the battery box, cowl cover, and the top of the windshield areas do have some rust-through or heavy rust.
This latter truck, bought supposedly as a non-runner, is to be the recipient of the "Bellingham Truck's" engine & trans.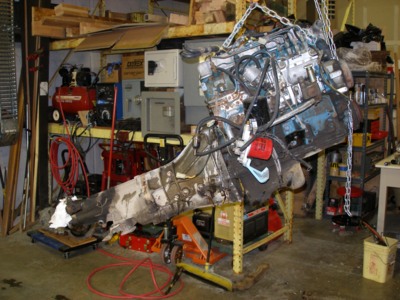 Plans are to exchange:
engine
trans
radiator
battery cables
fuel tank
The DPC will be installed, and probably the GP system as well, though not in their OEM locations.
Here are some pics, all taken today (except the mouse nest pics), right after another car wash session, preparation to picture-taking to peddle the engine & radiator.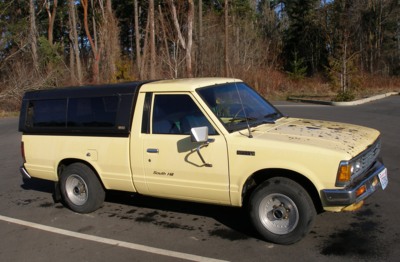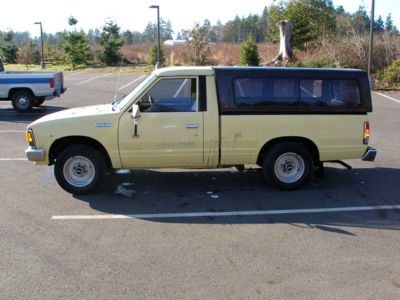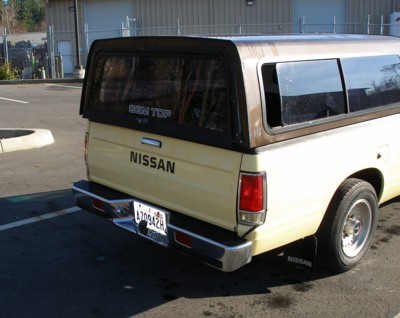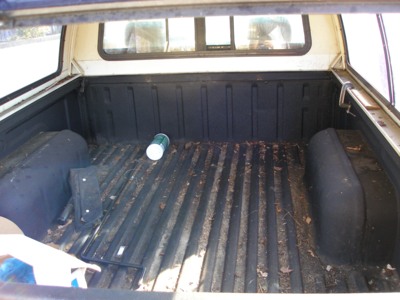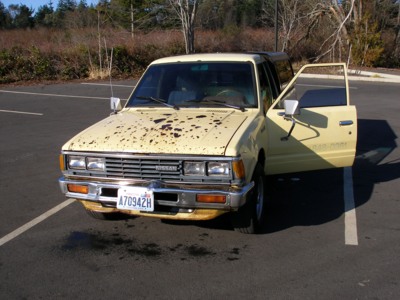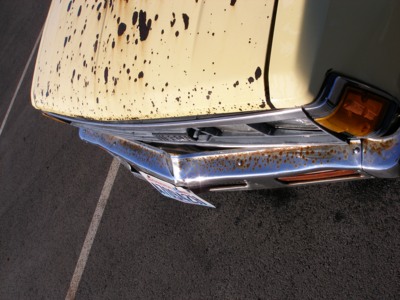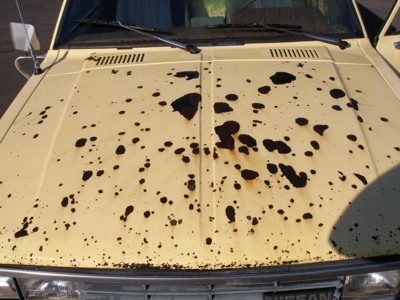 The hood has been replaced; no emissions sticker underhoood.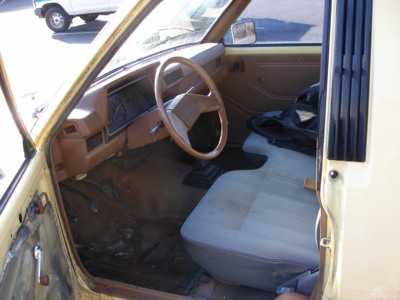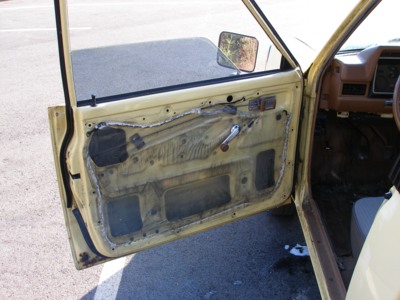 The driver's door panel is MIA. The pass. side is missing the armrest and pull handle. Anybody have any in brown?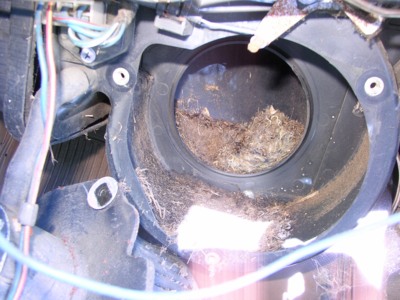 The mouse nest in the blower. This truck really stank of mouse urine/feces. It still smells pretty bad.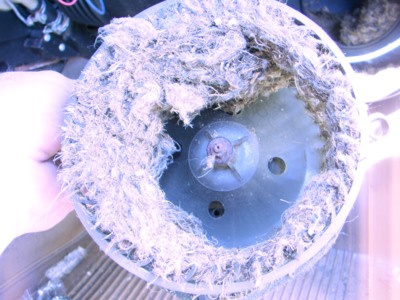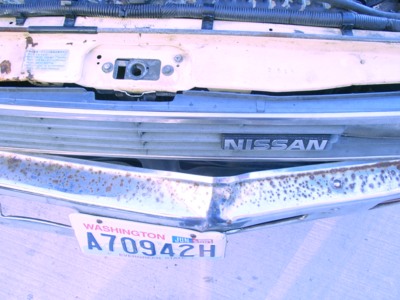 Dragged from the blackberry bushes (a non-native weed in Western Washington), somebody wasn't told that the bumpers on these old 720s are decorative, not functional.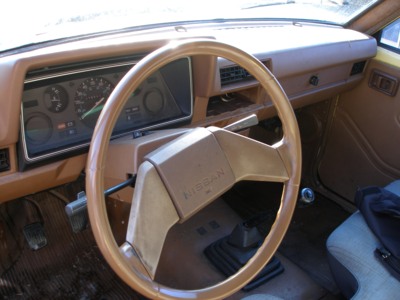 The Ign. switch assy was screwed up when I got it, so I used one of my spare JY sets, one which I got with door locks that matched too.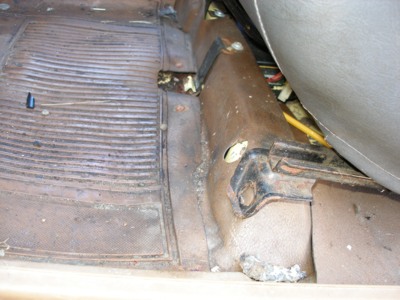 I don't know what that seat is from. It's quite a bit more comfy than the stock one. I'll have to refit the mounts to bolt it in though.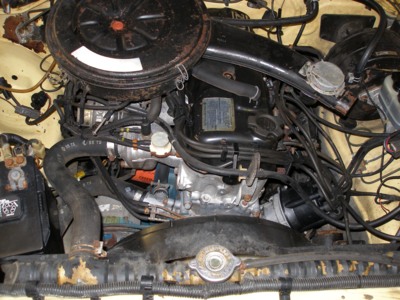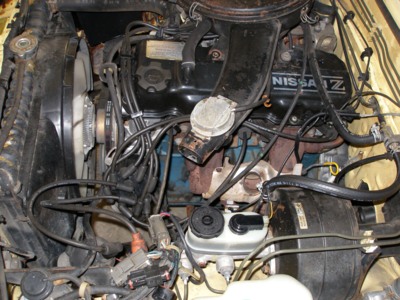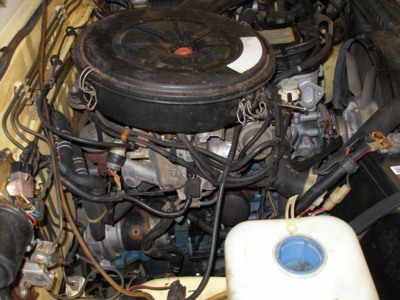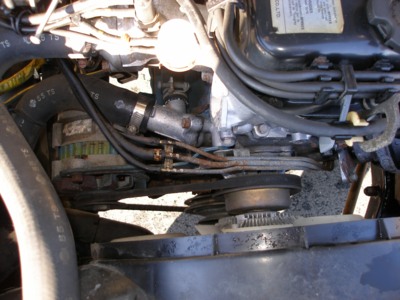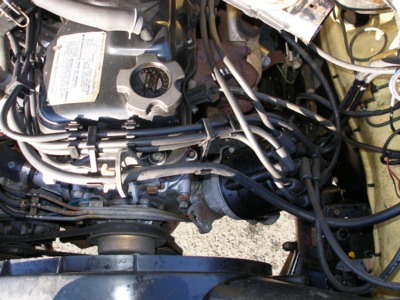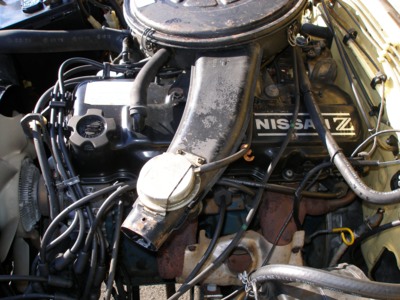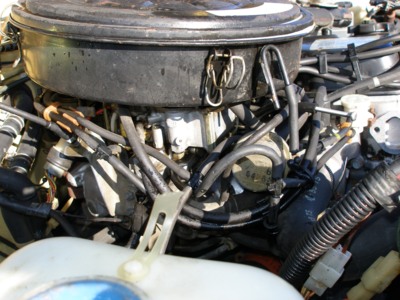 Feedback carb. Ugh.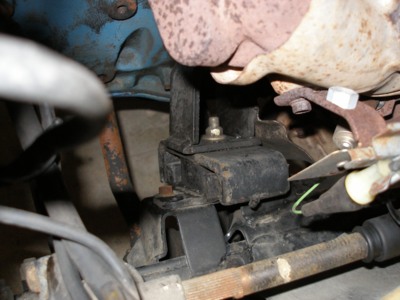 Left motor mounting.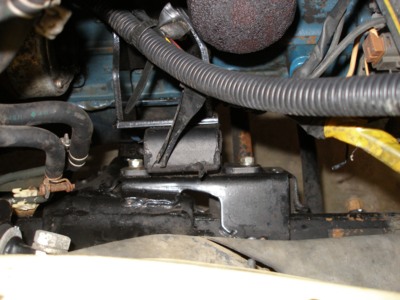 Right motor mounting.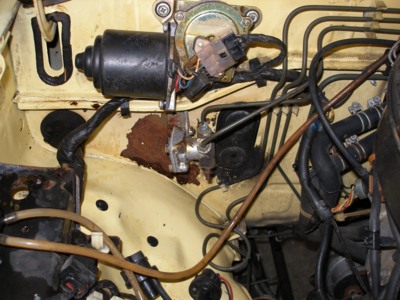 Clutch damper. I though only the diesels got this, but here it is on a gasser.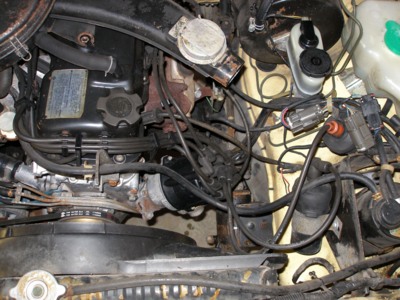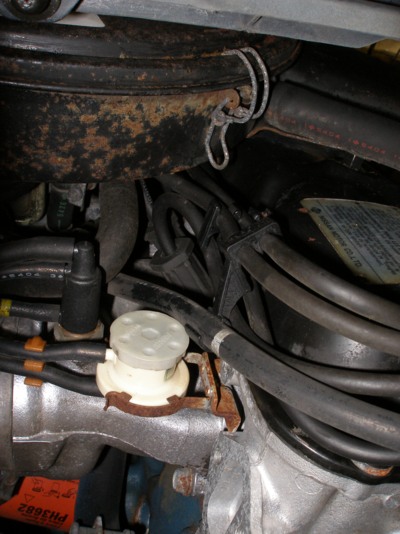 Dual coils for eight spark plugs. The cap & rotor are dual-layer inside too.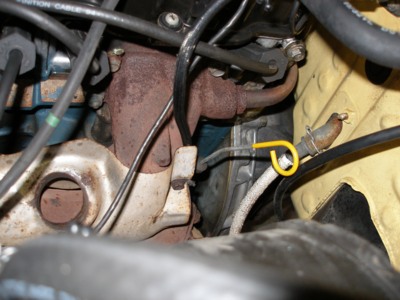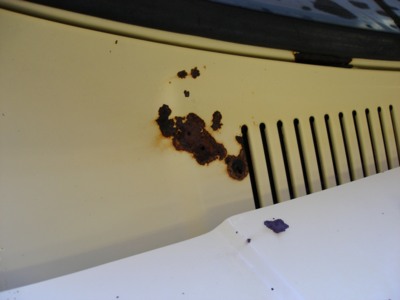 Cowl rust-out.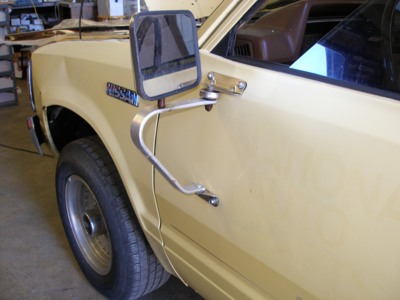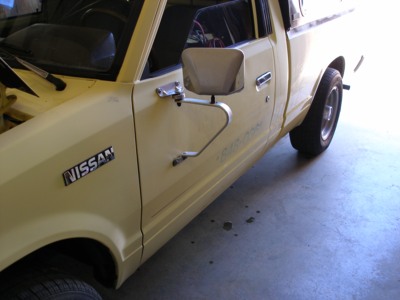 West Coast
mirrors. The '82 "Bellingham Truck" had these same mirrors.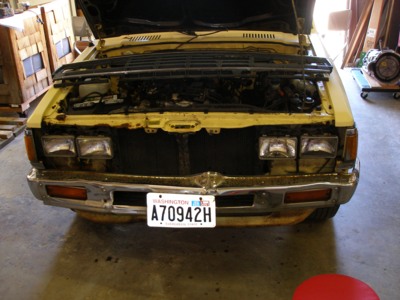 OK, so the front bumper is both rusty and bent, it has to go.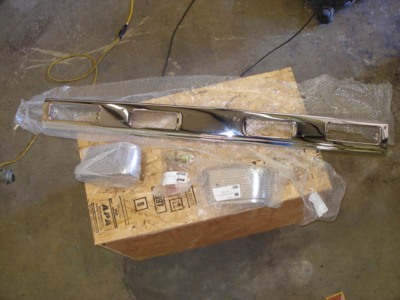 New (cheap) bumper from
Automotix
, a random find. Bumper was $32 for chrome, and I got my money's worth (and not a penny more). Each bumper end cap was another $14, and they don't fit: they're about an inch too short.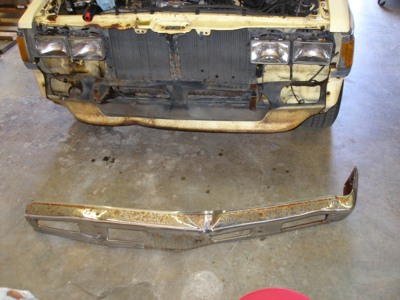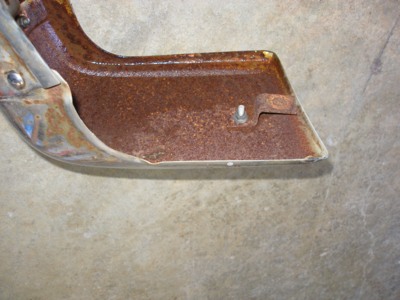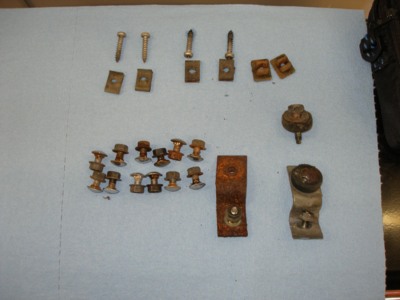 All the bumper bolts can be accessed from the front of the bumper or the turn signal apertures. Amazingly, I didn't have to grind any of mine off and I was able to reuse them all. This pic is the collection of hardware I had to transfer from the old bumper to the new.
The old bumper measured ~.065" thick; the new ~.058. My guess is that the old bumper had been replaced in the past, because both of them are really flimsy.
The chrome on the new bumper is what I'd rate as "fair", with lots of minor imperfections, and despite being shipped in a box-inside-a-box, and bubble-wrapped very well, the thing was evidently packed with a fair-sized scratch: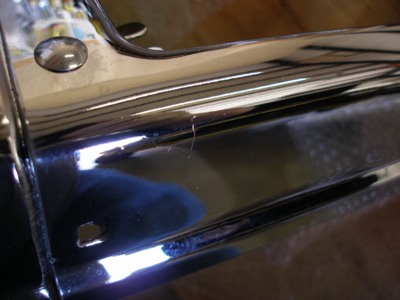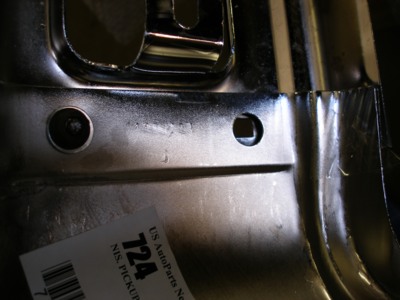 The new bumper's holes are all oversize, so I had to use some flat washers to make the OEM nuts fit reasonably well. Alignment of the bumper's holes was good: I didn't have to break out the come-along to get the six center bolts in, only moderate prying, which is better than I'd expected.
I didn't expect much for $32, and I didn't get much, but at least it's not bent (yet) or rusty (yet).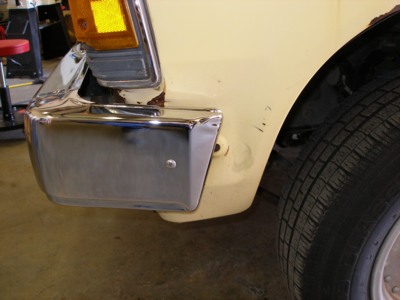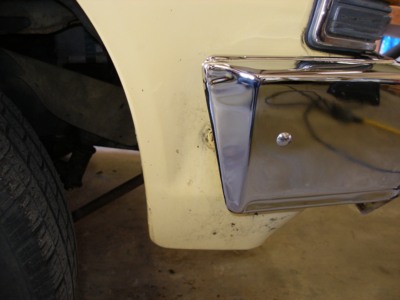 Can't even get close to fastening the bumper caps to the fenders. The caps are about one inch too short.
I forgot to take an "installed" shot from the front, so I'll have to do that tomorrow.