This thread is to try to document (with pics) the recent work I performed on this truck. It may not make a good "story" for the rest of you. It will have a lot of pictures, many of which will be boring but all provide documentation that Tom & I can comment on and share. Some of the "before" pics were very helpful later when I had to find a place for all the brackets & such.
This truck was a reconstructed vehicle. There remains a 1" rip in the firewall behind the cylinder head where presumably the engine was shoved back hard enough to rip the firewall.
At the time I got it in October, it would not start at all unless a 5 PSI electric pump was running and pushing fuel to the IP. Even after starting and warming up, if I turned off the electric pump and opened a bypass line around the electric pump, it would just barely remain running, and could not be driven at all.
I'm told that it took a couple of years to get to that point. It "never ran right or reliably" going back to when he bought it about four years ago. It was not a daily driver for him, due mainly to its propensity to die and not restart.
(click on any image for larger)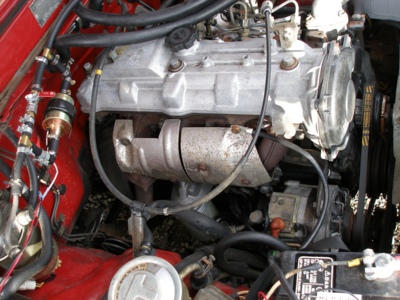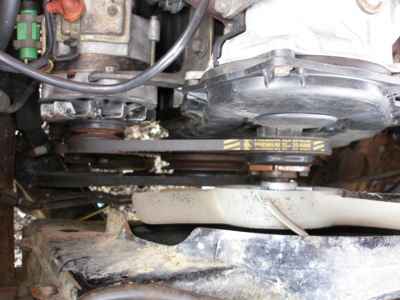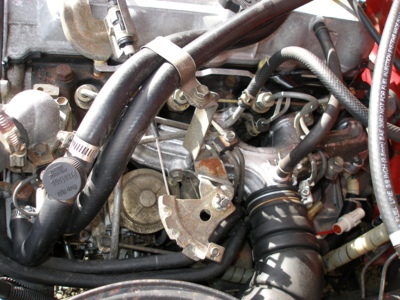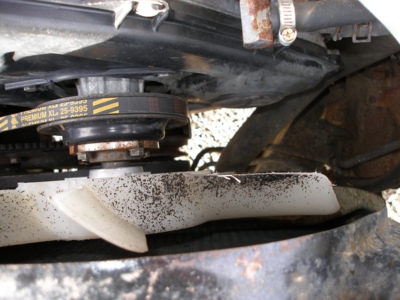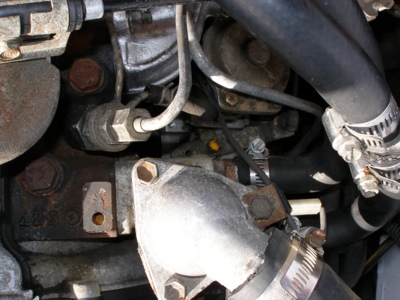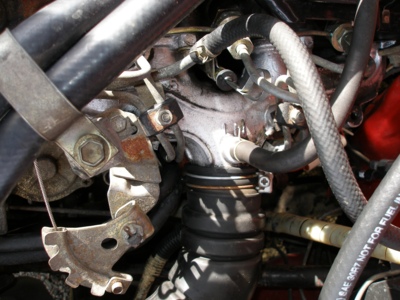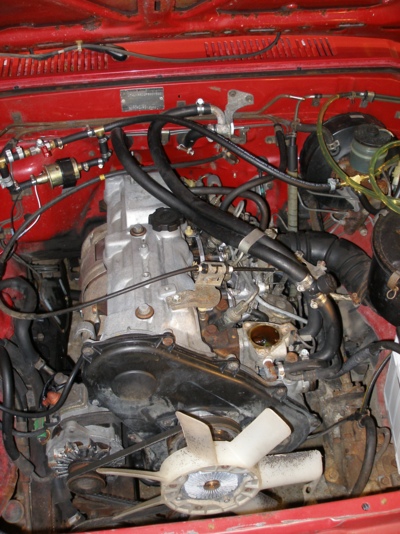 It would not crank with the key. I narrowed it down to a cylindrical connector near the air filter housing. I did not clean it a great deal.
It would run if the electric pump was providing fuel. Vacuum test on the fuel inlet showed less than 2" so I assumed the fuel tank and plumbing to be OK at that point. Moving the gauge to the IP's inlet showed no vacuum at all, and moving it to the IP return line showed no air picked up from a leak, so internal IP damaged was assumed.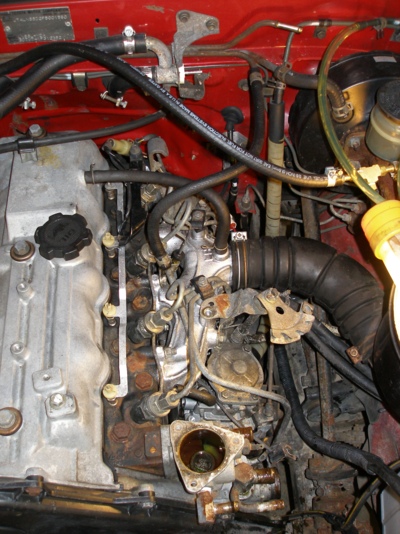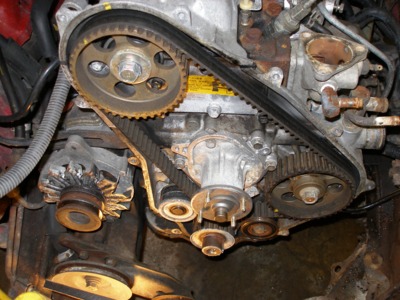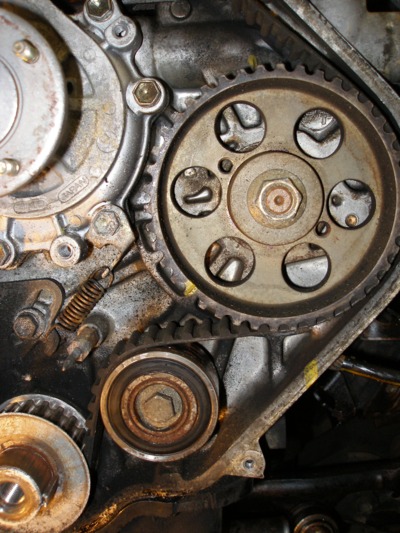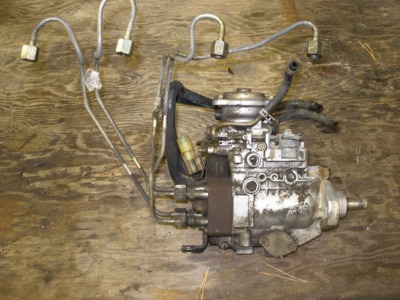 This gizmo was leaking fuel when fuel was being pushed by the electric fuel pump. Fuel was coming out the other end of this black line, which was routed up to the top of the IP and open. I still do not know what this thing is or what it does. This is the line that was damaged in shipment when the IP was returned to me from H&H Diesel -- insufficient packing material was used. I called them and told them about it. I have left the line off until a proper-sized line can be procured. It is not leaking on the rebuilt IP.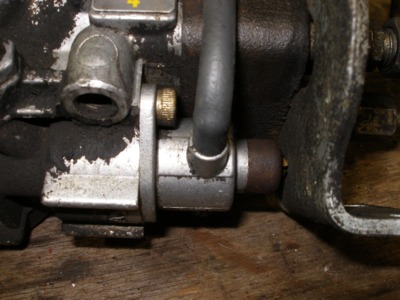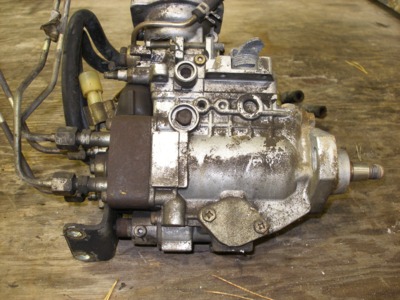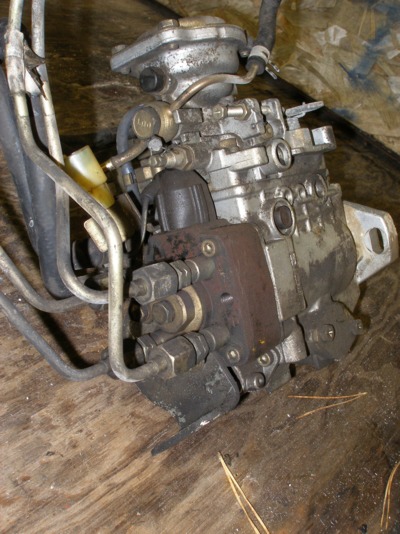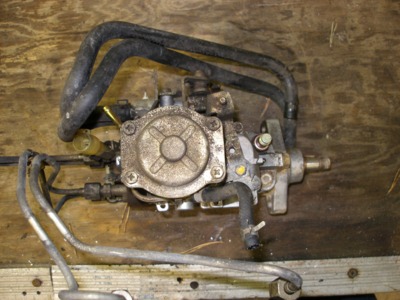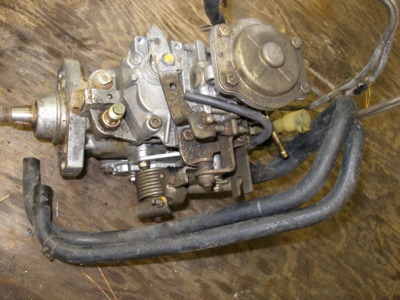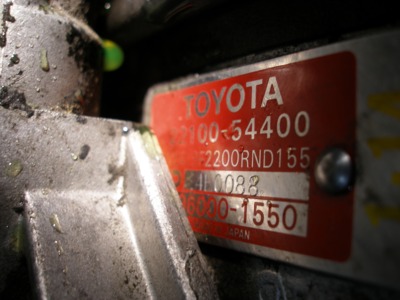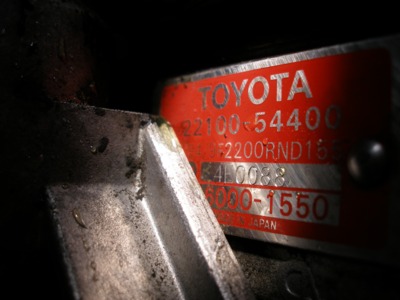 My best guess of the IP numbers before removing it from the engine, and the "real" numbers I was able to read when I got it off. For the search engines:

Toyota
22100-54400
VE4/9F2200RND155
ND 4E0088
096000-1550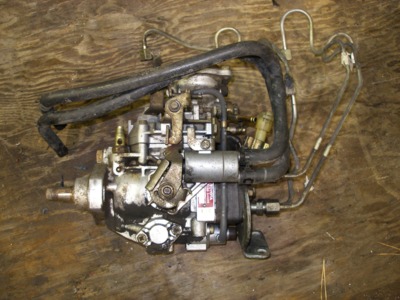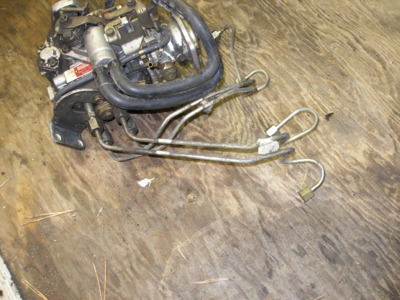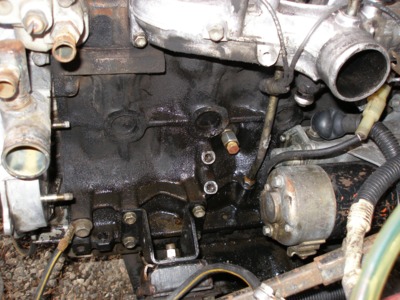 The block drain for the cooling system. I pulled it and flushed water through it. I also ran water through the heater core. And I spent quite a bit of time trying to get most of the crud (chunks!) out of the radiator. Unfortunately, the coolant is still muddy. IMO, the cooling system should be flushed again after some time is put on the engine. I wish I'd thought of that before I put $30 of extended-life (5 year) coolant in it!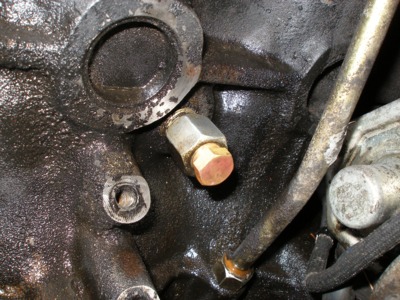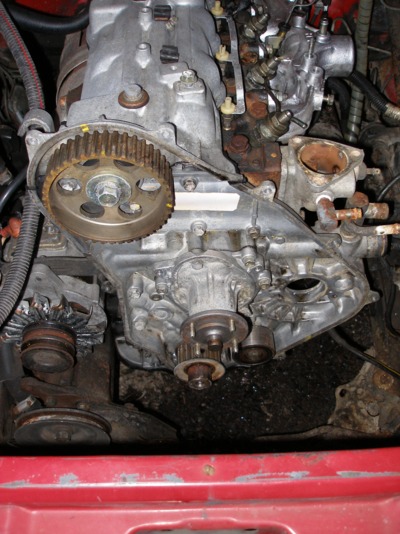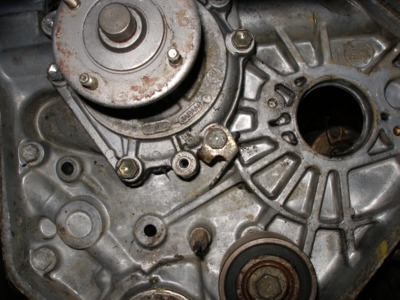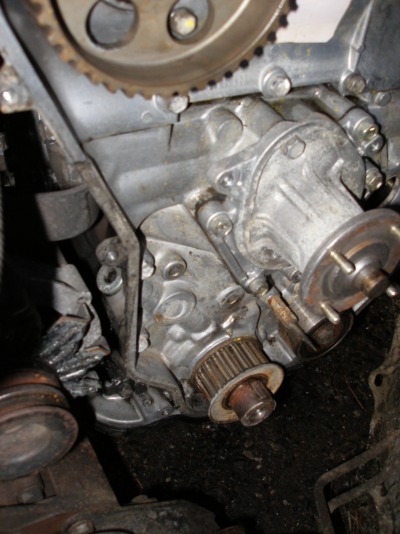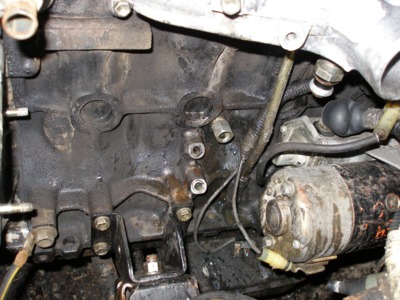 The rebuilt IP. First, the invoice: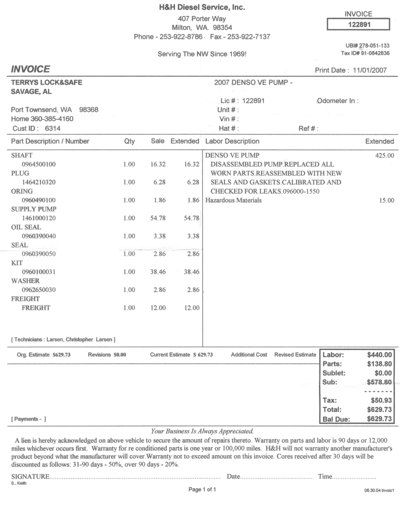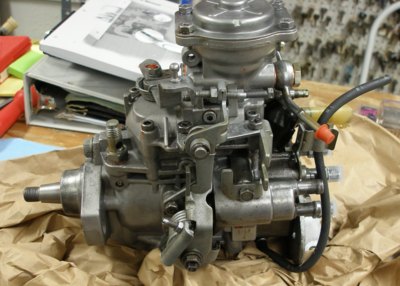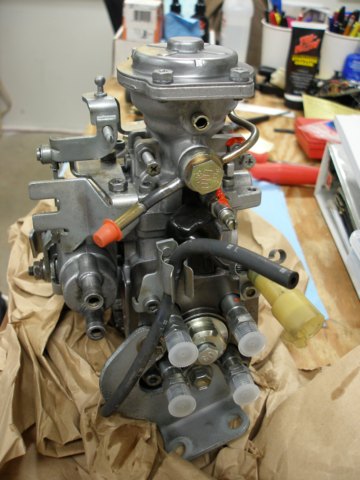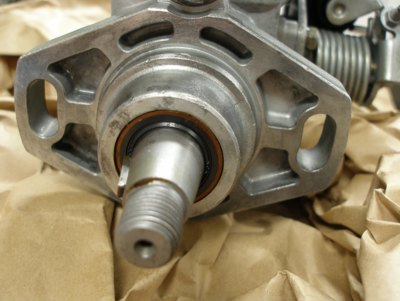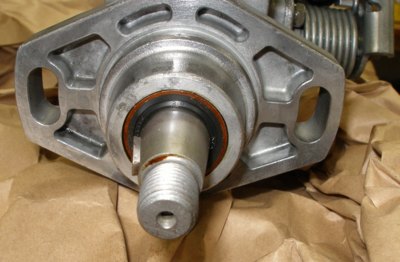 This is the line that was damaged in shipment.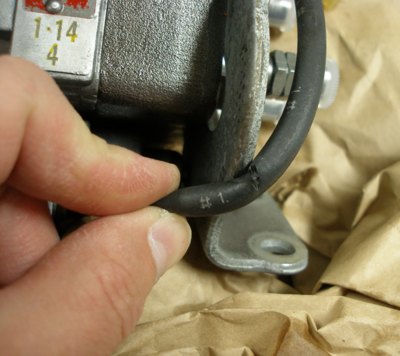 H&H Diesel returned these parts as having been replaced.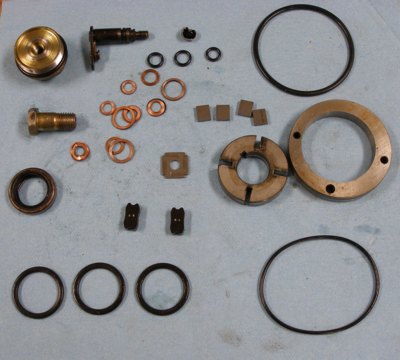 Of special note is the condition of the feed/lift pump ($55 on the invoice above). Pitting on only about a 90° segment: water damage. Feed pump didn't work on this IP, had to use an electric pump to even get it to fire, and then it would idle perfectly but smoked under load and lacked power: no feed pump pressure = no timing advance: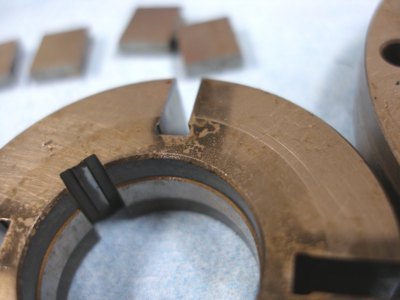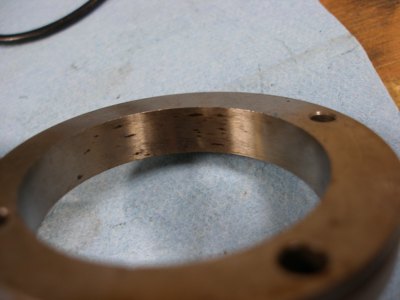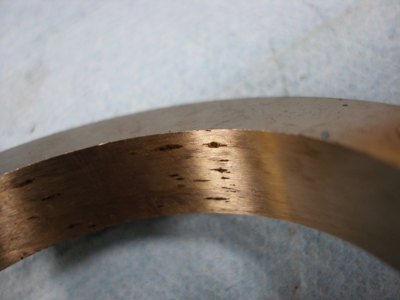 I can't, of course, "bench time" the IP like this. This is only a mock-up of what I'll do to time the IP in the vehicle -- eventually. Tom, for more info about this and IP timing setups, please read
this post and the posts after it
.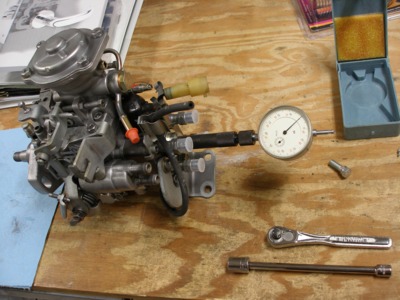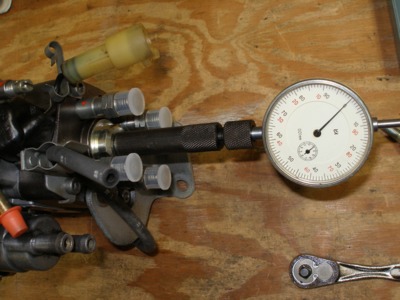 More crash evidence after I pulled off the water pump. See the impeller marks on the housing?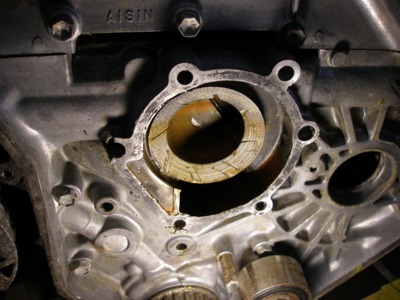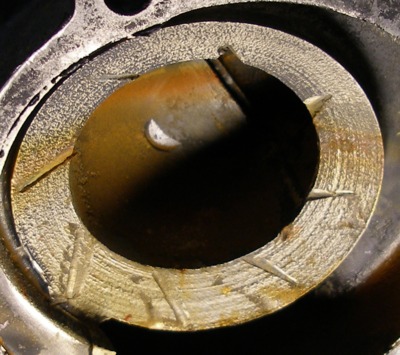 Missing metal on one bolt boss: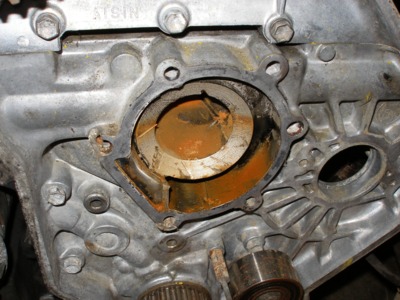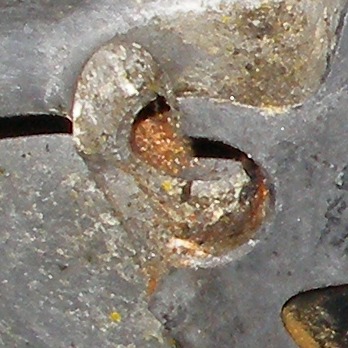 Cracked out casting on another bolt boss: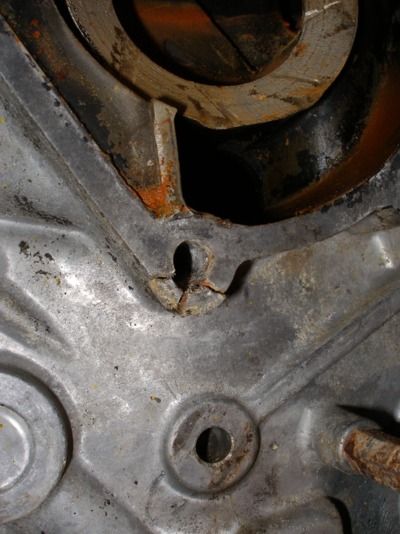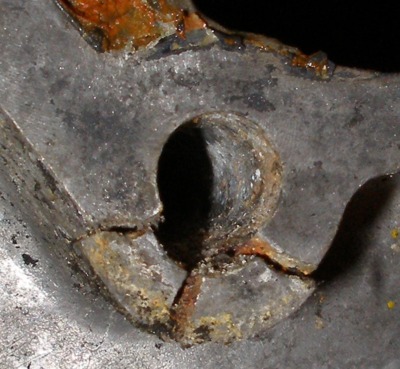 New water pump on, reassembly commencing.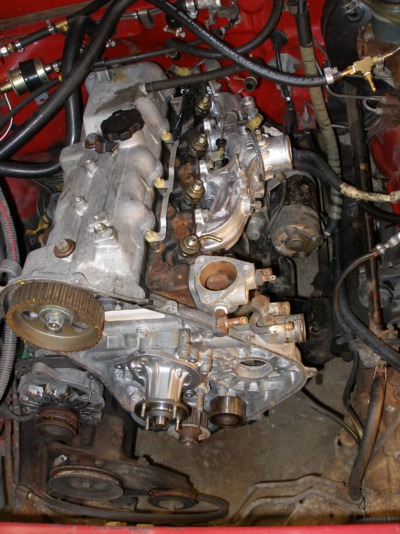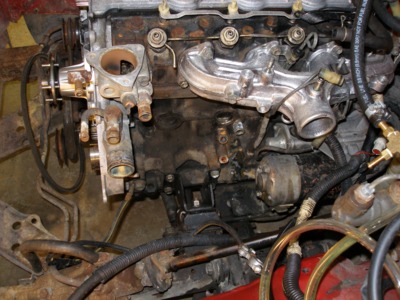 New aftermarket (GMB) fixed tensioner, new OEM adjustable tensioner.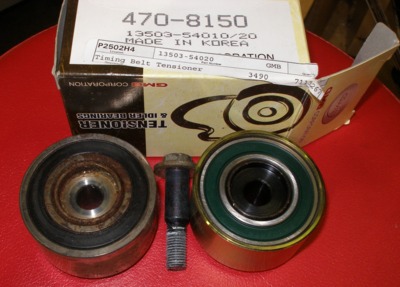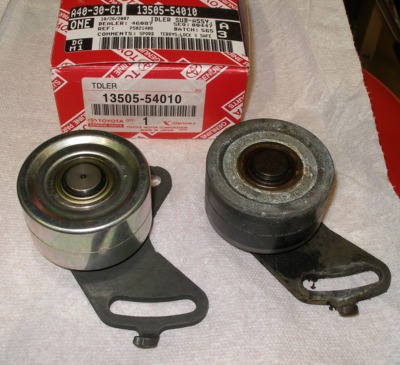 Belt on, slack adjusted per Toyota's instruction.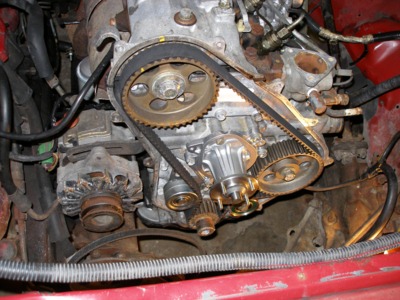 Took half an hour to clean this big plastic cover to my satisfaction. There are twelve shoulder bolts retaining it to the engine. Upper bolt hole was stripped, another trip to Hadlock to get my 30-yr-old 6mm Helicoil set from storage and put an insert into the cam cover.
No pics, but I replaced the bearing in the PS belt idler. SKF bearing, $23. Both accessory belts are good.
More or less assembled. I used the factory witness marks on the IP housing and front adapter cover to "set" the timing. This is a crude method, as the IP's internals have all been messed with.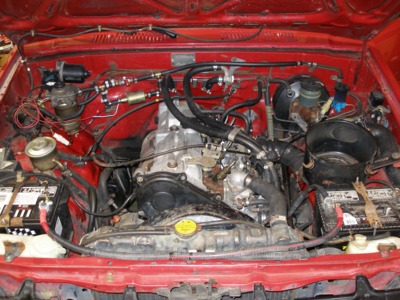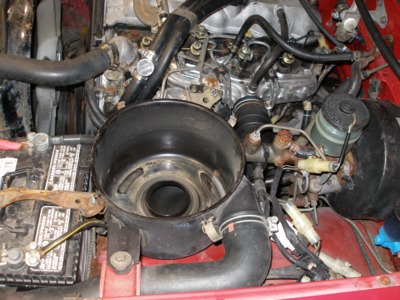 I put my Kent-Moore Tach-N-Time on it, set hot idle to 680 RPM, advance was almost 4° BTDC. Hot, at 2800 RPM and above, auto advance took it to 12° BTDC, and I never saw it any higher than that.
I suspect that it is 2-4° retarded, but that is only a guess. I'd like to re-check timing after the Rotunda adapter shows up (see link to other post above).
It does not start as nicely as I'd like. Some of that is the slow cold cranking speed. Even though the twin Exide batteries check near OK, it does not crank as fast as I think it ought. The positive cables look OK, but neither negative cable is good.
Clutch is rough and weak -- expect to replace it soon.
Coolant is still cloudy. Flush in future.
Dash "BRAKE" light is on. Should be investigated.
Dash "TIMING BELT" light is on. Front manual reset non-op. Cluster will have to come out and apart to repair.
Both radiator hoses are somewhat soft. Heater hoses appear original 22-yr-old items, as do the coolant hoses to the IP's Cold Start Device. Consider ordering and replacing all.
Fuel filter (NAPA/Wix) was clean.
The right headlight. The lamp was installed upside-down, and the bucket was loose. When I removed it, I found all the plastic bucket guides missing or melted, the lower adjuster melted and occluding the hole, and evidence of torch work from the reconstruction.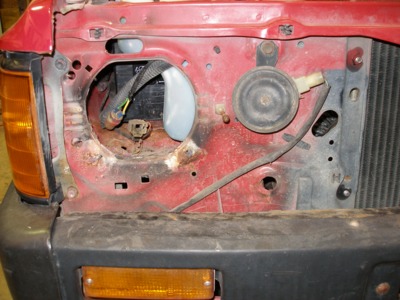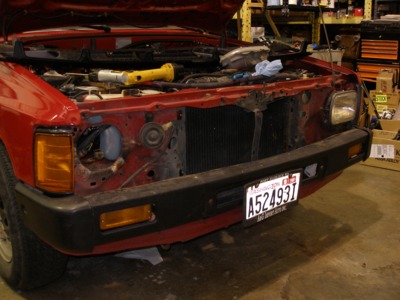 I got a couple of bucket guides and an adjuster from the JY and cobbled it together. You need at least five, probably six (of eight total) of the bucket guides (on the left in the next pic). They are probably very cheap: order from the dealer.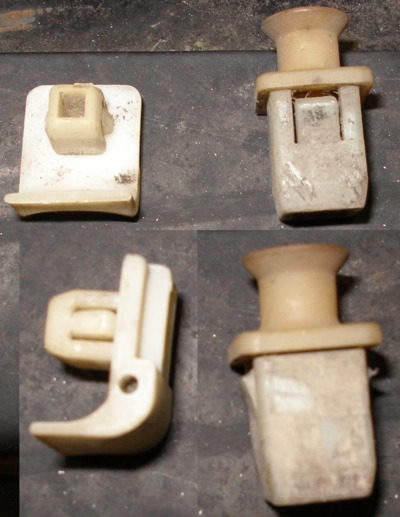 While I was able to align the HLs, the left one's lower adjuster won't stay affixed to the bucket. Possible fixes would be to remove grille & bucket assy and bend the bucket support to get better adjuster alignment, or wrapping the adjuster and bucket with copper wire to keep the adjuster's head in the bucket's slot. It will probably not stay aligned as-is.
Other than the financials, this is pretty much the summary of the work done.