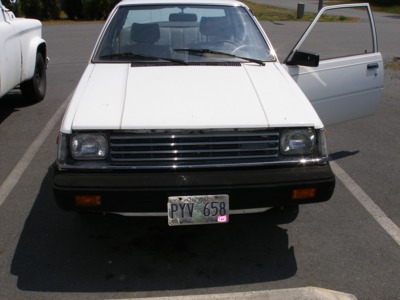 This is my car (see
this thread
for some history and condition). It runs & drives. It's worn out. Free to someone who will not scrap it, or who will take the time to get its parts to folks who can use them. I do not have any recent pics, so the ones from two years ago (in that link above) will have to do. No new dents

Summary as I recall:
It has low compression and will not start if it's colder than 45°F unless you have a hill handy. It burns a LOT of oil: one quart of SAE30 every 300-350 miles. Its smokes a LOT. It does not drip any oil though.
That oil consumption figure of 300 mi.? That's for a gentle commute that doesn't exceed 50 MPH. I've taken it to Oregon three times, highway speeds of 65 MPH it uses a quart every 150 miles. You heard that right.
It won't start hot, either. You have to let it sit 10-15 mins. after a hot shutdown, or it won't start.
The clutch works fine, but it squeaks in that way that says, "I'm down to the rivets.". I've been being gentle with it and have gotten 20k more squeaking miles out of it, but expect not a lot more from it.
It has some rust, not bad but yes there are a couple of holes. The windshield is pretty badly cracked.
The back seat is not there. I have two grey bucket seats (the car has a brown interiour) but I only keep the driver's seat bolted in most of the time. The carpet is finally smell-free, no tears and very little staining, it looks good. Dash is cracked & stained. Trunk lid has minor dents & scratches. All locks work, dome light works. Radio is Ford. Has a manual GP switch and indicator light.
I haven't driven it since October (when it got too cold to start), and I see that water is getting in to the front floor. I've been running a dehumidifier in it for a week, and it's dried out now, but that water is coming from somewhere, and that's the last straw for me. Maybe windshield gasket, maybe cowl pan.
The remote trunk release cable is missing, and I never found one in a JY for a 2D, so you must use the key on the trunk [shrug]. The remote gas door release works fine

The tires are Michelins I put on 20k ago, and are certainly the best items on the car. $300 of tires

The rims are not particularly straight, but it won't shake you off the road either.
The alternator has new LR160 diode assy installed -- it's a grind job and I may do a pictorial post someday, but yes, it
can
be done. The alternator is essentially rebuilt. It got new oil feed hose for the vac. pump two years ago. Actually, lots of new stuff, like the antenna, which is a Sentra-only item.
I've been getting a consistent 44 MPG with SAE30 oil and burning the oil heavily. I have seen 51 in this car, but with lighter oil and it just burns too much of it. Two years and 20k miles is enough for me.
It will certainly need a cam timing belt -- who knows how long it's been since it was changed, and if that belt breaks, the engine is destroyed. I have a new belt (ten, actually) that comes with it. I do not have the second belt for the IP though.
The battery that comes with the car is not all that hot, or kick in a few bucks and I'll leave the Interstate in there. It cranks fast.
So, someone take this thing home and love it. Again, it runs & drives, but eats LOTS of oil, will need a clutch soon, and definitely a cam belt replacement, but it can be driven home today. I can deliver it for about a buck a mile on my tow dolly.
Email only, please.