Sometimes it's the LITTLE things that drive you to drink.
Symptoms: The hotter the engine got (speaking to underhood temps), the shorter the time at idle before the engine would start misfiring. With the misfire established, it would clear up with one throttle blip ... for about 30-60 seconds. Cracking each injector line with the misfire present, cylinder #1 always expelled air. Hmmm.
Last night I was under the hood ... and noticed a very high pitched "wheezing" coming from somewhere. Then it went away. I ran the engine for awhile and then shut it down. The "wheezing" sound was audible again and now louder. I listened around REAL carfully and ... I FINALLY sourced it!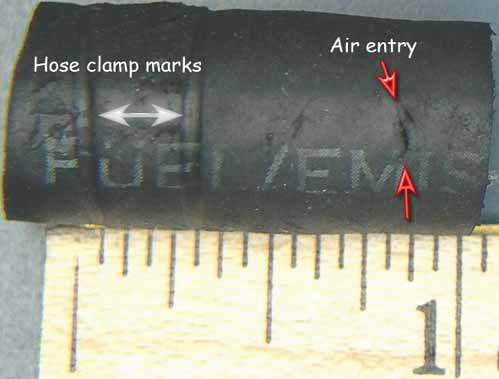 This is the last inch of fuel hose on the primary filter (suction side to fuel pump). This TINY hole next to the OEM wire hose clamp was admitting air! The "through point" on the inside is evident with a magnifying glass and focused light. I replaced all these hoses about 18 months ago!
Trimmed it off. No more "wheezing" and no more symptoms.