I wanted to share with you guys, or at least start a thread here since I have FINALLY started installing the Turbo onto my LD28 910 sedan.
I bought what I thought was a factory Turbo setup for an LD28, but it turns out its just another L28et manifold modified, but the turbo that was on it was the actual Diesel Turbo... The parts came from Enrique @ Former JESCO in Ceres Ca... He still has SD and LD20 setups, albiet a little pricey for my taste.
Anyway, I have to plumb the oil feed line, and I have worked out that some LD20T(not all) as well as VW 1.9L, and some Cummins use the same style pump as the LD, and that it is possible to fit at least one of the 1.9L Altitude compensators(aneroide) to the LD28 pump top. There are some tricks to this that I dont yet fully gasp and Ill definitely post back when I have that all sorted. Here is what I did today:
I drove the car to my lift as a stock 380K mile diesel...
By about 1pm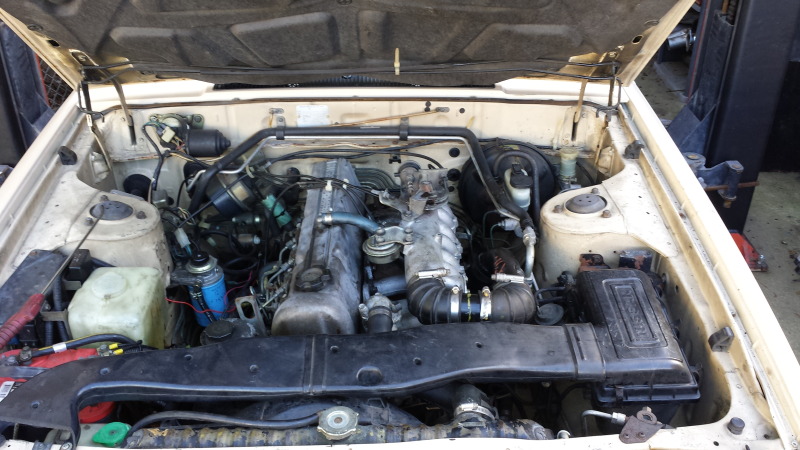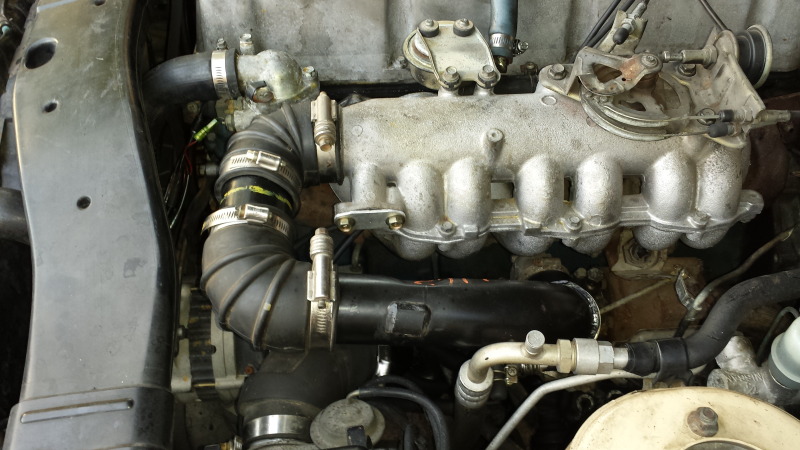 It took me that long, because my intake was about 20% or more PLUGGED UP... You will notice I did not plumb the EGR back in, even though the turbo is setup to run egr... Its not worth the buildup! I could have filled a whole quart bottle with the gunk I pulled out. The first three are dry dusty gunk and the last three were wettish nasty gunk... Same amount of buildup on all 6. YUCK.... after I cleaned it all and made sure it was ready to go back together, I made a video of it running without manifolds... which is always a bit strange. I need to upload it to youtube and share it here.
I then finished up the oil drain, and downpipe.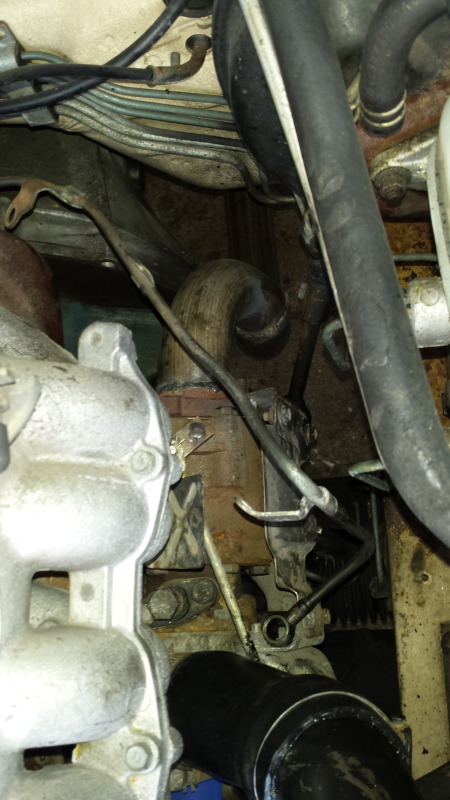 I used mostly Nissan parts to do this... even the charge pipe parts. There is one MB Sprinter tube, one GM Duramax tube, and the down pipe is from a Chrysler Caravan or some minivan exhaust. Im getting anxious to fire it off, but I really need to install a Pyrometer in there as well... It looks like there was a factory fitting on the turbine inlet for this and someone welded it shut.