[I originally wrote this in Sep-2004 in another venue; now I am reposting it here.]
Problem: the Nissan manuals detail testing the compression via removing the injectors and using an adapter which fits into the injector holes.
Snap-On (and others) use a glow plug adapter instead. However, while it works OK for cylinder Nos. 3 & 4 (using a straight adapter between the gauge and the GP adapter), there are clearance problems with regard to the injection pump when trying to use the adapter for the forward two cylinders. Especially cylinder No. 2.
My solution: a custom short-90° adapter. This adapter trims about 1" off the std 90° Snap-On adapter, and easily clears the injection pump for cylinders 1 & 2.
[for the search engines:
Nissan LD28 = GP adapter M3576 (12mm)
Nissan SDxx = GP adapter M3566 (10mm) ]
(click on any image for larger)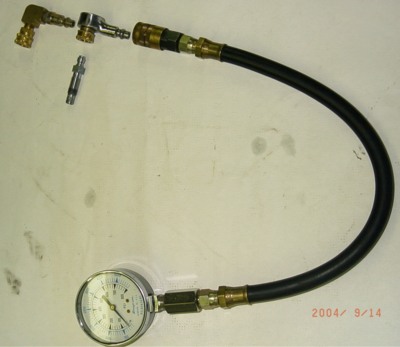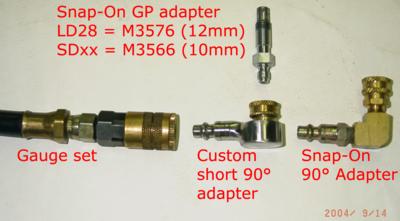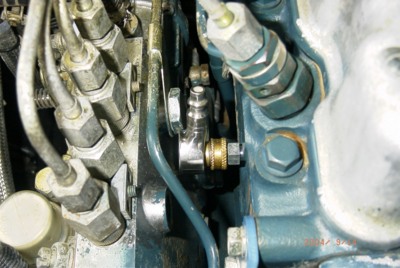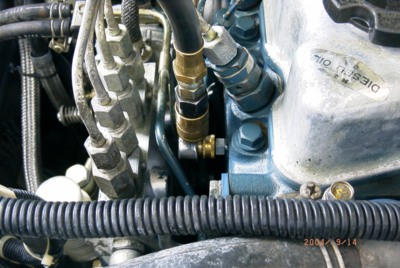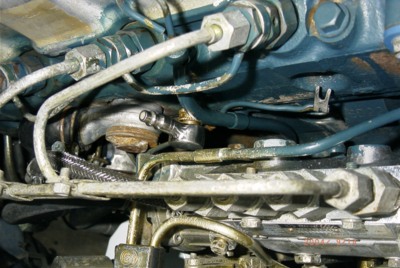 Cylinders 2 & 3 are the most difficult, I found.
It was later pointed out to me that the Nissan injector adapter has no hose, so the volume of the Snap-On gauge's hose may affect the numbers. IOW, this setup may yield lower test results than if I was using the pull-the-injectors method using a hoseless gauge.
Using this setup, I received the numbers below. Cold engine, throttle at idle, ten "puffs" per cylinder, two passes per cylinder. DPC control unit unplugged per manual (round connector to the rear of battery) (so no diesel gets injected and spewed out all the open glow plug holes while cranking). Remote starter switch makes this easy.
Note that, done properly, the engine should be at or near operating temperature and the throttle should be propped open, so these numbers aren't as representative as they should be. So sue me.
(all numbers in PSI)
No. 1 = 470
No. 2 = 445
No. 3 = 420
No. 4 = 440
My generic SD-series manual lists:
Standard = 427
Minimum = 356
Max difference between high/low = 43
I'm OK with those numbers. The 420 could be better, but it is what it is. With all glow plugs working now, if I let it glow for a further 10 seconds after the glow indicator light is extinguished, it fires up on all four and idles perfectly. If I instead begin cranking when the glow indicator light goes out, it comes up a bit fussily and yields more smoke.
I've replaced the valve stem seals, now I need to get it warmed up and adjust the valves. Might see a small improvement there, but I don't expect much.
If anybody wants to perform their own compression test, I will loan out this setup (with a suitable deposit: I want it all back!) for short periods (out of my hands for one week at a time, max).