mbtech208 wrote:It started like this. I drove through Death Valley on Monday, where it was 115 degrees in the shade.
One of our FAVORITE places ... but not during THIS time of year!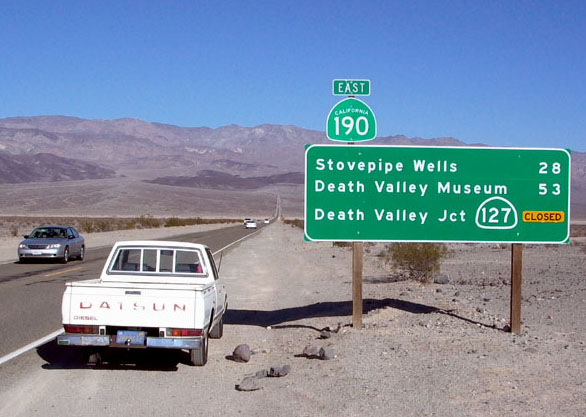 mbtech208 wrote:My Maxima's A/C hasn't worked in years, apparently. It ran fine for most of the trip. A few times the temp needle was creeping up nearly to H, so I'd pull over and run it at a fast idle until it cooled down. No problem. Driving back to LA on I-15, there was a strong headwind, with the accelerator held just above the kickdown switch, it wouldn't go faster than 72, very frustrating when traffic is going 85-plus. Flooring it would only kick down and produce copious amounts of black smoke.
Pretty sad. My ol Datsun would have passed you up.

Maybe even with the A/C running!
mbtech208 wrote:On Tuesday, I decided since the A/C didn't work, I would take all of it's components out to save weight and gain a little power. I removed the compressor, receiver-drier, condensor, evaporator, compressor belt idler pulley and adjustment mechanism, expansion valve, and hoses.
For all that labor, you accomplished neither of those goals in any measurable sense.
mbtech208 wrote:While doing this, I accidently broke off the radiator drain cock. It was leaking, but I was able to go to the dealer, order a new drain, and drive home.
If plastic, PepBoys and the like have a selection of these things. NAPA has the rest ... in most cases.
mbtech208 wrote:On the way home, it felt quite a bit more powerful due to the lighter weight.
The mind is self decieving.
mbtech208 wrote:Anyways, I just put in the new drain, and it's still dripping in the same area. Is there a seal I'm missing? Maybe I cracked the radiator around the drain area? I won't know until I drive it to work and put it up in the air. Any ideas?
You may have cracked the lower tank. Then again, is this a plastic drain plug or a metal drain valve? The plastic wingnut drain plugs always have a rubber sealing washer and/or an o-ring.