I took a quick trip to Phoenix, AZ and back. 780 miles round trip in 24 hrs.
On the return leg, it became very evident that the injectors needed to come out for servicing.
They've NEVER been serviced in 155k miles. At one stop, one cylinder began dead misfiring
at idle. Gunned the throttle twice ... it cleared up. Also, on the grade before Quartzite and
the short grade after Blythe, I witnessed a couple of HUGE momemtary puffs of black smoke
at full throttle.
So today out came the injectors. Took them to an authorized Stanadyne/Zexel diesel shop
in Anaheim for rebuilding. On request, the shop owner bench tested them for me. NONE had
a decent spray pattern, #2 had a 'Y' spray pattern and #4 had a straight stream. Also, #2 had
much more fuel bypassed after discharge than the others. Pop-off pressures were all in the
1600 psi +/- 50 range.
In spite of these findings, the truck gave 35.5 mpg going and 36.4 on the return leg! Amazing.
Estimate 2-3 days for rebuild work.
Removing the injectors from the cylinder head was easy enough. BUT ... digging out the
copper crush washer at the bottom the the bore was a Pain in the Tusch!! After torquing,
the soft washer locks it's OD to the bore wall as well as deforming to the bore floor.
Furthermore, the washer's ID is the same as the opening into the prechamber. An
EZ out didn't work but an ice pick with the tip bent 90 degrees did. Again ... PIA !!!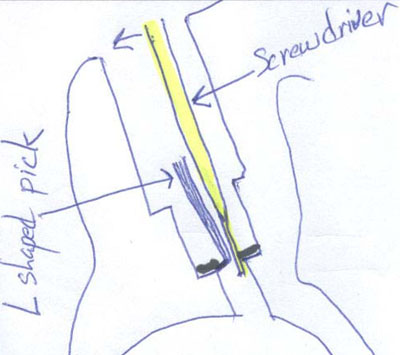 Note:
This is an '82 SD22. It has flat crush washers under the injectors. Now, the SD23 and SD25 shown
in the sketch have a "formed" crush washer. Hmmm!

I'll follow up with costs and results after everything is back together.
-Philip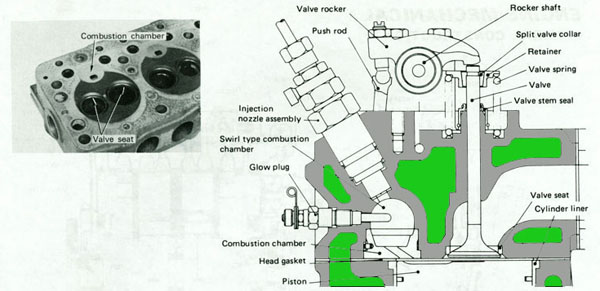 Tools needed to remove the injectors from the engine:
17mm
for the high pressure delivery line nut.
22mm
for the metal overflow/return line set.
27mm
(1-1/16") DEEP socket for the injector itself.
24mm
to disassemble nozzle holder from injector nut (housing)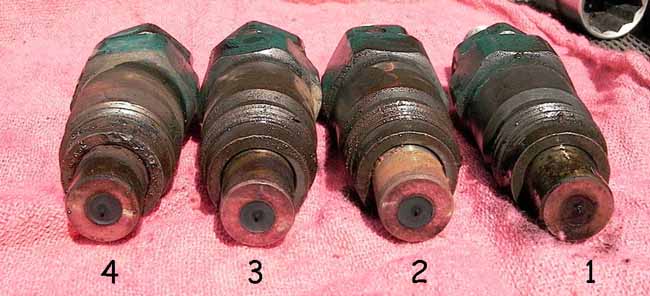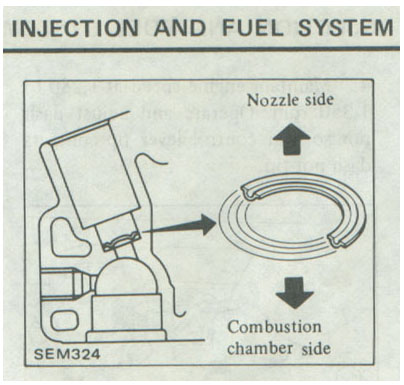 The SD25 uses this stamped design.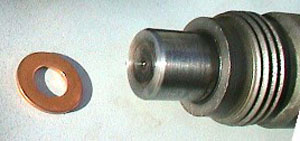 The SD22 calls for the solid copper sealing washer but I do not see why the SD25 style crush washer could not be substituted. Washer OD dimension: 0.54" to 0.6" (13.7-14.8mm)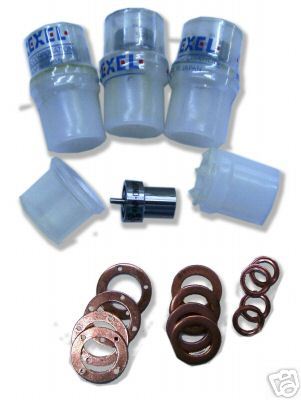 When you get a "rebuild", the nozzle body and the HIGHLY precision fitted pintle valve inside are replaced with these NEW assemblies. But do not include the middle washer shown here to seal the nozzle nuts.