I have been fabricating (or, rather, being the General Contractor for the various bits) a
portability frame
for a mid-sized genset for my father. During construction, I've found the limitations of our two chinese drill presses to be too great to maintain the geometry of the holes I want to punch. The quill of the $39 Central Machinery (Harbor Freight) 8" press has about .070" slop in it, and the Rockwell radial drill has almost that much. Both are benchtop units, and they are OK as far as they go, but I tried to drill a straight 1/4" hole through the top
and
bottom of a 2" square tube, and had 1/8" variance in location! Ouch.
Another problem is that neither of those two drill presses can turn the chuck at less than 600 RPM, which makes it impossible to drill a hole larger than about 1/2" (I've fudged and drilled 5/8", but it's very easy to smoke a bit at that feet/minute). I want something with an intermediate sheave to allow for slower speeds than what is possible with a two-sheave belt drive.
So I've been scouting eBay (local) and CL for a better drill press. What's available is primarily Crafstman (of various vintages), Delta, and antiques. That's pretty much all that's become available this summer. I was looking for something a step up from Craftsman.
What I ran across sorta by accident three weeks ago was a Jet Equipment of Tacoma (ie Taiwan) "Jet-16 Drilling & Milling Machine".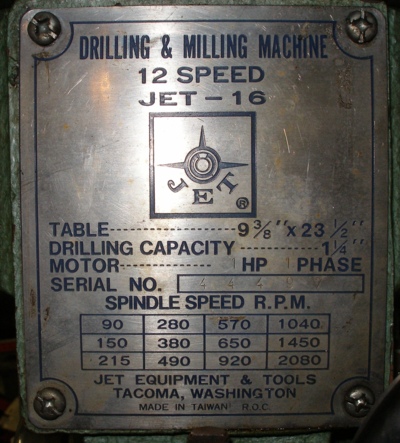 The motor is dated 1978, so it's coming up on 30 yrs old.
I had no idea what a "Drilling & Milling Machine" might be, but it looked like a big enough drill press anyway. Unfortunately, it was in Monroe, which in the scheme of Puget Sound is a loooong way away, but I eventually got there, bought it the same day the CL ad appeared. Had to use the seller's pallet jack and my portable engine hoist to get it out of his garage and into this trailer that by now you are probably all sick of seeing: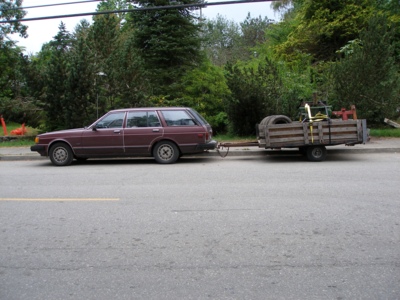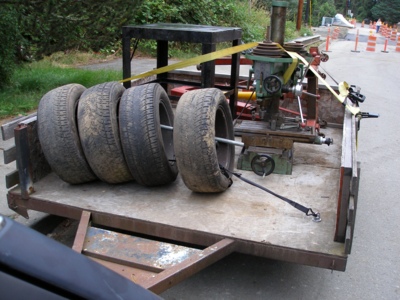 It came with a nice, sturdy metal stand to which it bolts, and it's even almost level. Belt cover missing, and grimy but the quill is very tight, so I bought it anyway. Wired for 240v (7a). The stand is about 150 lbs, the Jet-16 is probably near 450 or 500 lbs. Heavier than it looks, anyway: I can't lift one side at all.
I gave $300 for it. Hauled it 150 miles back to the shop, cleared a space for it, used the gantry hoist to get part A on top of part B again.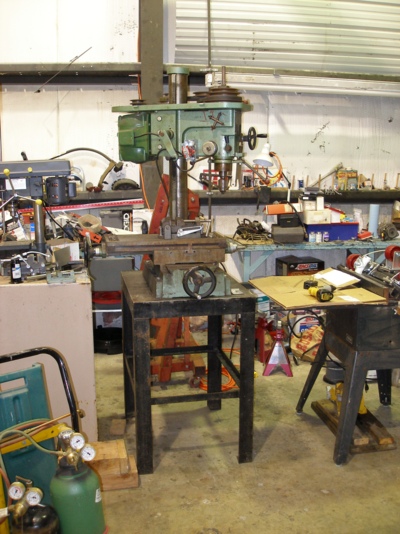 First thing that has to go is that ON/OFF switch. Remember: 240v. How many things can you see wrong in this picture?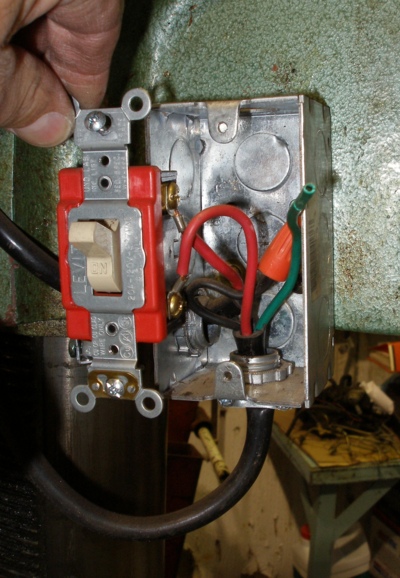 No ground

. And switching one side only of a 240v circuit (ie the light switch) is very dangerous: it leaves all the wiring in the machine live. I installed a DPST switch to cure all that: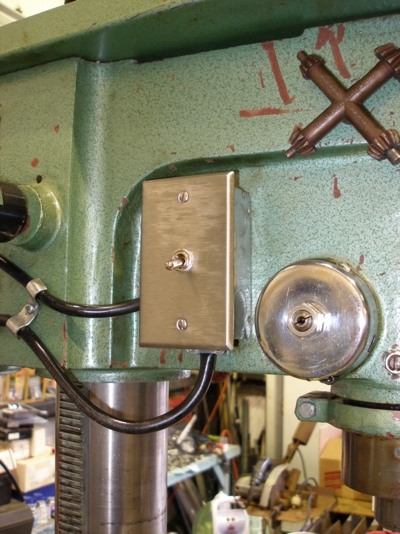 Then I had to run a 240v extension cord for it, which required buying new connector ends too, as it was all shot from age.
Spent pretty much an entire Sunday, five cans of WD40, two cans of carb cleaner, two cans of Tri-Flow, and a lot of rags to clean it all up: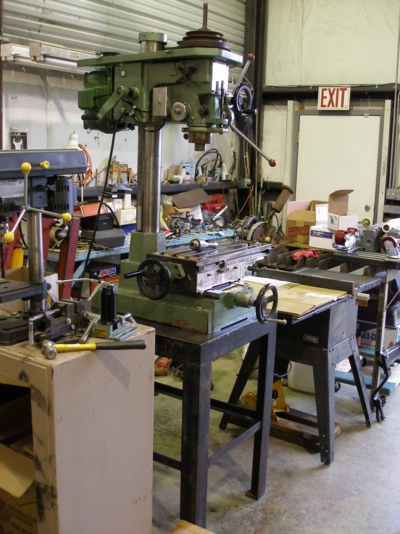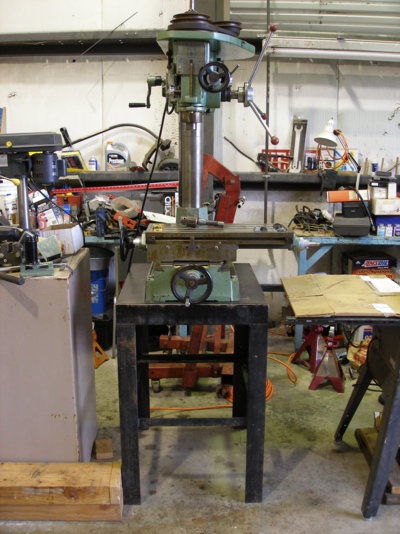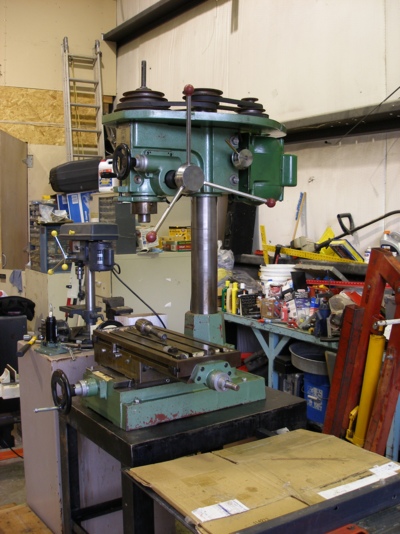 The Jet-16 is not listed on Jet Equipment's website, but an inquiry to their Sales dept got me a PDF via email. Not a very good one, but it does have a parts breakdown and some basic setup/operating instructions, including the priceless belt guide chart.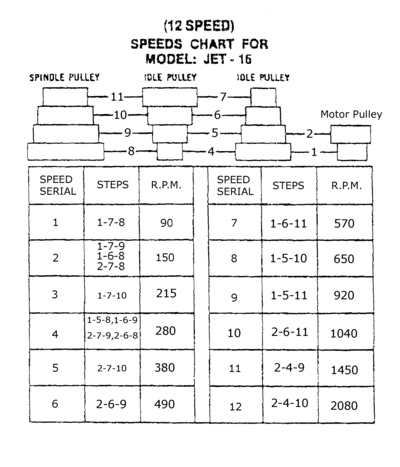 The PDF was made from a fax, and was poor quality. I invested several hours with PhotoShop and cleaned it up considerably, including dropping new text into that chart. I've printed it out and will have it laminated tomorrow, to hang by the machine.
The tables are a bit tight but operate OK if you have a strong arm. One handwheel is missing ($30 from Jet) and another is cracked and epoxied, so those will have to be replaced.
I've determined that the spindle is set up for Bridgeport R8 (yea!). I have the one Jacobs chuck adapter, which is fine for drilling. I spent much of today manhandling the portability frame all around it, and got four 3/4" holes just the way I wanted them: slow, and straight. Yessss!
I am not a machinist, have almost no training in this. I think I need an end mill like this, only with an R8 shank: I think I want the replaceable carbide tips. Looks like another couple hundred to buy a three-piece set (1-1/4", 1-1/2", 2"). I need 2" so I can remove .020" on all four sides of the portability frame's caster outriggers, to get a little more clearance where they slide in. Even without paint, they're quite tight.
I am real new to this game. Anybody have tips on tooling that is a "must have"? I have one vise for the X-axis table, and two working T-slot anchors. I know I'll need more hold-down stuff. What else?