I've bought various parts cleaning brushes over the years, but two years ago I found one I really liked, found by accident at the local FLAPS in the bodywork supplies section. When I bought it, they didn't know where it came from nor the part No. and so they sold it to me for a buck.
It started getting pretty worn after a year, so I went back to get more. Holding it my hand, I tried to order it, but what they brought in wasn't the same thing, the bristles were too flimsy. They said they could not locate a supplier.
I have spent way more time trying to find this brush than you would think would be necessary, ordering one from here, one from there, but today I finally received the right brush.
From MSC Direct, Pro-Vend branded (probably a Weiler rebranded),
MSC's part No. WU09301748, $1.38 ea.
on sale: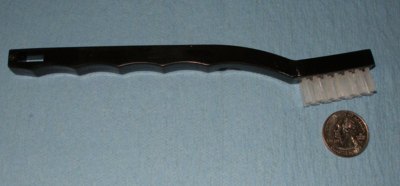 MSC Industrial Supply Co. wrote:

Description:  	Welder's Brushes - Toothbrush Style 
Type:                   Welders Brush 
Brush Material:      Nylon 
Type: 	Welders     Brush 
Brush Material: 	Nylon 
Brush Length (Inch): 	1-1/2 
Trim Length (Inch): 	1/2 
Overall Length (Inch): 	7-3/4 
Handle Material: 	Plastic 
Number of Rows: 	3x7
Doesn't look like much, does it? Best I've used so far, for anything other than large pieces.
This brush has fairly firm bristles. Aerosol carb cleaner will not melt the nylon bristles
nor the handle
. Survives Castrol SuperClean lye solution well. Good for a couple of hours of cleaning, which is way beyond what most brushes will do.
If you've ever tried some of those small wire bristle brushes (either SS or brass) you know the misery once you bend the bristles over: they become useless. This nylon brush is the one you want.