Well, I just picked up this "free" 1983 wagon. Had to drive 200 miles with a tow dolly over the Cascades to get it. It has a long and varied history. 199k miles showing, non-runner at the moment, but mostly there. Myrna bought it from a friend who ran a car lot in 1997 for $400, and the tabs on it expired in 2000.
VIN = JN1SU05S4DX008335
[click on any pic for larger version]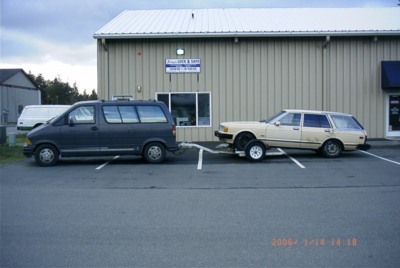 As I towed it into town, 220 miles to this point. Poor little Aerostar has towed a lot of rigs over the years, but never as much elevation as this run. Down to 42 MPH on some slopes, I don't push the 3.0l above 4000 RPM anymore, with 212k on the clock and a very hard life before I got it, it just sounds thrashy above four grand. Everyone can kiss my ass and go around me, that's my philosophy. Took only four hours to get from Yakima to Port Townsend, taking a longer route to avoid the $50 Seattle-Bremerton ferry. For those of you interested, I took 82 north from Yakima to Ellensburg, then I-90 east across Snoqualmie Pass (~3k'), roads pretty much bare and wet, good fortune for a change . . .
[I was going to leave for home in the afternoon, but woke up with a clear, strong feeling that I should leave immediately: something about the weather changing, and the pass becoming snowy. I don't have all-wheel-drive, nor "traction devices"; I don't drive where I need them. So I heeded the free advice and left more or less immediately. The pass was a piece of cake to cross. Now, 12 hours later, it's gone from "No Restrictions" to "Chains required", completely bypassing the "Tractions tires Advised" and "Traction Tires Required" stages. Good thing I left when I did! Official report as of now:
SNOQUALMIE PASS


Elevation: 3022 ft / 921M

Temperature: 28ºF / -2ºC

Conditions & Weather:
Compact snow and ice on the roadway. Traffic flow control eastbound at MP 34 by WSP, one lane traffic. // Snowing hard at times.

Restrictions Eastbound:
Chains required on all vehicles except all wheel drive, Oversize Vehicles Prohibited.

Restrictions Westbound:
Chains required on all vehicles except all wheel drive, Oversize Vehicles Prohibited.
]
. . . then on west to 18, south to I-5, south to 16, then to 3, then 104, and finally hwy 19 to where you see it. Considering the number of hills I had to pull, getting 15.5 MPG and only four hours was perty good, IMO.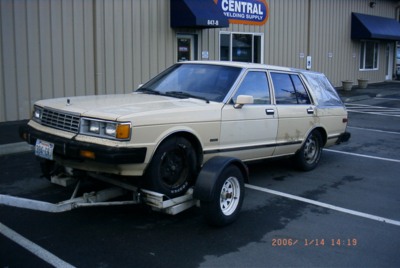 The LR side window was shot out by a neighborhood kid with a pellet gun. Apparently, several windows around the area got the treatment. So I'm in the market for this glass -- anyone got a lead on one, preferably in both good condition and reasonably priced? I guess I should just go to car-part.com and see what they're going for. None in this area.
The driver's door is obviously a different color. There is crazing of the paint on the LF fender, and around the back window is some minor peeling, evidence of both bodywork and a repaint in the past, but a pretty good match overall in paint color.
The dark patches are either adhesive or pitch. In any event, and volatile-soaked rag and some gloves will likely remove it.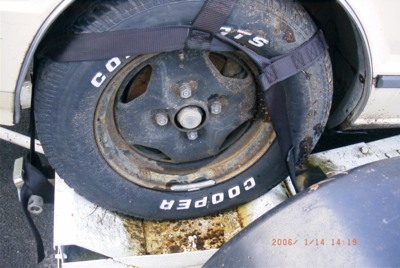 Note the severe rotor rust, and non-OEM rims. Oooh, raised donuts . . . er, raised white letters

Only one hubcap came with this wagon. I actually threw away my old three hubcaps last spring, because I put sedan mags on. Figures. Now I'll be looking for another set of factory sedan mags for this one, but my old plastic hubcaps would have made a nice stopgap in the meantime.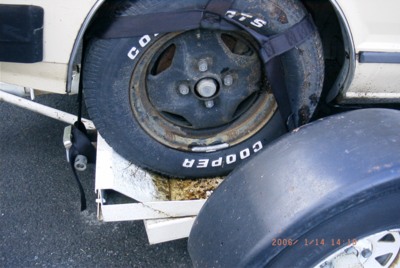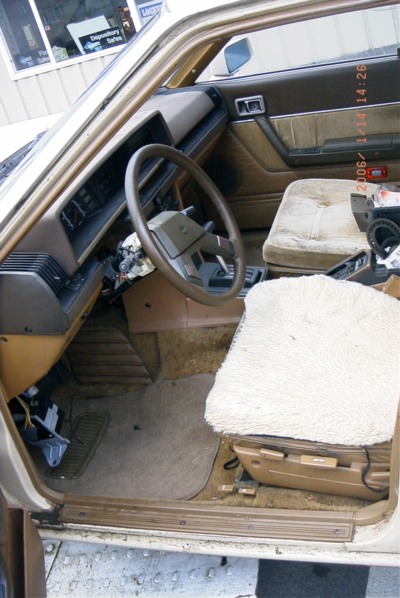 Interiour in rather decent condition, better than my '82. Some assembly required. Key doesn't work well, but no worries. Title is clear. One module hanging down by hood release, I'll need to get out the FSM and ID it.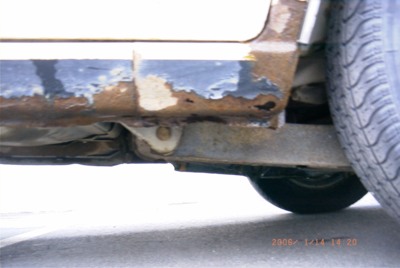 Pretty good holes in these rockers.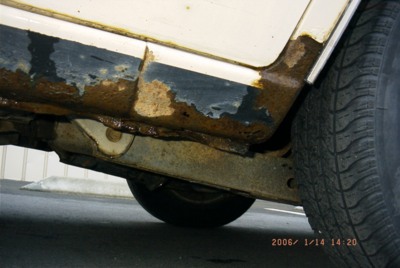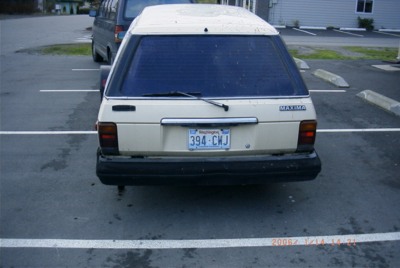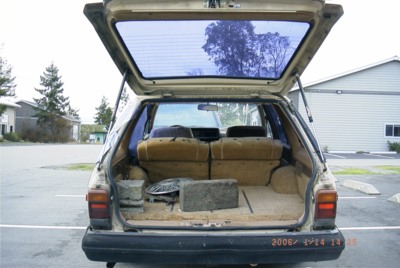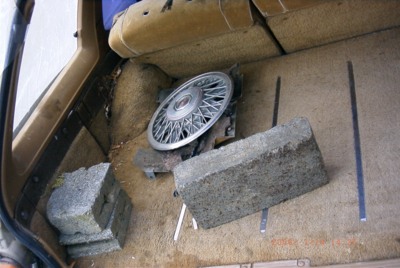 A few leaves and sundry had made it inside.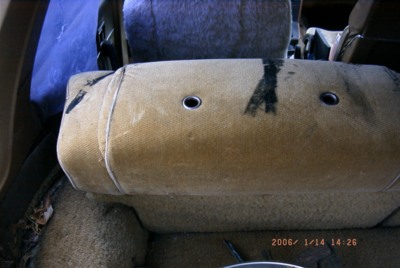 A greasy window regulator got set on this seatback. May clean up. I will have a chance to find out, because I backed into the driver's door strike (which had a wad of black grease on it), got it on my jeans, then sat in the Aerostar, and now I have several black grease stains on the Aero's grey velour seat bottom -- I've driven it seven years without staining the seats, until now. Major bummer. I threw a towel over it for now, I'll have to investigate a cleaning solution for it.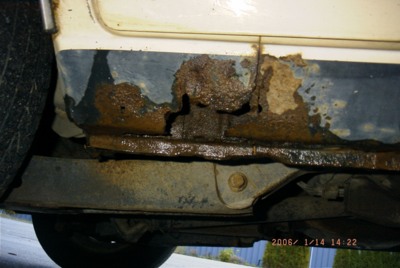 More rust on rockers. My '82 looks similar to this.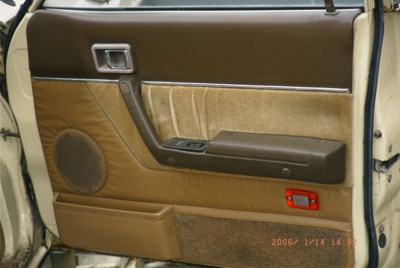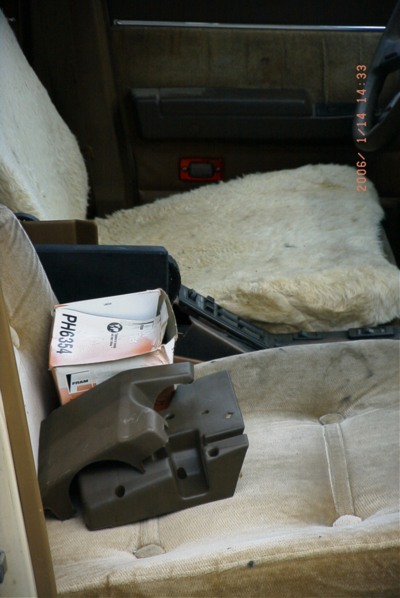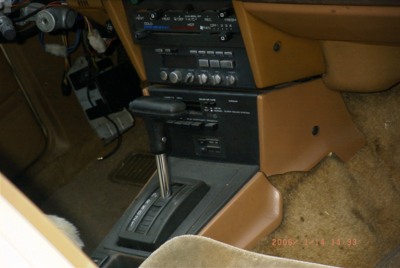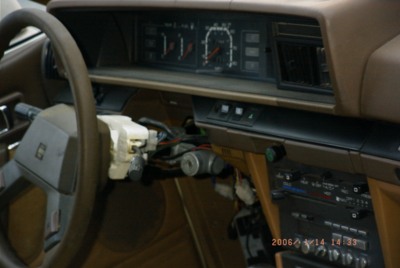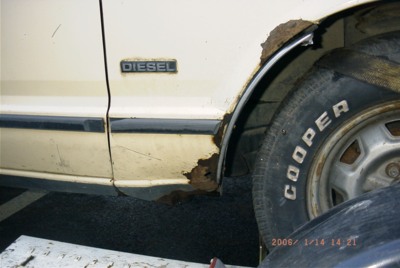 This fender is folded under. It's actually a bit worse than this pictures shows, but the rust is clearly visible.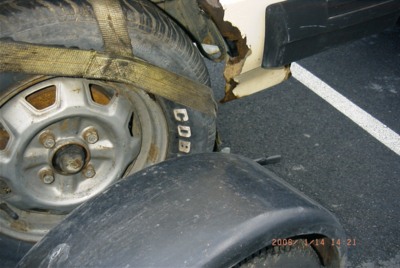 Largish chunk rusted out of front of fender.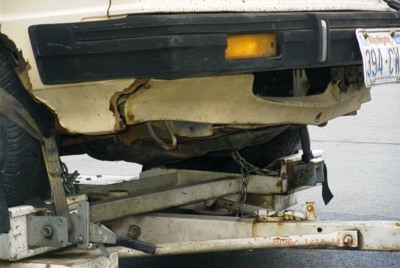 Valence ripped from behind license plate.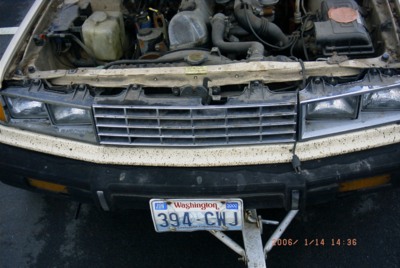 Lots of pitting in mylar and apron.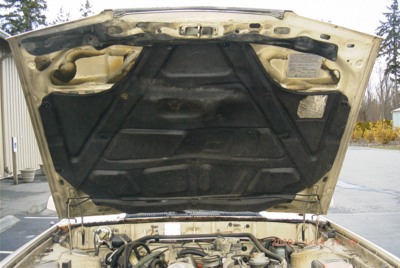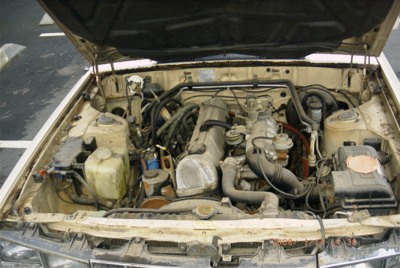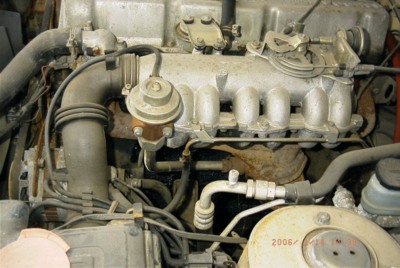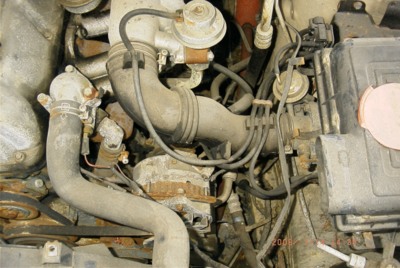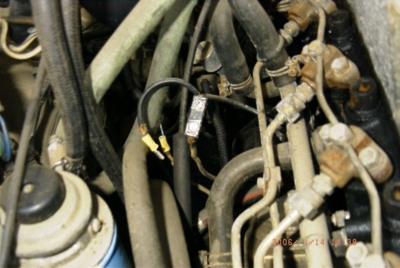 Some GP wiring retrofit crap that I'll have to remove.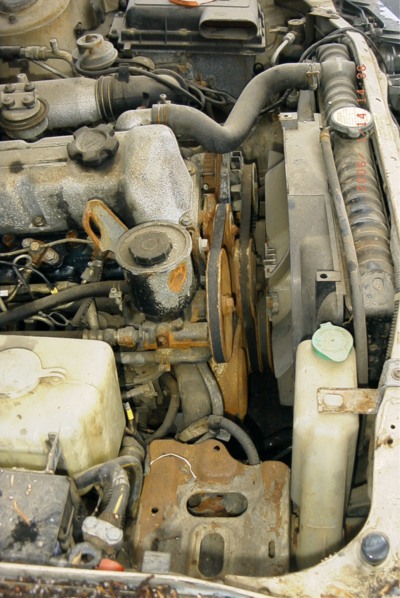 You can see some of the damage. A battery was installed without the hold-down, and it fell into the fan, got ripped open, and sprayed acid all over.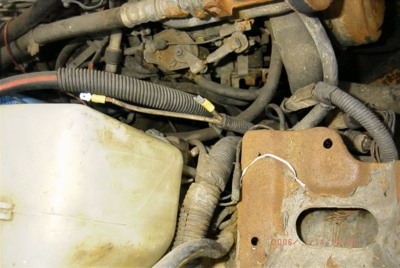 More GP crap. I'll have to look into this, but IIRC, the connector on the right in the pic is the GP relay feed; I'm not sure without looking it up just what got chopped here.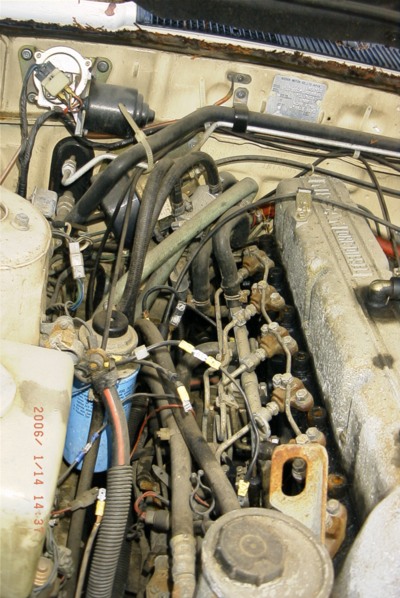 Red heater hose goes to "tank style" engine heater located under brake booster. Note the fuel preheater unit plumbed in. I'm not sure why. I hope some previous owner wasn't doing some SVO experiments with it, but I doubt it.
Maybe tomorrow I'll put a battery in it and see if the IP belt is intact. Depends on the weather. I'm beat, I'm headed off to bed now.