I have a few MF Switches from 720s and Maximas. Tonight, I tried somewhat to formalize the differences. I have not broken out the FSMs yet, so tonight you get only pics.
First, if you have "sticking high beams", go read
this thread for the fix
, it's simple and effective (and common to both the Maxima and 720).
Now then: the one on the left is probably from a 1986 720; the two on the right are from earlier 720s.
For the left one: Note the pigtail of six wires for the turn signal switch portion (as opposed to no pigtail and only four larger spade terminals for the earlier ones).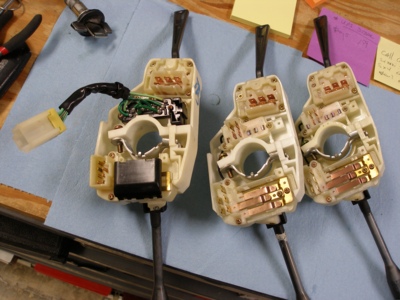 Another difference is in the headlight switch, where the left/later switch uses eight smaller spade terminals (and a black plastic cover over the contacts), and the right/earlier have only five std terminals.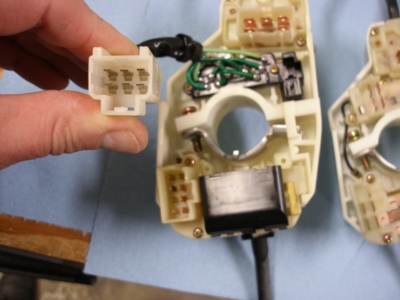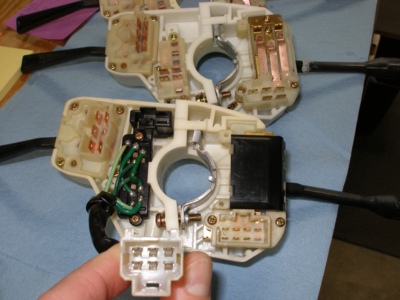 A third difference is in the wiper switch: the earlies use six terminals, the late has one cut off and so uses only five.
Now, just to cornfuse you all, here's one that's completely different in other ways: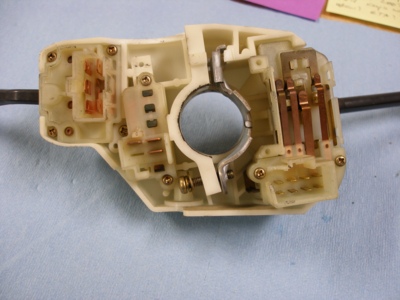 This one (which might be from a Maxima, I haven't checked) has the later eight-terminal HL switch (but no black cover), the later five-terminal wiper switch, but a third kind of turn signal switch with only
three
terminals.