[begin edit 06Jul2014 ALS

I'm slipping this in at the beginning of Chris' thread, so you don't have to read four pages of posts to get the summary, which is: the LD28 injection pump belt tensioner hasn't been available from Nissan for several years. The bearing in them does wear out and get sloppy, and if you use it long enough, it can take out your belt. The good news is that I am set up to rebuild the tensioner, installing a new, welded axle shaft that supports a double-row quality SKF bearing that is not only "lifetime" rated for this application, but can be replaced if you ever thought you needed to. There's a lot of discussion in this thread, and I've included pictures & dimensions if you care to read on, but if you just want to buy a replacement belt tensioner . . .
Click HERE for larger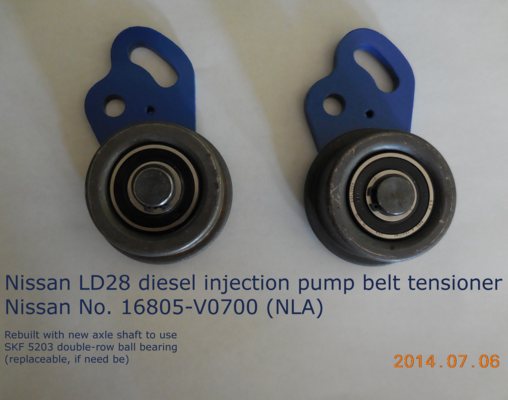 The price was $160 + $20 core in 2007, and remains the same in Jul2014. Contact me via email (yes, that means you have to register to be a member of this forum).

Al
[end edit]

[edit 01Feb2019 ALS

Too many cores came back to me with bent or rusty pulleys: I am out of cores, so I can only rebuild your core.

[edit 12Jul2019 ALS]

I'm thinking about having replacement pulleys fabricated. See this post.

I do still have plenty of SKF bearings and custom axles.

Hey Guys,
I am in the process of replacing the timing chain/gears and IP timing belt.
I have all the parts except the belt tensioner pulley.
I could not locate it anywhere. No parts store has even the part number.
Can someone direct me to a source and/or provide the part #??
Thanks